RSC goes for power in new Swan season
Published: 17 March 2012
Reporter: Steve Orme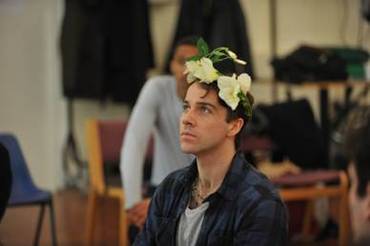 The first in a season of three plays called Nations at War which delve into the struggle for absolute power and the right to lead a nation previews in the Swan Theatre at Stratford this week.
As part of the World Shakespeare Festival the Royal Shakespeare Company will be performing Richard III, King John and A Soldier in Every Son—The Rise of the Aztecs.
RSC associate director Roxana Silbert leads Nations at War: "It's a season which explores ambition, power, leadership and family loyalties and betrayals—themes which unite all three plays.
"They all have a dynamic political and personal landscape with a really strong emotional centre."
Roxana Silbert directs Richard III. She says about casting Jonjo O'Neil in the title role, "I was looking for a young Richard. Jonjo is exactly the same age as the historical Richard when he died.
"Jonjo has showmanship: Richard's character has a great sense of playfulness but there's also a profound, damaged darkness in him.
"I believe Jonjo is a brilliant actor who can combine that sense of childlike playfulness with a very dark core, someone able to play status but who also feels comfortable engaging openly with the audience. I think Jonjo brings all those qualities to the part."
Roxana Silbert's first production for the RSC as an associate was David Greig's Dunsinane at the Hampstead Theatre in London. She recently directed Measure for Measure in the Swan. Last year she was appointed artistic director of Birmingham REP.
She adds, "The women are central to Richard III and we have an incredibly strong female cast."
Pippa Nixon returns to the company to play Lady Anne, with Paola Dionisotti and Siobhan Redmond taking the roles of Margaret and Elizabeth.
Completing the cast are: Neil Barry, Iain Batchelor, Simon Coombs, Sandra Duncan, David Fielder, Mark Holgate, Mark Jax, Joshua Jenkins, Edmund Kingsley, Jim Kitson, Natalie Klamar, Oscar Pearce, John Stahl, Susie Trayling and Alex Waldmann.
The rest of the creative team is Ti Green (designer), Rick Fisher (lighting), Nick Powell (music and sound) and Ayse Tashkiran (movement).
Previews for Richard III begin on Thursday (22 March), with press night on 17 April. It runs until 15 September.
King John previews from Friday, 6 April, with press night on Thursday, 19 April. It also runs until 15 September.
A Soldier in Every Son - The Rise of the Aztecs by Mexican writer Luis Mario Moncada joins the repertoire on 29 June.
Photo of Jonjo O'Neill in rehearsals for Richard III from RSC/Hugo Glendinning.