The rise and rise of the Octagon
Published: 8 June 2012
Reporter: David Upton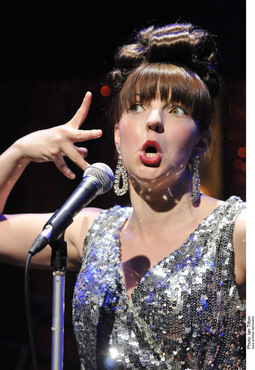 The run of The Rise and Fall of Little Voice by Jim Cartwright has been extended at the Octagon Theatre Bolton due to popular demand.
The production which opened on May 31, was due to end its run on June 23, but will now run for an extra week. The huge demand for tickets has already seen most of the original scheduled performances reaching full capacity.
The huge success brings the Octagon's 2011-12 Season to a fitting close, in what has been an exceptional year for the Theatre in terms of artistic excellence and record-breaking sales. The Octagon received an outstanding 17 nominations at the Manchester Theatre Awards, taking home four awards for Best Production, Best Actress, Best Actor in a Supporting Role and Best New Play.
In addition, the Octagon's festive production, The Wonderful Wizard of Oz, enjoyed exceptional attendance, breaking all box office records to become the best-selling show in the Octagon's 45 year history.
It is the first time in the Octagon's recent history that the run of a production has been extended due to popular demand. Director Elizabeth Newman commented: "The response to The Rise and Fall of Little Voice has been overwhelming."
The triumphant conclusion of the 2011-12 Season will coincide with the departure of Octagon Executive Director John Blackmore, confirming a fitting and memorable end to his 12 years at the Theatre overseeing a period of continuous financial and artistic success for the Octagon.
Details: www.octagonbolton.co.uk