Twelfth Night
William Shakespeare
Propeller
Old Vic
(2007)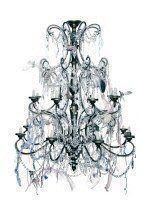 A man, playing a woman, seducing a man, playing a woman, playing a man, who is in love with a man, playing a man. Got it?
When Propeller decided to create a modern dress Twelfth Night using Edward Hall's all-male company, it was always likely to lead to some confusion. In fact, up to a point it does, but thanks to the strength of the play and the well-drilled cast all becomes clear, at least until Shakespeare deliberately intends it not to at the end.
The Old Vic is the first stop on a world tour for the pairing of Twelfth Night and The Taming of the Shrew, which will eventually reach Perth in Australia, Hong Kong, New York, Neuss in Germany and Milan as well as a number of venues in Britain, closing at the company's regular home, the Watermill in Newbury in June.
The company is likely to win a lot of friends with their very distinctive and lively style and their clear verse-speaking, as well as Hall's well-developed sense of humour.
It does take a little time to get into this play, since of necessity, the cross-dressing is taken to excess. The opening is very promising with a ship in a bottle wreck that throws identical, if differently gendered twins, Viola and Sebastian up separately on the shores of Illyria.
Tam Williams gives a really outstanding performance as Viola, the girl who disguises herself as Cesario and creates immense confusion as she falls for her boss, Jack Tarlton's Orsino, while he is pining after the fair Olivia. The latter part is bizarrely but effectively taken by a wigless Dugald Bruce-Lockhart, who earlier in the day had been a particularly macho Petruchio.
As this trio pursue their illusory loves, most of the rest of the cast are involved in broad comedy. Jason Baughan makes a fine, bearded Sir Toby Belch, although there might be a question as to whether the afternoon's Kate, Simon Scardifield, was well cast. He plays Sir Toby's partner in crime, Sir Andrew Aguecheek "as tall man as any in Illyria" while several inches short of six feet, thereby losing some of the part's humour.
There is no doubt that Tony Bell makes a perfect wise fool and foil, Feste with his lugubrious demeanour and ability to sing and strum a guitar.
This trio, along with Chris Miles' Maria, have great fun at the expense of the bearded and pony-tailed Malvolio played by Bob Barrett. He is excessively bumptious but maintains too great a degree of formality to seem wholly human. He is, though, the main component of the best arbour scene that one can ever hope to see. This features transient topiary and human statuary and ends with him completely bewildered at achieving happiness, presumably an estate to which this unusual man had never previously aspired.
Poor Malvolio pays for those few brief moments of bliss with incarceration and, at the end, as everything comes out well from the great and very humorous confusion for the key players, only he is left bitterly screaming for revenge.
Michael Pavelka's busy set works well but the inclusion of mirrored wardrobes causes problems since, for a fair proportion of the period after the interval, they reflect lights into the eyes of many members of the audience.
Edward Hall maintains the pace and the drama throughout with clever use of music played by the actors and a series of novel ideas so that as an example, the duel between Cesario and Sir Andrew literally takes place in a boxing ring.
Not everything that this adventurous company tries comes off but there is enough to entertain and challenge, as well as to ensure that audiences will leave theatres smiling from here to the other side of the world.
Sheila Connor reviewed this production in Guildford
Reviewer: Philip Fisher