16 + a room / Solo Echo / Bill
Choreography Emily Molnar, Crystal Pite, Sharon Eyal
Ballet British Columbia
Sadler's Wells
–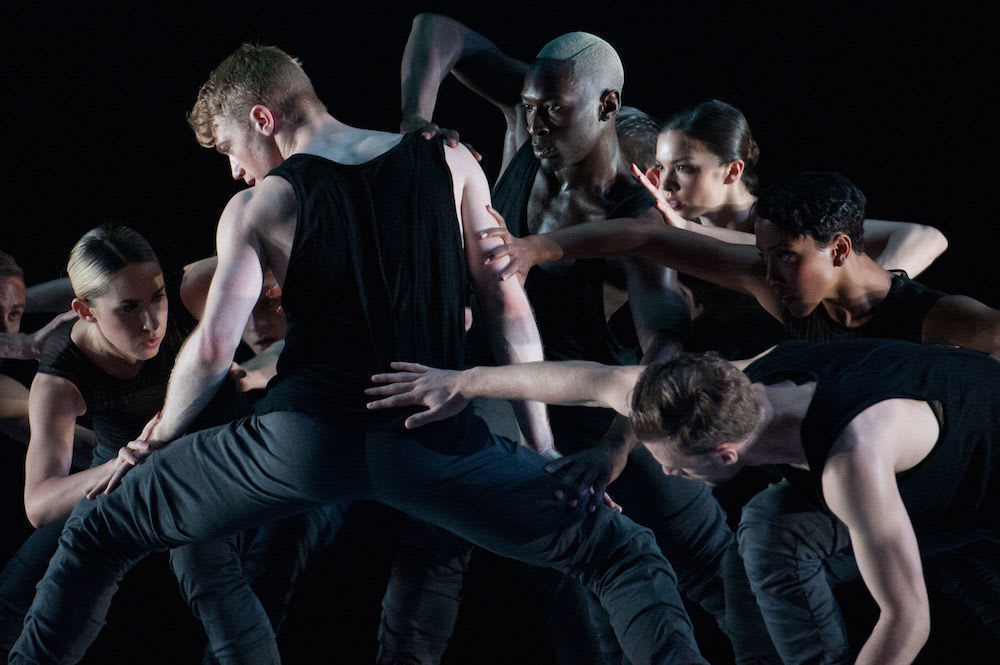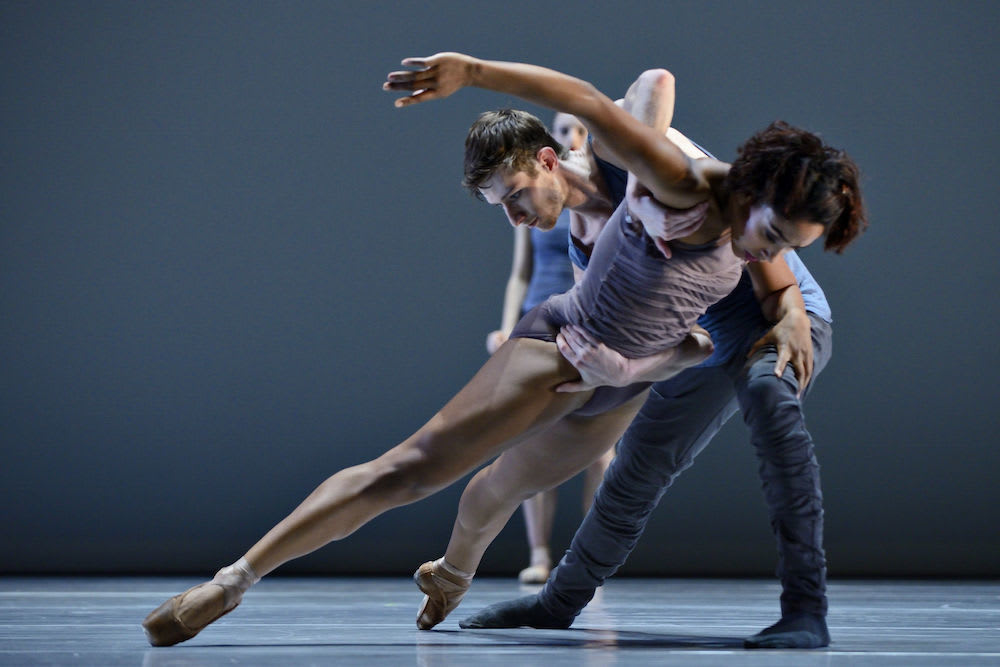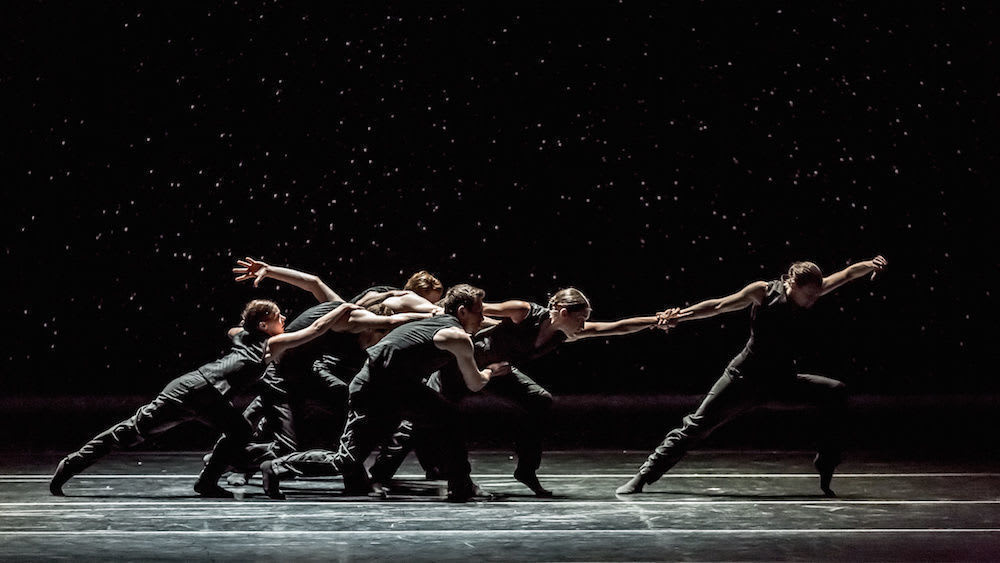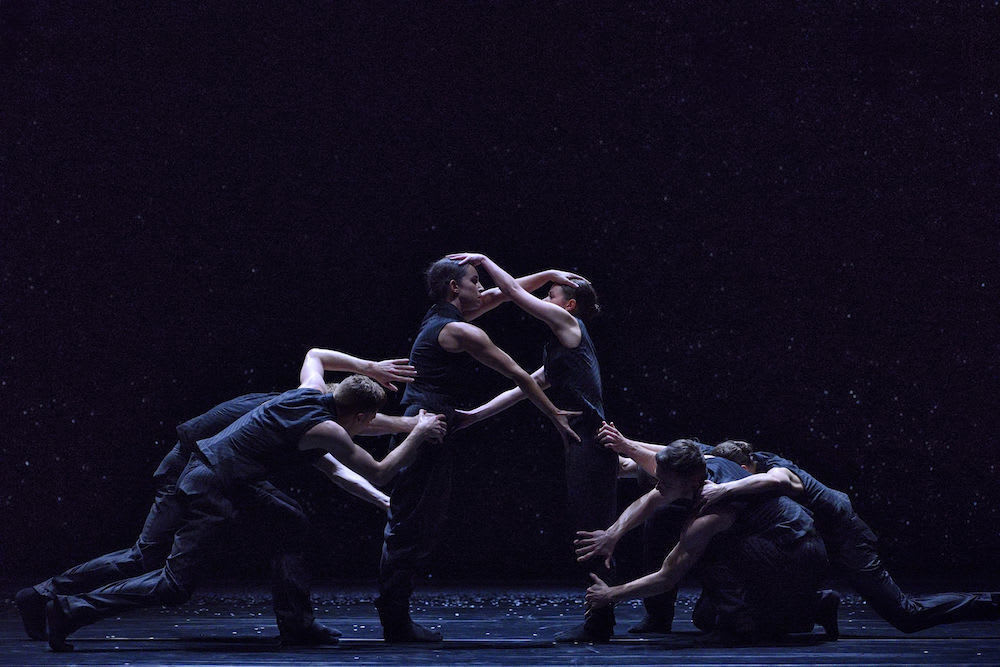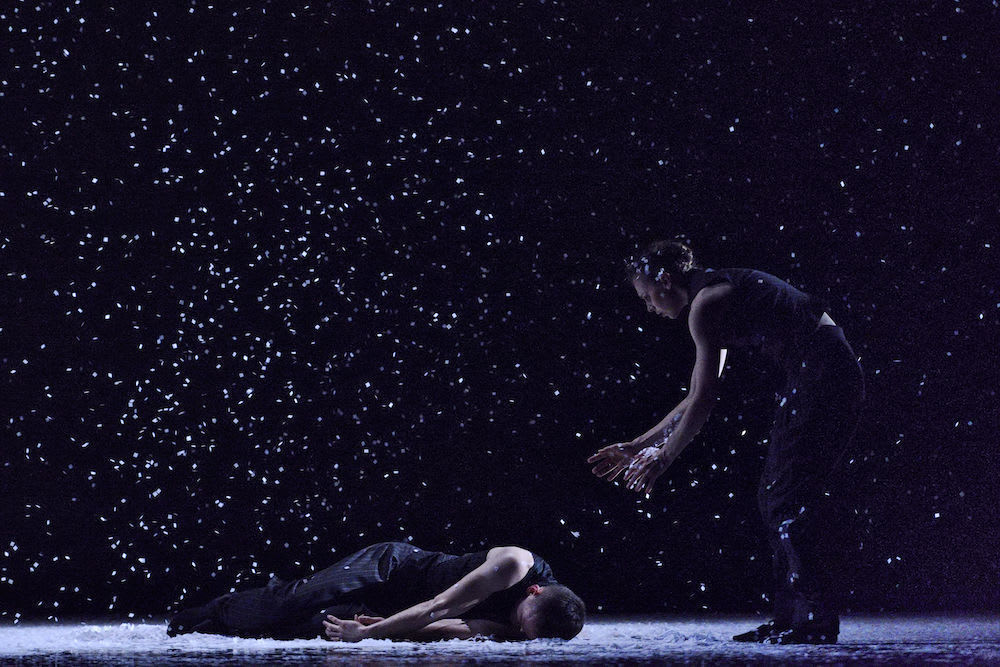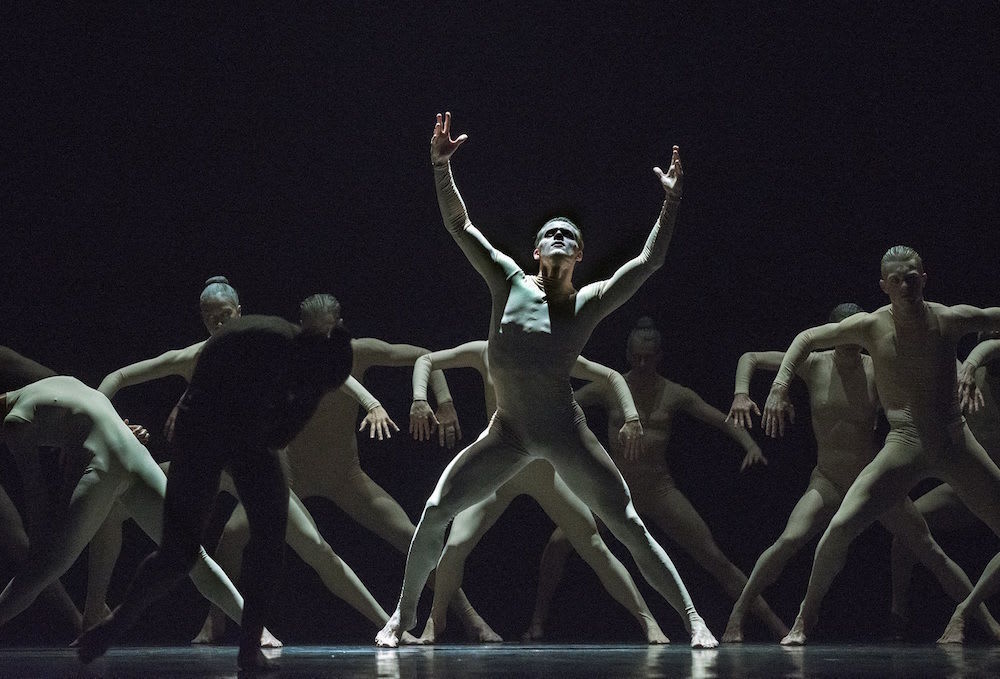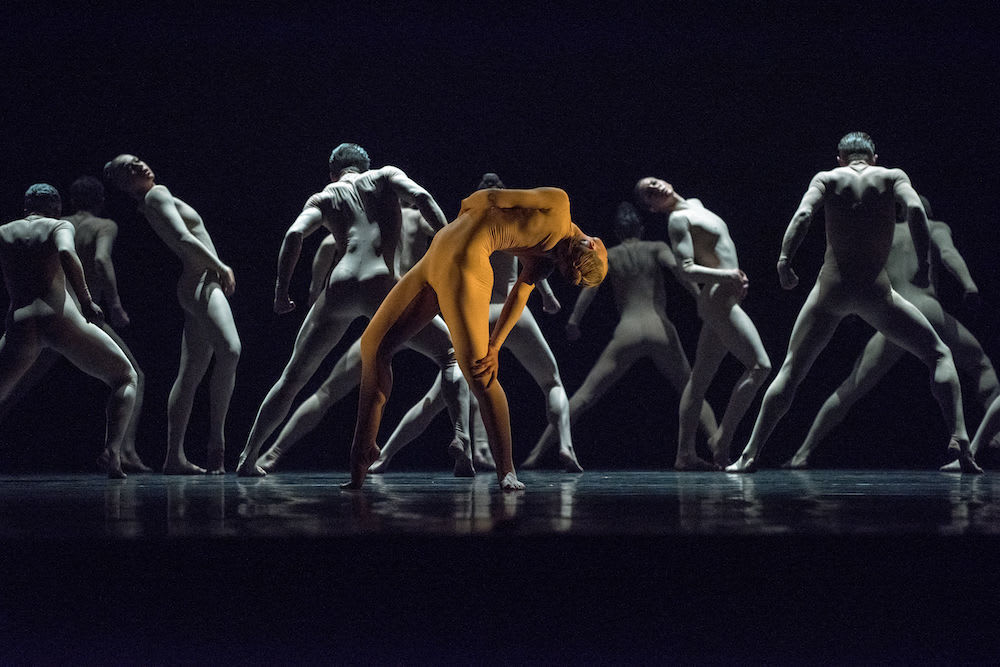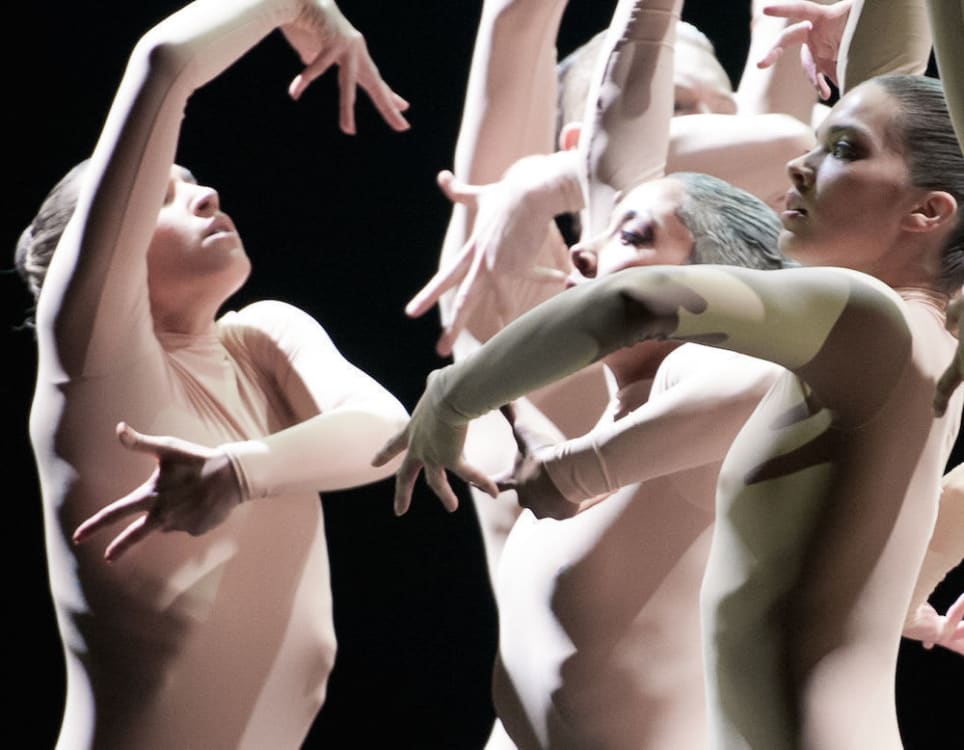 "Dance Consortium presents Ballet British Columbia, Canada's leading contemporary dance company", last seen in Britain, in Birmingham, in 2016, but this is my first encounter with the company and I go away mightily impressed by the superlative standard of dancing.
The dancers, all classically trained, are dynamic in a contemporary dance triple bill that highlights their individual and collective skills, stamina and speed in demanding choreography much indebted to William Forsythe and Ohad Naharin.
The first two pieces, respectively 27 and 22 minutes long, are by artistic director Emily Molnar and Crystal Pite, both former Ballet BC and Forsythe's Ballett Frankfurt dancers, which may explain their darkly lit similarity.
Molnar's 16 + a room, danced by thirteen dancers, seven male, six female, to Dirk P Haubrich's industrial soundscore, conjures images of 'dark satanic mills' for me, their noisy spinning and weaving machines, their flying shuttles, as the dancers spin and weave in complex patterns across the stage, the girls on pointe, their movements sharp, angular, mechanical, Forsythean, the boys' high kicks martial arts macho.
Are they suffering from existential angst? Dancers carry placards "This is a beginning" and "This is not the end". Are they frantic lost souls searching for meaning in a meaningless universe? Three acts play out. Lighting (James Proudfoot) spools from darkness to bright flood and pinpoint spots; a montage of scenes; couples spar; there is much running, a race against time?
Later I read that Molnar is influenced by Virginia Woolf—"we [are] all being shot backwards and forwards on this plain foundation to make some pattern". Confused humanity…
Pite's signature vocabulary (Betroffenheit, Flight Pattern, Polaris to name but a few) is more familiar to me, her complex contact work replicated in Solo Echo, originally choreographed for NDT in 2012. A staircase of bodies, a dinosaur spine, a cat's cradle, arms reach out for succour, tableaux vivants crystalize and fracture.
Costumed in unisex black pinstriped trousers and waistcoats, seven dancers ward off winter's snowfall to Johannes Brahms's cello sonatas op 38 and op 99. Inspired by Mark Strand's poem "Lines in Winter", Pite creates images that bring out the music's nuances. I find I'm 'seeing the music' more intensely than 'hearing the dance'. A backcloth for Brahms's soothing neo-Baroque and Romantic composition Pite's choreography seems to speak of life's ephemerality.
Sharon Eyal's Bill comes as a welcome lift from melancholy introspection, a change in tone and sound. Eighteen dancers in unadorned flesh-coloured bodysuits for 26 minutes have fun to Ori Lichtik's rhythmic funky club beats. Out of Naharin's Batsheva Dance Company stable (Hofesh Schechter is another former alumni), Eyal has her dancers let it all hang loose in Gaga style, Naharin's dance vocabulary which is all about "physical pleasure from physical activity".
Sexy camp cabaret and Pierrot robots, marionettes enslaved to the beat, primordial organisms, stamens reaching towards the light, screeching birds, jungle folk, early cave drawings come to life, animalistic rituals, the sensual dance goes on and on, on repeat as individual dancers come to the fore and show us what they can do. And what they can do is tremendous.
Ballet BC is touring to Brighton, Newcastle, Birmingham, Salford Quays and Bradford this month.
Reviewer: Vera Liber