1984
Choreography Jonathan Watkins
Northern Ballet
Sadler's Wells
–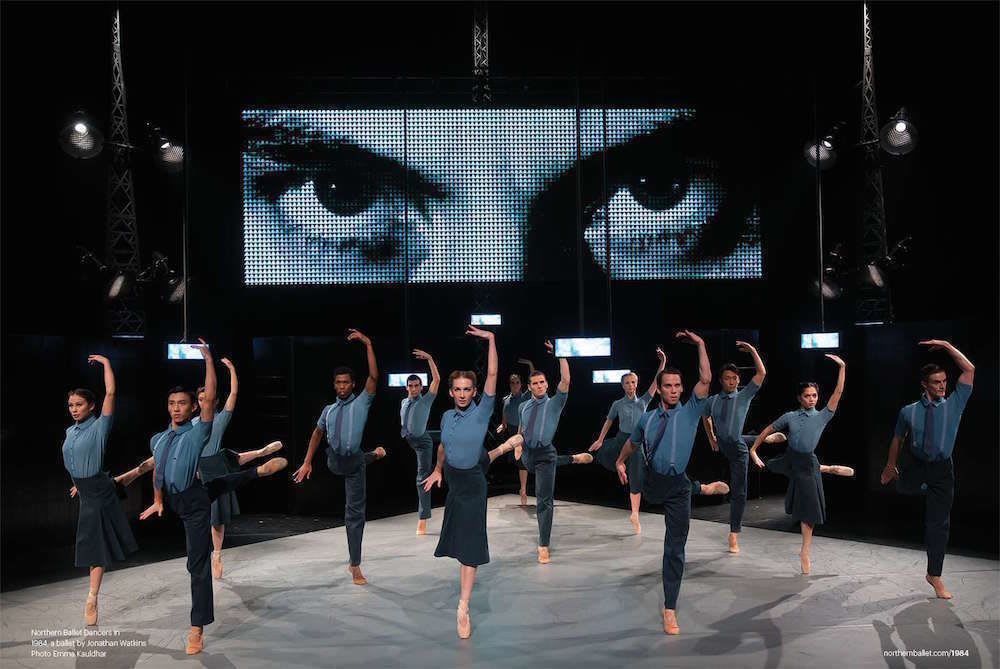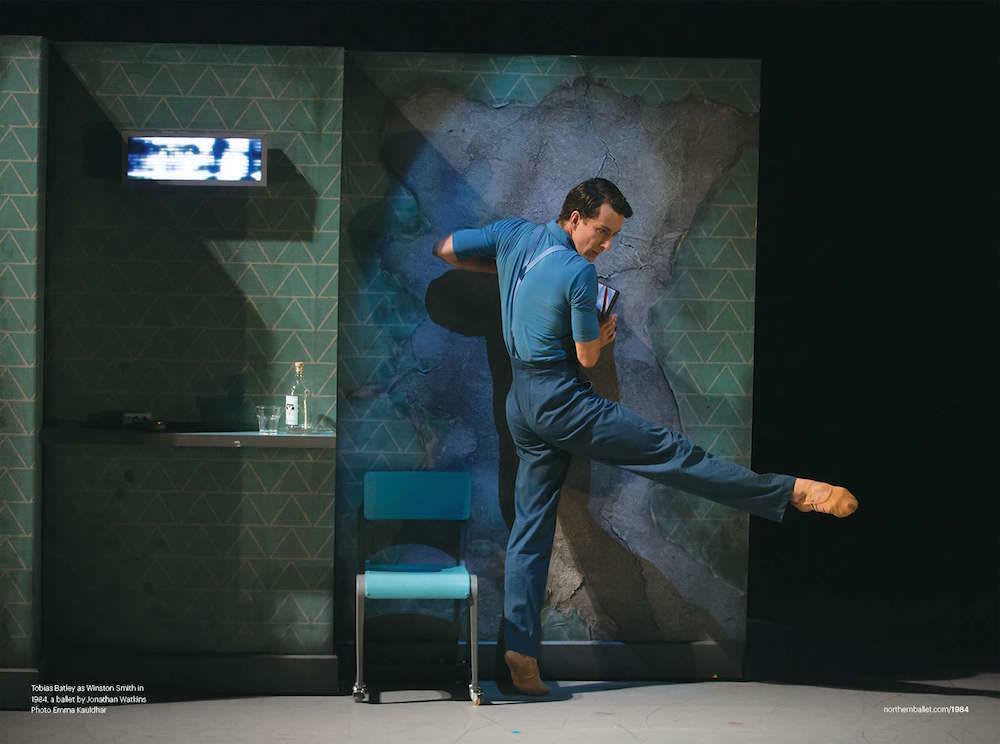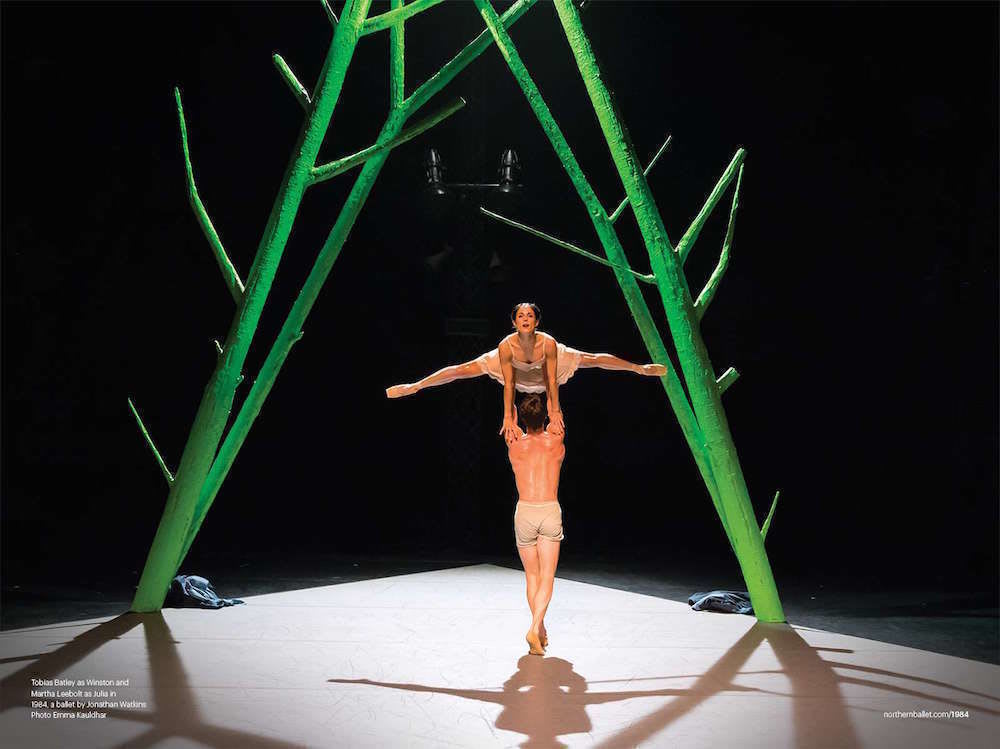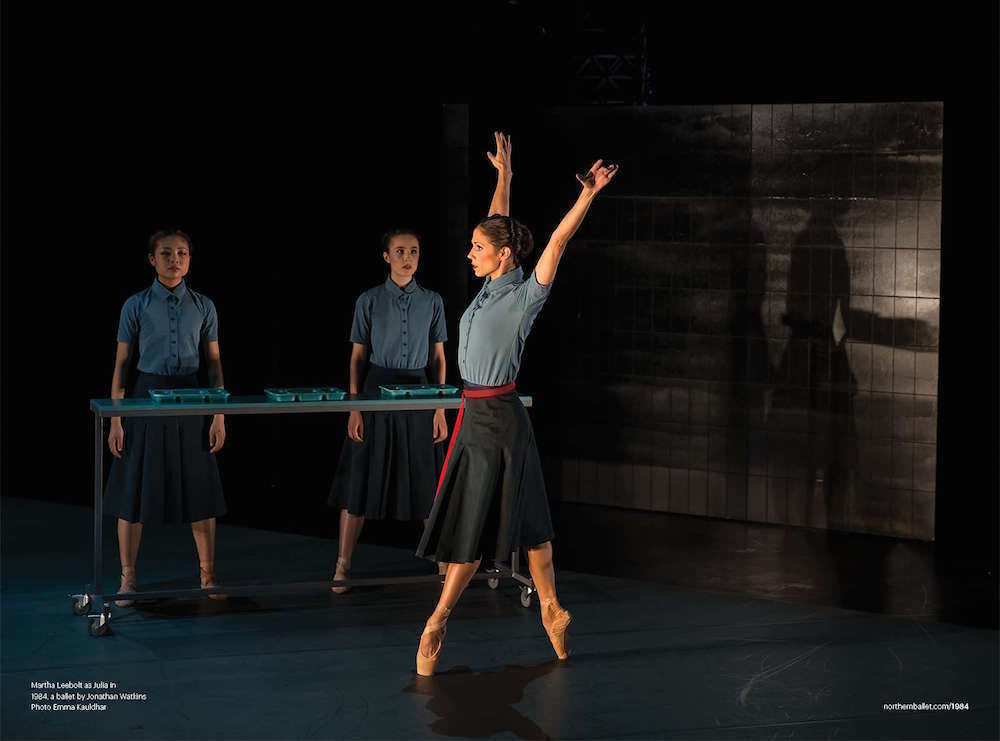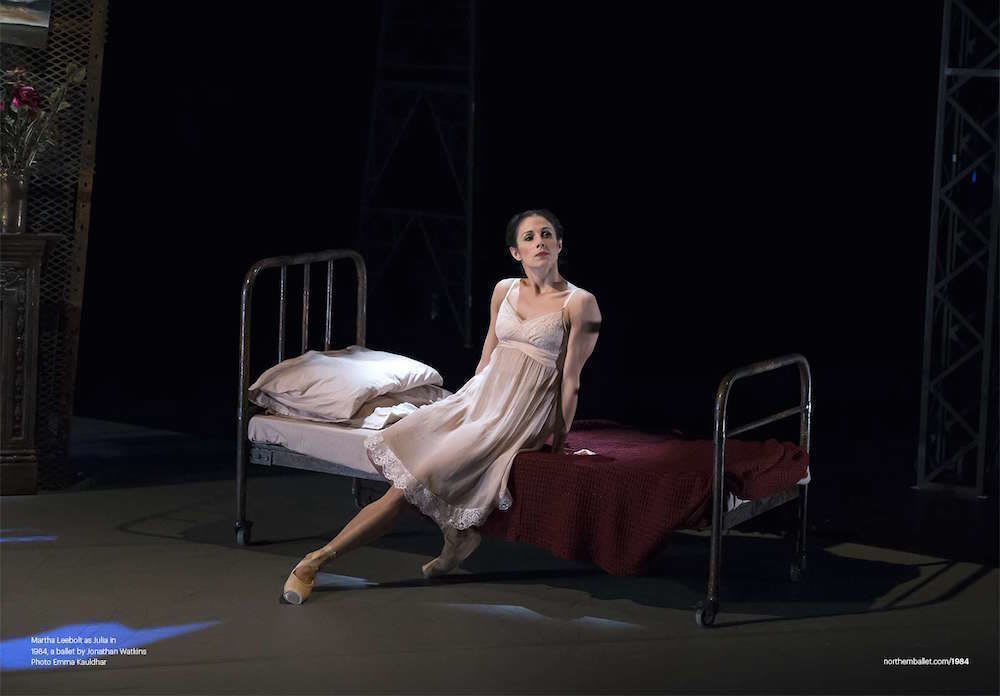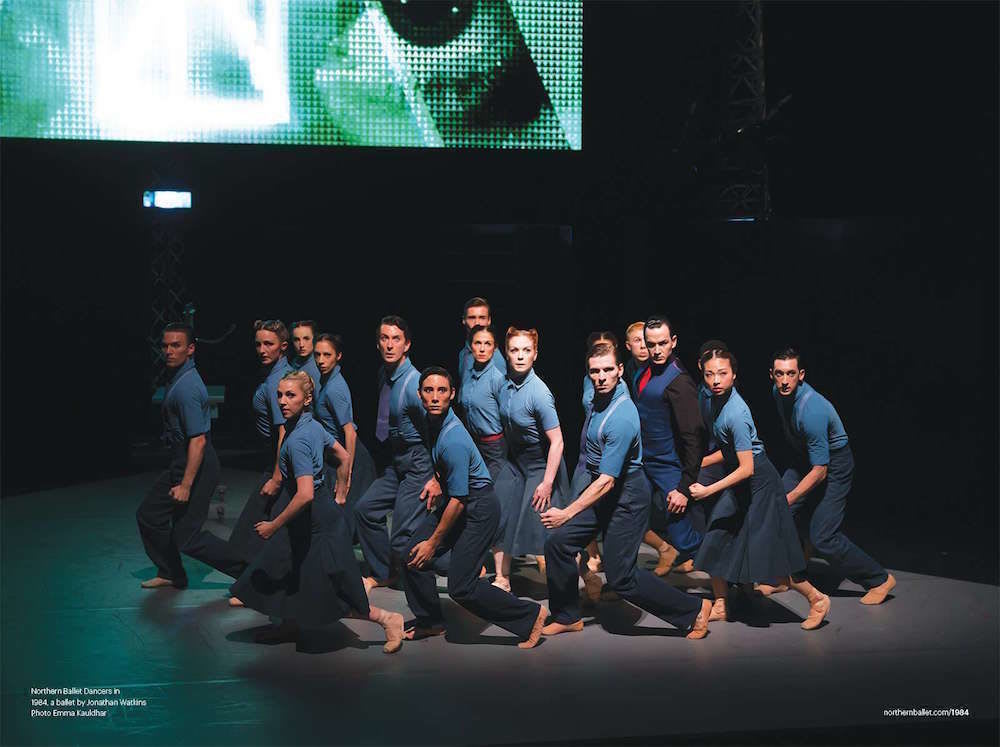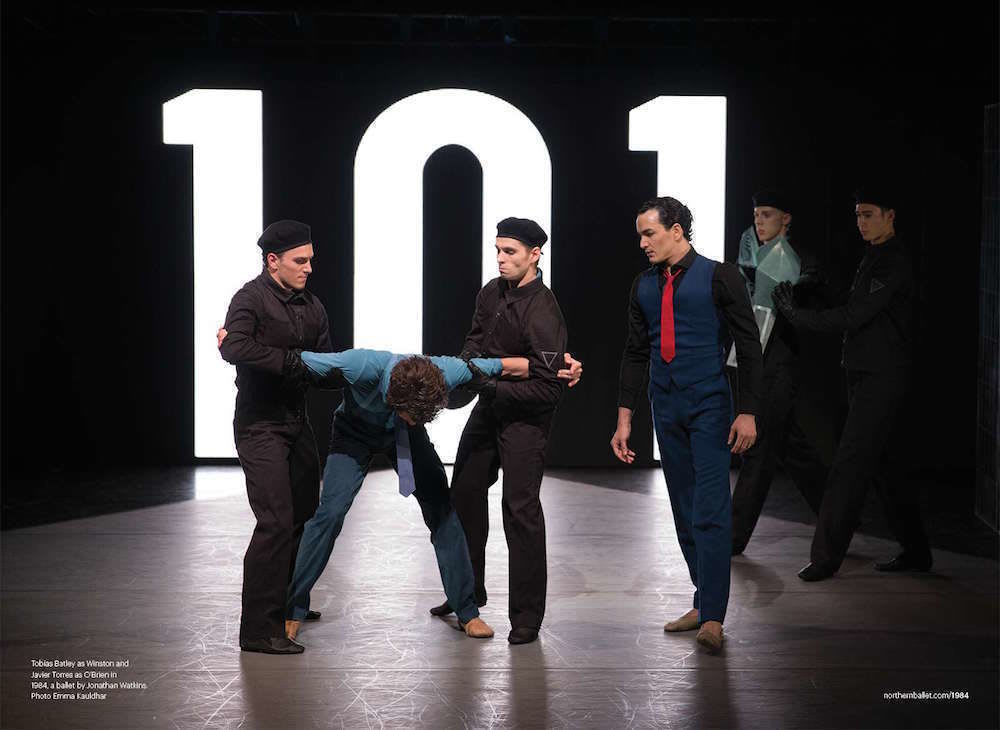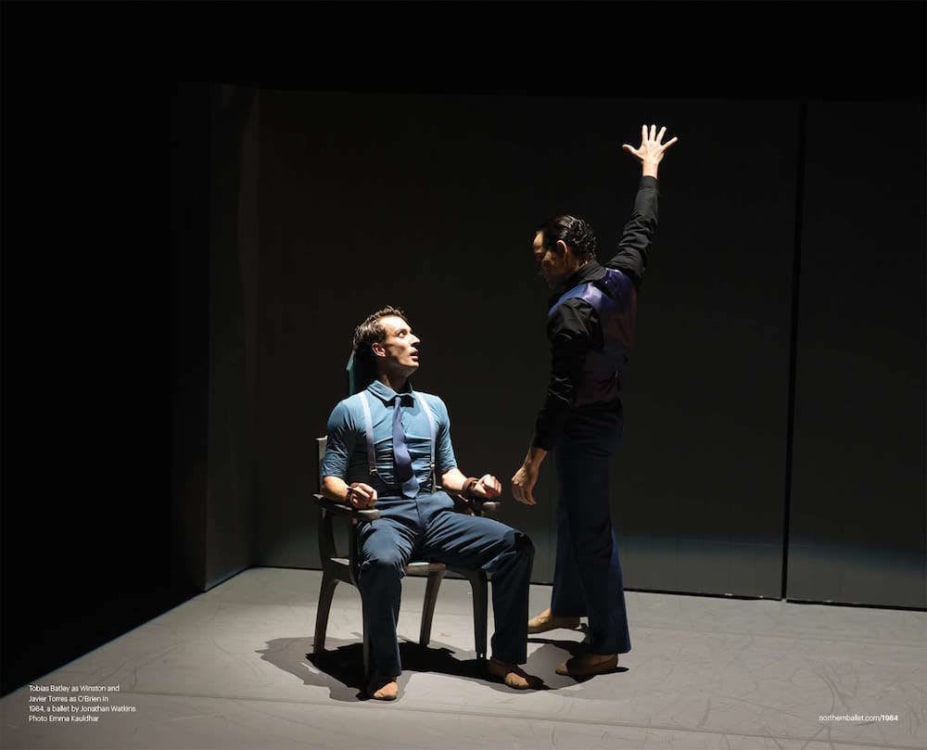 It is a brave young man who wants to take on George Orwell's literary novel with its idea that language forges morality—how do you do that in dance?
Well, in the first place, you gather a talented team around you; in the second, you have a passion to share; and in the third, you hope to be commissioned by leading narrative ballet company Northern Ballet under the watchful eye of artistic director David Nixon. I fancy Big Brother's eyes are those of Nixon.
Sitting third row from the stage, one can see the whites of the dancers' eyes, if not their feet, and realize what great actor dancers they are, but above all one can luxuriate in Alex Baranowski's tremendous score—played live by Northern Ballet Sinfonia—musical motifs indicating mood and character, subtle wit. As Orwell found his subject in Russian totalitarianism, so I suspect Baranowski has found his inspiration in twentieth century Russian composers as well as contemporary electronica.
Working with dramaturge Ruth Little, choreographer Jonathan Watkins has pared down the novel to bare main plot: Winston, Julia, O'Brien, Mr Charrington, Outer Party members and Proles with brief appearances by Parsons, Ampleforth and O'Brien's manservant.
They have simplified and exposed the essential human drama: love in a cold (cold war) climate. And Simon Daw's set and costume design, together with Andrzej Goulding's essential video design and Chris Davey's lighting, chills with its blue tones: robotic Party workers in air-force blue in a blue-grey Metropolis.
Colour does sneak in though. In their shabby clothes of warm russet hues, the Proles, who don't matter in the scheme of things because they are stupid and hence have a freedom in their movements, are a contrast to the indoctrinated regimented Outer Party.
Splashes of red suggest another out-of-reach world: there's privileged Inner Party member O'Brien in black with his individualistic red tie, and red wallpaper in his apartment, Winston's red notebook, coral paperweight, Julia's red dress, but his and her sweet moments are soon snuffed out in the chilly white tiled prison cell and room 101.
Pylons and overhead lights, large and small pixelated screens that watch and command, delete and rewrite the past, predominate. Written post Second World War, 1984 has never seemed more prescient. 'Doublespeak' and 'doublethink'; Oceania, Eurasia and Eastasia with its "death worship" in constant war…
A challenge for any choreographer—how does one demonstrate political dogma, that insists poverty and reduction of language are necessary for power: Winston in his shabby room, O'Brien in his plush apartment? But Newspeak vocabulary is very small, and ever being reduced to acronyms, neologisms and iconography. Here's where dance and gesture come in. An empty chair and Winston is gone, erased from history.
If anything, Watkins's accessible two-hour dance drama must redirect us to its source, so it may grab us again as it grabbed him in its tenacious hold. Watkins first read Orwell's 1984 at the impressionable age of fifteen; now at thirty-two he has brought it to spare life in succinct simplified digested form.
It's a labour of love and it shows: production values are high and the Northern Ballet dancers as always are superb. Tobias Batley is the needy Winston Smith and Martha Leebolt is the brittle Julia, together in their duets they are full of life; individually they take us into their hopeful but wary hearts.
Their meetings in the clearing and in the room above Mr Charrington's antique shop—piled high with bric-a-brac (I spot a Soviet samovar) on wobbly shelves reaching to the flies—are the highlights of the production, and a relief for them and us from the repetitive worker's automated actions at work, in the canteen, and in their two-minute Hate sessions, all raised fists and scrunched up faces. How to represent dull action without alienating the audience—it's a fine line that Watkins treads.
Javier Torres's sleek-haired O'Brien towers above the lovers, at once exotic, enticing and threatening; Hiranao Takahashi's Mr Charrington is an unassuming undercover plant; Kevin Poeung, Giuliano Contadini and Victoria Sibson prove that no roles are too small to shine in, but then the entire small but perfectly formed company shines.
Has the original 1984 been diminished by such popular TV fodder as Big Brother and Room 101 (I wonder what the BBC dignitaries in the audience brought to this show…). Maybe in his own small way Watkins has done his bit to redress that. His 1984 had its world première last September, and now it has been nominated for a South Bank Sky Arts Award 2016.
Reviewer: Vera Liber