20/20
Gianina Cărbunariu
Yorick Studio & dramAcum
Platform Theatre, Central St Martins
–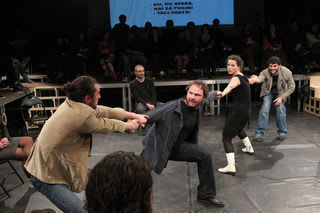 LIFT has a mission to invite a wide range of international theatre to London such as this co-production between Yorick Studio & dramAcum from Romania.
It is both written and directed by Gianina Cărbunariu, whom some readers may remember from a distinctive London debut, Kebab which played in the Royal Court's Upstairs Theatre in 2007.
This new work, which is only making a brief London appearance for three days, is written in a combination of Romanian and Hungarian, with a single scene in English. That scene, featuring a pair of visitors rescuing a young husband and his petrified, pregnant wife from unseen terrors, powerfully brings home to this audience its ignorance of the internecine Transylvanian strife that became known locally as Black March.
To assist those unfamiliar with the two main languages, there are surtitles in English and Romanian / Hungarian as appropriate. Due to the wordiness of the script, reading these can be a chore and this is not helped by a lack of indication as to the language being spoken by individual actors.
20/20 is played out in-the-round by performers sitting in a kind of sunken bear pit observed from all sides by spectators. This voyeuristic staging is effective in the light of the evening's subject matter, events in March 1990 in the city of Tirgu Mures (or Târgu Mureș) in Transylvania, during which clashes between the two ethnic groups led to fighting and five deaths.
Ten actors, split equally both male/female and Romanian / Hungarian, work with a verbatim text to illuminate the events, using virtually no costumes or props in the bare space.
Due to the lack of linguistic distinctions for British ears, it takes some time to establish who comes from which grouping and it is only during a long scene at a birthday party where politics threaten to intrude on a constant basis that one eventually begins to piece together the relationships.
The writer clearly wishes to create an impressionistic presentation during which viewers, who are likely to start from a position of total ignorance, will have an opportunity to build their understanding of events that clearly meant much to those involved.
Most will not even realise that there is a significant Hungarian community in Romania, nor that they, like the gypsies, tended to be unpopular in the era immediately after the simultaneous falls of Ceausescu and Communism.
The problems are largely related in reportage rather than action, although the strong feelings begin to emerge in a series of scenes during which the mutual hatred and suffering becomes increasingly apparent.
This is the kind of play that is of great value in enlightening audiences with regard to a subject about which they are likely to know very little, although, with greater forethought, it would have been possible to derive significantly more.
Perhaps the use of coloured subtitles or an early introduction to delineate actors might have been of benefit, taking away a degree of unfamiliarity instantly. This is particularly important where for much of the time, in order to understand what is happening, it is necessary to look away from the performers at the quartet of screens showing the surtitles.
Even so, this is a powerful work that benefits from the ensemble's passionate acting.
Reviewer: Philip Fisher