The 39 Steps
John Buchan, adapted by Patrick Barlow
Criterion Theatre
(2006)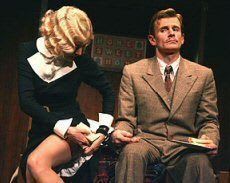 These days, as Scotland launches its National Theatre (and a very fine one too), it is easy to forget that territories even more serious about their culture got there long ago.
A quarter of a century ahead of the Scots, The National Theatre of Brent was unveiled when the inimitable, irrepressible Desmond Olivier Dingle (or Patrick Barlow) proudly launched his company with The Charge of the Light Brigade and soon after, the Charge of the Jim Broadbent.
The NToB title may not be there for this adaptation of John Buchan's stirring novel of spying and double crossing but the spirit and ethos are present, thanks to its founder, who has adapted John Buchan's tale of an ordinary chap saving his country from disaster.
The recipe has remained the same. Take a famous story and milk it for every gag in sight. This relies on a talented cast, in this case an ensemble of four, each of whom plays their part capably, their timing honed by actress turned director Maria Aitken.
Charles Edwards is hapless hero Richard Hannay, stiff upper lip topped by a pencil moustache and suavity oozing from every pore.
He is pitted against a presumably Nazi professor after picking up a dark lady with a terrible accent at the Palladium. She tells him of The 39 Steps but before she can do more than set him off on a dangerous chase, she reappears groaning with a dagger in her back.
She, like reluctant heroine Pamela and several other glamorous ladies, is played by film star Catherine McCormack, clearly relishing her chance to ham it up on stage.
One hundred or so other characters from coppers to train guards, baddies and old ladies are represented by a versatile pair billed as clowns in the programme. Simon Gregor and Rupert Degas provide energy and talent well beyond the call of duty.
Patrick Barlow's adaptation mixes verbal and physical humour and even chucks in a little shadow puppetry. There are many memorable images such as the famous chase along the top of a racing train, with Hannay then jumping onto and then off an entirely convincing Forth Bridge, all reproduced with minimal budget and props.
Like the train, the two hours flash by amid quick costume and persona changes, some trite plotting and corny jokes. The evening is inconsistent but at its best, very funny and should do well in this small West End house in the run-up to Christmas.
John Thaxter reviewed the original production at the Tricycle, Kilburn
Amy Yorston reviewed the 1500th performance at the Criterion.
Reviewer: Philip Fisher