Cymbeline
William Shakespeare
Cheek by Jowl
Barbican Theatre
(2007)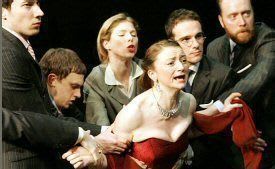 What is going on? This is London's second Cymbeline to open during the first five months of 2007, while not a single Hamlet or Romeo and Juliet has.
Has the world suddenly discovered that what everybody thought was a minor classic is the greatest play that Shakespeare wrote or is something else afoot?
The nature of this production and, even more so, Kneehigh's enjoyably eccentric version at the Lyric Hammersmith, shows that this is the kind of play that welcomes a little invention from directors and probably needs it.
Cymbeline is extremely complicated and at times downright silly, as the playwright works very hard to contrive a happy ending that ties up all of his very loose ends. It does, though, reward both adventurous directors and their audiences and Declan Donnellan's new production in the temporarily restructured Barbican Theatre does much to provoke thought and amuse.
As with its companion piece, Chekhov's Three Sisters, designer Nick Ormerod gives this modern-dress version of Cymbeline the starkest of sets. This is most effective, even if at times, this gives the piece the feeling of a radio play in which the audience is required to fill in some of the gaps, aided by some strong physical performances and a set of Reservoir Dogs costumes.
The minimalist impression is enhanced by Catherine Jayes' edgy soundtrack, which often uses only a handful of notes to make points but also contains a recurring theme tune that sounds rather like I'm Forever Blowing Bubbles and a hilarious boy band moment with jazzy overtones.
Strangely, although he is the title character, Cymbeline, a king of the Britons in Roman times, hardly gets a look in to anything. The sole exception is his cruel, Ice Maiden wife's cleavage. Since David Collings is a full head shorter than the 6 ft plus Gwendoline Christie, this is both understandable and amusing.
The real focal character is bouncy, loving Imogen, played by Jodie McNee. She it is that falls for geeky Posthumus, thus angering her step-mum, who believes that her own son Cloten is a more obvious choice to become the next king.
In what might be regarded as a controversial piece of casting, the talented Tom Hiddleston is forced into a Clark Kent role converting from the bespectacled, trench coat-wearing Posthumus into smarmy Cloten before our eyes. For those who are unfamiliar with the play, this could cause immense confusion, although it is logical, since before the end one is mistaken for the other, albeit without a head.
The main plotlines centre on some clever Shakespearean double-crossing that quickly leads to a rift between Imogen and Posthumus, aided by Guy Flanagan as the greasily charming, Italian Iachimo. He has a fine old time in the lady's bed chambera nd then wreaks havoc before getting his comeuppance.
The resolution follows the subsequent decamping of all parties to Milford Haven for scenes of rural bliss for the locals but also chill and starvation for Imogen, by then dressed as a boy.
Up to this point the pace is maintained by some typical Cheek By Jowl work with characters remaining on stage either to be addressed or to re-enter in unbelievably quick scene changes. It begins to drag a little in the early Welsh scenes as the plot introduces us to a pair of pastoral Princes previously believed to be dead.
This is swiftly followed by a bloody murder and all-out war that miraculously brings everybody together for multiple reconciliations and the chance of a happy future; without the Queen or her son.
As one expects from this company, the acting is top drawer, with special emphasis on body language so that the actors, led by an impressive Jodie McNee, almost express as much with their hands as their vocal chords.
This late play may not show Shakespeare at his very best but, in the hands of Cheek By Jowl, a complicated melodrama has become an entertaining spectacle that draws in the audience and holds their attention for the vast majority of its two and three quarter hours.
Reviewer: Philip Fisher