Hamlet
William Shakespeare
English Touring Theatre
New Ambassaodors
(2006)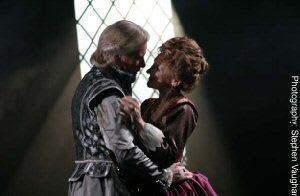 The English Touring Theatre have provided us with a solid, traditional Hamlet that is chiefly distinguished by a central performance from a young man with a famous surname.
From his first appearance, Ed Stoppard grabs the attention. Downstage left, there sits a haunted, rocking, tic-ridden and angry young man who is, at best, on the verge of a madness that might have been brought on by the death of his father and swift remarriage of his mother to his triumphant uncle.
Despite his passages of great lucidity, this Hamlet is at the "mad" end of the scale, contrarily seeming at his most sane when acting mad for the benefit of others and, in particular, Michael Cronin's surprisingly dry Polonius.
Director Stephen Unwin and his designer Michael Vale have worked wonders with a budget that has clearly largely been spent on a substantial cast. Using traditional costumes, the production eschews props in true Peter Brook Empty Space style, favouring Malcolm Rippeth's minimal lighting and a significant proportion of the world's supply of dry ice.
Even this is not enough to make Patrick Drury's imposing ghost of Hamlet's murdered father seemed incorporeal. This beefy ghost is terrifying and it is easy to see why his son should be deeply affected, even were he not on the verge of succumbing to his mental incapacity.
Hamlet is also struggling to come to terms with the relationship between his uncle -King Claudius well played, with a very matter-of-fact but ever-present sense of evil by David Robb - and his beloved mother.
Anita Dobson, still most famous as Angie from EastEnders, plays Gertrude as a rather quiet and self-effacing woman and might even be giving us a gentle impression of our own, dear QE 2. It is only when her son accidentally, but very bloodily kills his girlfriend's father, Polonius that she comes into her own and demonstrates her acting talent.
Her second highlight is when she is forced to announce the death of the sweetly innocent but constantly stressed and unhappy Ophelia (Alice Patten) to the world and more particularly to handsome Ben Warwick as her brother Laertes.
Throughout, it is the performance of Ed Stoppard, his mourning demonstrated by black clothes and designer stubble, that grabs the eye. His voice is relatively high pitched and this helps to convey his anxiety and anger, as well as that rich vein of madness.
Stoppard speaks well, if incredibly quickly, but that is in character in a production that is fast throughout, so that even if the running time is just over three hours, very little of the text is excised and no scene change takes longer than a handful of seconds.
The supporting cast is rather uneven, although Michael Cronin is far better as a morbidly humorous West Country grave digger than in the larger part of Polonius.
There should also be a word of praise for a rather surprised Richard Hansell. In the tiny part of Reynaldo, he expertly rescued the day when a desperate fellow actor, who had better remain nameless, dried up completely and begged for a cue.
This could be an ideal Hamlet for the ubiquitous A-level English set to the extent that teenagers are still permitted to study Shakespeare. It may not have the flashiness of Trevor Nunn's Old Vic production but with images that are reminiscent of Flemish Grand Master paintings, it sets this play in context and shows what a complex character its protagonist is.
This production was reviewed by J D Atkinson at York Theatre Royal and Steve Orme at Buxton Opera House.
Reviewer: Philip Fisher