A Man for All Seasons
Robert Bolt
Theatre Royal Haymarket
(2006)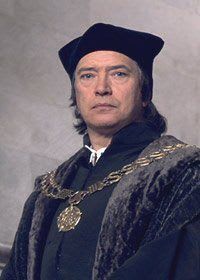 A Man for All Seasons is best remembered for the film version from the 1966 which starred Paul Scofield as Sir Thomas More. The 2006 version is selling on the back of a big TV name, Martin Shaw, who is now famous as Judge John Deed, having come to fame in The Professionals in the 70s. Unfortunately for him, comparisons are inevitable and next to such a great actor, he was always going to struggle.
Strangely, this is also the second play of a year that is a week old, which features Thomas More as its protagonist. However, if he did not have the same name, one would hardly know that this was the same man as the jovial fellow taking the lead in the RSC production named after him.
This version of More's story focuses on the political and diplomatic aspects of his life, once he had become a knight and in the period when he was promoted to and then gave up his role as Lord High Chancellor.
The lights come up on Paul Farnsworth's lavish set, featuring wood panelling walls, and above these, much golden ornamentation. Strangely, the occupants of More's house make their entrances and exits from fully twenty feet above his living room. Farnsworth likes heights, as the best of his scenic adventures, a large portrait of the King and his coat of arms, both fly in from on high.
It was apparently More's destiny to be betrayed by almost everybody that he met. The friends of the early scenes, Gregory Fox-Murphy's young Richard Rich and Paul Shelley's Duke of Norfolk were, by the end, denouncing him and sending him to an early meeting with the axe man.
More cheerful but equally willing to sell his soul for a few pennies is The Common Man, often but not always, More's servant Matthew. He acts as MC for the night and, thanks to Tony Bell's sense of humour and his characters anachronistic knowledge, does so with great wit.
His family are more supportive, although they to give him problems with Alison Fiske (playing his haughty wife Alice) never cracking a smile; and his daughter Meg (Sophie Shaw) keen to wed John Sackville as William Roper, a Lutheran heretic.
The crunch point for this honest man with the deepest of convictions comes when his king, Henry VIII, a surprisingly light weight (in every sense) but golden man played by Daniel Flynn, decides to ditch Catherine Parr on the weakest of legal grounds and replace her with Anne Boleyn.
His real reason was Catherine's barrenness and consequent inability to provide a son but he preferred to cover this by claiming that the Pope's dispensation to marry Catherine was illegal. By doing so he caused the schism that became known as the Reformation.
More's refusal to accept this put him in direct opposition not just to his king but also to the very sinister Thomas Cromwell, excellently portrayed by Clive Carter. He was not a man to be crossed and, once he began to oppose More, it was only a matter of time before the former Lord High Chancellor either backed down or had the opportunity to meet his maker.
Michael Rudman's production starts very slowly and only really picks up pace after the interval, as the intriguing becomes increasingly intriguing. It is also at this point that Shaw finally gets into gear and begins to show the pathos of an honest man who is willing to die for his beliefs.
The play becomes additionally poignant in a week when Charles Kennedy was slowly but surely hounded out of his position as leader of the Liberal Democrats by a team that he had put together and had every right to believe were his friends.
On the basis that he is likely to have some time on his hands in the very near future, his recent performances have suggested that he might make a strong understudy, should Martin Shaw need a break later in the run.
Kevin Catchpole reviewed this production on tour at the Mayflower, Southampton
Visit our sponsor 1st 4 London Theatre to book tickets for
A Man for All Seasons
Reviewer: Philip Fisher