A Midsummer Night's Dream
William Shakespeare
Dash Arts
The Roundhouse
(2007)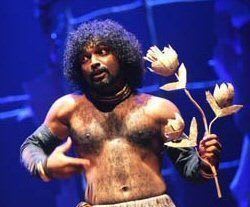 The RSC Complete Works season continues to surprise and delight. There can rarely have been quite such an unusual Midsummer Night's Dream as Tim Supple's Indian extravaganza.
He takes chances in a cut-down version that runs to around 2¾ hours but boasts half a dozen different languages from the sub-continent plus English. Even the latter is not always intelligible thanks to the renowned poor acoustics at a venue better suited to rock music than classic drama.
None of this matters as the ethos followed by Supple and his designer Sumant Jayakrishnan is based on spectacle, which they deliver with great imagination.
The first impression is of the colourful and often eccentric costumes that allow Titania to look like the TV Wonderwoman with hair reaching several inches below her waist and Puck to wear little but a red loincloth and (presumably traditional) leather straps complemented by a Mohican and 1970s droopy moustache. Their colleagues generally favour vibrant primary shades too.
The setting soon takes over when the spirits burst through a thirty foot high bamboo back wall that gradually disintegrates through the first half, as actors make entrances and exits. They also athletically clamber all over it.
While this might seem unsafe, many also have circus skills, which enable them to climb robes with the facility of monkeys and hang almost unsupported, seemingly unaware of the existence of gravity.
This is all stunning and the exotic effect is enhanced by assorted Eastern music played by a trio suspended above the playing area. This is set up as a deep thrust with the audience in a semi-circle around it, giving the feel of an amphitheatre. That effect works well at the Roundhouse and will sadly be lost on tour where for the most part the theatres chosen boast proscenium arches.
Within this heady atmosphere, a team of imported actors play out Shakespeare's Dreamy tale with multi-lingual vigour and great passion.
The pairs of lovers, Hermia and Lysander and Helena and Demetrius have a sexy time in the woods, thanks to the ineptitude of Ajay Kumar's Puck when armed with a love drug supplied by his boss Oberon.
Puck's fun doesn't stop there, and one of the show's comic highlights is when Bottom the Weaver, a giant of a man is transformed into a well-hung ass with whom the enchanted Titania (Archana Ramaswamy) falls head over heels in love.
Bottom, played with great charm and wit by Joy Fernandes, is also an integral part of a great comic team, the low caste mechanicals who perform the play of Pyramus and Thisbe as if it were a Hindu myth rather than a Greek one.
The story is easy enough to follow for those familiar with the play. It may well be that newcomers struggle to grasp nuances (or even plotlines) but the general impression and spectacular performances will make up for any confusion by the time that the happy ending is reached.
This is a most unorthodox but ultimately highly entertaining mix of text, dance, acrobatics and music that will enchant and intoxicate. It might also refresh the palate of those who occasionally get jaded at the suggestion of yet another Shakespeare. London productions must already be in double figures this year, thankfully almost all of great quality.
Pete Wood reviewed this production at the Swan, Stratford, , and Peter Lathan reviewed it at the Theatre Royal, Newcastle
Reviewer: Philip Fisher