The Entertainer
John Osborne
Old Vic
(2007)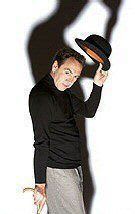 It has taken a long time but Kevin Spacey's Old Vic is really into its stride. Sean Holmes' 50th anniversary revival of a play about the end of so many things is so good that one wonders whether the original staging can have been any better. Since that Royal Court production starred Laurence Olivier and Dorothy Tutin (replaced by Joan Plowright in the West End) under the direction of Tony Richardson, it might have been.
The star on this occasion is Robert Lindsay, fresh from his title role in The Trial of Tony Blair. Archie Rice is a long way from the Prime Minister although some might argue that his seedy values and desperation to cling on to a failing job are not too different. He is a classic symbol of decay wrapped in the body of a cheery chappie of the Max Wall or George Cole variety.
Rice is the last in a line of music hall performers, at a time when his art form has become passé. Now, the punters would rather gawp at the nudes who have attracted them to the theatre in the first place.
Despite the fact that he is enjoying his twentieth year of evading the taxman, the increasingly desperate old trouper's home life is little better. The play opens with the return of his daughter Jean (Emma Cuniffe), following the break-up of her engagement to boring Graham. This good-natured girl has become politically aware like her half-brother Frank and wants more from life than to be a stay-at-home wife.
Rather than follow another brother Mick into an army pursuing Attlee's disastrous attempts to take over the Suez Canal, David Dawson's Frank has spent six months in prison as a conscientious objector. Thus, it is the younger generation who do what they always will, dismiss and rebel against their elders but also act as their consciences.
Archie by this stage is in permanent denial, wearingly maintaining his stage persona at home. He makes life hell for his second wife Phoebe, a dowdy woman who constantly resorts to gin or Dubonnet for the comfort that her husband denies. She is given true humanity by the superlative Pam Ferris, who literally collapses like a deflated balloon after receiving a final dose of bad news.
To be fair, Phoebe has a lot to put up with from the start, as Archie brings women home every night including a blonde barmaid thirty years his junior whom he hopes to marry - bigamy or divorce permitting. Things get much worse as news of Mick's capture in Egypt comes through soon, followed, after a flicker of false hope, by his death. With him dies hope for all of the family.
Following a tearful funeral, Archie's self-respect hits rock bottom. In an effort to stave off debtors, he forces his dignified, if dotty, xenophobic old dad Billy, played convincingly by John Normington, back onto the boards and soon enough into a coffin.
Poignantly, Osborne counterpoints the failed music hall performer with his brother, who has given up the family business to become a successful barrister after the Inland Revenue reduces Archie to two equally undesirable alternatives, jail or Canada.
The Entertainer is far more than a play about a man and a family on the slide. The music hall that has entertained generations is in terminal decline and so is the British Empire that, with Suez, has reached a point of no return. Symbolically, it is as denuded as the statuesque Britannia backing Archie's stage routine. That is what makes this many-layered tragicomedy so relevant even today when a government still on occasions seems to harbour memories of Britain's imperial past.
Robert Lindsay impresses and clearly has great fun in a dream role. He not only gets to act the archetypal cheerful loser but also presents a complete music hall routine with song, dance and limp jokes. This is not a one-man show though and Pam Ferris and John Normington give high-class support, while the two younger actors are by no means disgraced in such fine company.
Designer Anthony Lamble ensures that the massive stage is cut down to a sensible size for the families grim, rented living room and leaves us with an unforgettable final image, while Jon Addison's music, supposedly bolstering the failing music hall act, is delivered live from the orchestra pit.
Director Sean Holmes shows impeccable judgment in a three hour staging with two intervals that makes this one of the most moving evenings in a London season that could well be one to remember, having in recent weeks launched The Glass Menagerie and Equus with many more pleasures promised.
After such a rough start at the Old Vic, Mr Spacey, who is opening in the Broadway transfer of Moon for the Misbegotten later in the month, must have thoroughly enjoyed an opening night that ended in rousing cheers for his cast.
Visit our sponsor 1st 4 London Theatre to book tickets for The Entertainer.
Reviewer: Philip Fisher