Equus
Peter Shaffer
Gielgud Theatre
(2007)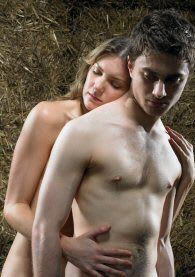 The first overly-hyped play of the year is with us and every tabloid wants to know about Harry Potter's Hogwart. The publicists have certainly done well from the casting of Daniel Radcliffe as 17-year-old Alan Strang in this revival of Peter Shaffer's psychological drama from 1973. This is undoubtedly the hottest ticket in town and the fact that the teenager has never appeared on stage before seems to be completely irrelevant.
Once one gets over the false excitement, Thea Sharrock's production is really exceptional both for its look, courtesy of John Napier, and the gripping drama that builds to a terrifying finale that should win over visitors who thought that they were paying their fifty quid merely for a few seconds of sexual frisson.
The real star of the evening is Richard Griffiths, in this case far closer to his multi-award-winning performance as Hector in The History Boys than Harry Potter's Uncle Vernon.
He plays Martin Dysart who acts as both narrator and father confessor to troubled Alan. This laid-back, unhappy man is a philosophising children's psychiatrist who has to overcome his own doubts in order to remove those of his patients.
He overworks in a psychiatric hospital to which a magistrate, Hesther Salomon, brings a boy who should really be in prison. Jenny Agutter in this part has come full circle, since she played Jill in Sidney Lumet's 1977 film version which also starred Richard Burton and Joan Plowright.
The boy's crime is the inexplicable blinding of six horses. To start with, his only communication is by way of advertising jingles and expletives. Gradually though, like a cowboy breaking a wild horse, Dysart begins to win him over.
At the same time, he meets the boy's parents, a mismatched pair who rarely communicate, played by Jonathan Cullen and Gabrielle Reidy; and begins to unlock the secrets behind the crime. TV hating Frank is a printer, an ordinary man with his own darker side, while Dora is a religious fanatic. When Frank explains his theory that all of the boys' problems are related to religion, he does not know how right he is.
With the help of hypnosis and a placebo truth drug, Dysart eventually gets into the boy's mind and discovers that for him, the horse Equus has become a replacement for "Our Lord" who is memorably depicted in a beautifully-lit crucifixion on horseback scene, as the interval curtain falls.
The second half contains all that the tabloids have promised, when Strang is seduced by flirty, skittish, stable girl Jill, played by Joanna Christie, and it is the youngster's sexual failure that leads to frustration and his cruel crime.
At that point, having enunciated his fears and nightmares, we are assured that the boy will become normal. Cleverly, Shaffer leaves the question about whether that is a good thing and what the resolution will cost in terms of the loss of the imagination and joy of childhood.
John Napier's set would not like out of place in a modern-art gallery. It makes the stage into a dark, circular cathedral with two rows of audience seats above and behind the actors. He uses virtually no props except four wooden boxes and shaped metal grilles that impressively turn actors into horses, with the aid of movement coach Fin Walker.
Equus will be a box-office hit for all of the wrong reasons and those who stop to analyse the performance may well realise that Daniel Radcliffe is far from the highest quality as a stage actor at the moment. His performance lacks colour but with the support of his fellow actors, including the hardly more experienced Miss Christie, he gets by.
That should not matter since this is a wonderful evening's entertainment that is based on Richard Griffiths' performance and Thea Sharrock's gripping interpretation of a play that richly deserved to be revived with its powerful mix of psychiatric casebook and detective story.
Reviewer: Philip Fisher