The Seagull
Anton Chekhov, in a new version by Martin Crimp
RNT Lyttelton
(2006)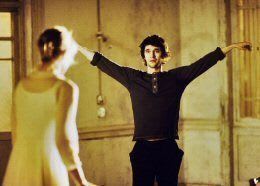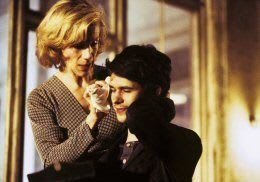 There are three very distinct voices at work in this new version of The Seagull. Inevitably, Anton Chekhov, the Russian doctor cum playwright has a hand, although his text can easily run a full hour longer than this condensed alternative, which comes in at just over two and a half hours including interval
The pacy modern translation is provided by Martin Crimp and has much to commend it, in particular a great deal of humour. However, the chopping means that there is little sense of location and some of the minor relationships lack clarity. As a consequence, certain lesser characters risk veering towards caricatures.
Overriding both writers for much of the play is director, Katie Mitchell who gets great performances from a fine cast but seems determined to stamp her mark on the play, sometimes to the almost audible irritation of her audience.
Designer Vicki Mortimer has come up with a set that for two of the four acts looks like a carbon copy of the one that Hildegard Bechtler created for Miss Mitchell's production of Iphigenia at Aulis in the same theatre two years ago. The emphasis is on drabness and decay and when the long narrow set opens out, we get even more of the same.
For some reason, all of the house's domestic staff have inexplicably been asked to operate at a run and this proves a serious distraction, particularly in the early scenes as actors are delivering presumably critical lines.
Martin Crimp's adaptation promotes Chekhov's message that love must inevitably make both the loving and the loved unhappy. Time and again, Cupid's arrow hits home and the poor victim seems destined for a life of misery or an early death. Only the group's host, Gawn Grainger's elderly Sorin, who announces that love has passed him by, avoids this plague.
One interesting development is the spinning of the opening scene through 180 degrees. In this way, the audience becomes the lake, as Hattie Morahan's Nina delivers the avant garde, metaphysical lines dreamed up for her by her admirer Konstantin played by Ben Whishaw and the stage audience can be clearly and amusingly observed.
The star-struck Nina's real problems start when she falls for Mark Bazeley's rather lightweight Trigorin, a famous novelist already claimed by the penny-pinching, but much-lauded actress Arkadina (Juliet Stevenson).
As if this love quadrangle was not enough, hangers-on such as a lugubrious doctor, an ineffectual school teacher and his reluctant wife add to the depression, everyone yearning for the wrong partner. This gives Angus Wright, Justin Salinger and the particularly impressive Sandy McDade as a Scots accented Masha opportunities to shine.
They offer solid support to Juliet Stevenson who is at her very best in the third act as Arkadina finally shows her vulnerability in solo meetings first with her son, following a recent suicide attempt that has left him even more unstable and introverted than before, and then with her lover who is harmlessly trying to desert her for the much younger Nina, or possibly hedge his bets by carrying on with both.
Ben Whishaw is tremendous as Konstantin with the character's jumpy insecurity bringing back happy memories of this excellent young actor's Old Vic Hamlet. Interestingly, he has once again taken on a part made famous in this country by John Gielgud, actor in whose theatrical footsteps he might do very well to tread.
Almost matching this wonderful pair is Hattie Morahan, whose Nina, after a breathless and rather desperate opening, becomes a fragile, dripping, bird-like figure deserving of the greatest sympathy when her love for the uncaring Trigorin eventually leaves her no better off than the dead seagull that symbolises her demise.
This unbalanced evening, almost three-quarters of the play takes place before the interval, picks up towards the end, as the weird and rather ghostly music is turned down and the servants disappear from view. At that point, Martin Crimp's vision begins to come through loud and clear and the actors have the opportunity to really make their mark.
Reviewer: Philip Fisher