Much Ado About Nothing
William Shakespeare
Royal Shakespeare Company
Novello Theatre
(2006)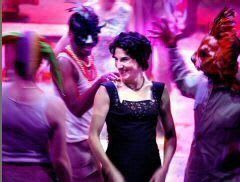 As an antidote to pantos and other seasonal froth and an advert for the RSC and its favourite playwright, this Much Ado could hardly be bettered.
That might have been expected since RSC debutante director Marianne Elliott is already riding high, following double success at the National with Pillars of the Community and Thérèse Raquin.
Having decided to play up the comedy for all that it is worth, Miss Elliott sticks to her guns, well-supported by an impressive cast who seem to be having great fun throughout.
The setting is unusual, steamy Cuba in a 1950s simply conveyed by a dead, wheel-less Vespa; the costumes; and a lively band that takes every opportunity to play lively salsa but also demonstrates an affinity for jazz, all composed by Olly Fox.
The musicians sit vertiginously high above the stage on the top level of an ornate, wrought iron structure, designed by the ever-ambitious Lez Brotherston. This fills the upstage area, leaving plenty of space for the actors in front.
The main story of the blindness to inevitable love by Beatrice and Benedick benefits from Joseph Millson's Basil Fawlty moments. He is counterpointed by the strident shop steward attitudes of The Green Wing's Tamsin Greig, whose expressive face could easily launch a thousand ships or laughs.
The resistance reaches its peak in several bouts well-matched verbal jousting. It then begins to dissipate in paired stings in which each overhears untruths about the hidden desire of the other from matchmaking friends; both are played farcically with well-judged slapstick never far away.
The parallel love story of Adam Rayner's handsome, earnest Claudio and sweet, wronged Hero (Morven Christie) runs more smoothly to start with. However, thanks to the wickedness of the black-clad (always a bad sign) Don John it almost founders at the altar.
Help arrives in the unlikely guises of a Friar with a cunning plan and then the effeminate Constable Dogberry. The heavily lipsticked Bette Bourne, sporting a hairstyle that would look better on an Afghan Hound, has great fun with malapropisms and his camp crew of guardsman. They are epitomised by his (possibly civil in the modern sense) partner the bonelessly drippy Verges (Steven Beard).
Love must out twice over though, especially with so much sexual imagery, verbal from the bard and visual courtesy of the director, and eventually does so to general delight.
The dark-haired, angular Miss Greig who, after Beatrice finally succumbs to love, sounds as if she has been heavily influenced by Emma Thompson, will win a lot of friends as the frumpish, angry Beatrice. So too will the bull-like, demonstrative Joseph Millson, although his interpretation may verge too far towards farce for more conservative tastes.
They receive excellent support from all, with Nicholas Day as a very human Leonato and the two Dons, good Pedro (Patrick Robinson) and almost panto-bad John (Jonny Weir) all shining.
The three and a quarter hours flash by in a welter of laughs and a few tears before a celebratory dance that is much more South American than the RSC's normal offerings.
If the whole of the RSC's complete Shakespeare has been this entertaining, visitors to Stratford must have been in seventh heaven. The run is short so get in quickly. Think about taking the youngsters too. They might well get hooked on William Shakespeare for life and in terms of recreational addictions, most parents would be delighted at one so benign.
Playing until 6 January 2007
J D Atkinson reviewed this production in Stratford and Peter Lathan in Newcastle
Reviewer: Philip Fisher