Romeo and Juliet
William Shakespeare
Royal Shakespeare Company
Roundhouse
(2010)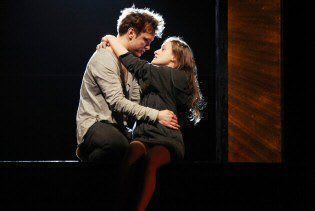 Rupert Goold has always been willing to take risks and, much more often than not, they come off. He is usually as adept with a Shakespearean tragedy as a modern drama but just occasionally, he can push things too far.
His concept for this transfer from Stratford to the RSC's new primary London home sets the cast in traditional dress and manner with two notable exceptions.
The talented Mariah Gale plays Juliet as a 21st century girl, with real prowess, persuading viewers that she really is a headstrong pubescent teenager, excitedly teetering on the brink of sexual awakening.
Opposite her, Sam Troughton fares less well. His Romeo is a self-obsessed, technology-toting young English hoodie, complete with all of the moves but also the shallowness of today's lovers of instant gratification. This is hard to accept in the context of a young man who should be playing out the actions of a sixteenth century Italian nobleman.
Another problem lies in the acoustics, but also, unusually for the RSC, the verse speaking of several performers. Playing in the old railway shed's thrust to a widely spread audience, they are not always helped by a spread of accents drawn from across the United Kingdom and beyond, making intelligibility a problem at times.
As always with Goold, though the spectacle is special. The opening fight could have been drawn from a big budget movie, while fiery imagery repeatedly enlivens proceedings.
This director also has a great eye for artistic effects and with assistance from ace lighting designer Howard Harrison creates several scenes of great beauty to complement (and only occasionally draw attention from) the plotting.
Within this framework, the story of Shakespeare's star-crossed lovers is allowed to unfold, starting in a glorious dance sequence that ends with a single pairing captured by romantic, filmic lighting.
Playing a nice foil to Mariah Gale, Noma Dumezweni is clarity itself as a young, briskly sympathetic nurse, who helps to protect Juliet from her aggressive father (Richard Katz) and ineffectual mother (Christine Entistle).
The other character to take the eye is Jonjo O'Neill's bleach-blonde Mercutio, a loud Northern Irishman, who though traditionally dressed seems far closer in behaviour to the lovers.
Playing until 1 January 2011
Kevin Quarmby reviewed this production in Stratford
Reviewer: Philip Fisher