Rosencrantz and Guildenstern Are Dead
Tom Stoppard
Chichester Festival Theatre
Theatre Royal, Haymarket
(2011)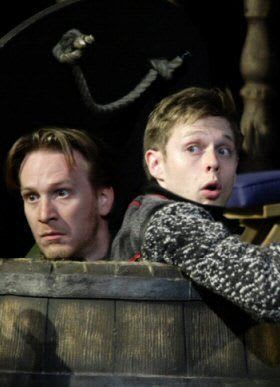 Nicholas Hytner's original History Boys are currently staging a theatrical coup across London. James Corden is already wowing audiences at the National in Richard Bean's sublimely funny One Man, Two Guvnors and now his old school pals Samuel Barnett and Jamie Parker match his achievements as a magnificent comedic duo in Sir Trevor Nunn's welcome revival of an almost 50 year old classic from another theatrical knight, Tom Stoppard.
Rosencrantz and Guildenstern are Dead may not have the snappiest title but it is packed with quickfire wit throughout much of the 2¾ hours running time.
However, there is far more to this homage to Hamlet than some great one-liners and sight gags.
The original conceit is devilishly clever. Everyone knows Hamlet from head on. Sir Tom illuminates it by letting us follow the play through the eyes of a couple of bit part players.
For those who are unsure, Ros and Guil were Hamlet's old school friends, enlisted by his father-in-law to bring the young Prince back to sanity and then subsequently, to an early grave in England.
In this creative team's eyes, they are Shakespearean equivalent's to Beckett's Vladimir and Estragon in Waiting For Godot, a play instantly evoked by the opening bare set graced with nothing but a dead tree.
From the off, they make it clear that we are in a metatheatrical play that examines not only the nature of theatre and performance but also even deeper topics.
In fact, much of the debate as the play moves into its later stages takes its theme from young Hamlet and his existential one-man debates set up by the "To be or not to be" speech. They meander philosophically but wittily around the subject of what death means and extend the theme to consider our reactions to it.
This all unravels as we witness each of the scenes from the original play in which they appear from a new perspective, with Jack Hawkins's Hamlet himself playing second fiddle to the Player King. The latter role is performed with a majestic flourish by Chris Andrew Mellon, who marginally prevents the play from becoming the two-hander that it always threatens to become.
Barnett and Parker make a great team, feeding off each other to create both comedy and pathos. The former is a willowy innocent with a knack when gambling or playing intellectual games. His fellow is much stockier with a deeper need to understand life - both his own and the wider concept.
This fine revival of Rosencrantz and Guildenstern are Dead with its impeccable timing and good pace will prove a pleasure to anyone who delights in exercising their mind while having a great time. It certainly helps to know Hamlet but even those having only limited familiarity with Shakespeare should still find much to delight in. The only caution is addressed to those who like their entertainment undemanding. Forget the wonderful Sir Tom Stoppard and try Shrek or Dirty Dancing.
Sheila Connor reviewed this production at Chichester

Reviewer: Philip Fisher