Sweet Charity
Book by Neil Simon, music by Cy Coleman, lyrics by Dorothy Field
Menier Chocolate Factory production
Theatre Royal, Haymarket
(2010)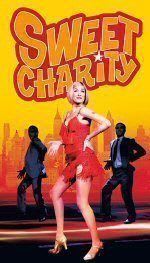 Sometimes you know that, like the heroine of this glorious revival, you are "the luckiest individual". David Babani and the Menier Chocolate Factory must feel like that, after scooping fifteen Tony nominations for La Cage Aux Folles and A Little Night Music on the day that Sweet Charity opened in the West End following a sell-out run at its home theatre.
It would take a brave gambler to bet against similar success for a musical that has it all and features an unforgettable performance from its leading lady.
Tamsin Outhwaite may be best known for her TV roles in EastEnders and Red Cap but she is a born musical star, with comic acting ability complemented by an attractive if not terribly powerful voice (at its best in the touching If They Could See Me Now) and the twinkling toes of a dancing queen.
She plays (Sweet) Charity Hope Valentine, a New York taxi dancer with heart. After eight years working with a group of bruisers in cocktail dresses who would scare any man, she might reasonably have doubted the validity of her middle name but this feisty optimist always has the faith to believe that all will come out right in the end.
The opening is a sign of things to come as poor Charity is not so much ditched by her latest squeeze as half drowned.
This is a low point among many but things look up when she meets the rich-voiced Mark Umbers' Vittorio, a handsome Italian movie star with a Clark Gable moustache. The scene peaks hilariously, as the girl observes the matinee idol's reconciliation with his jealous lover from a see-through closet.
Tight spaces predominate, as her next man is geeky tax accountant Oscar (Umbers again in very different mode). Their love grows through the second half of a little over 2½ hours until an unexpected ending.
While Neil Simon's book is a cut above the average for a musical comedy, what makes the evening so special is the combination of his humour with Dorothy Fields' witty, sophisticated lyrics and some great song and dance.
Director Matthew White and his choreographer Stephen Mear show real virtuosity and imagination as they present well-known songs in attractive ways.
Big Spender is delivered like a death march by the eight dancers condemned to a life sentence in the hellish night club. Rhythm of Life, led by Paul J Medford playing a spaced out hippy-priest, could have come straight from Hair, while I Love to Cry at Weddings gets a fantastic makeover, thanks to Jack Edwards' rotund Herman who is eventually joined by the whole cast.
In addition to the warm-hearted comedy and Cy Coleman's great tunes, the choreography is also special, never more so than when the smouldering Ebony Molina brilliantly struts her stuff.
While Tamsin Outhwaite is the undoubted star of the evening, Umbers shows ability as a screwball comedian as well as strong singer, while Josefina Gabrielle and Tiffany Graves prove a strong double act as Charity's favourite working colleagues.
These days, any full-scale musical that comes up from the Menier stable is almost guaranteed to be a West End hit with Broadway not too far behind. One hopes that Sweet Charity follows that road, as once again, what is fast becoming London's top musical producing theatre is on top form.
Philip also reviewed this production at the Menier Chocolate Factory
Reviewer: Philip Fisher