The Marriage of Figaro
Wolfgang Amadeus Mozart
Welsh National Opera
Wales Millennium Centre, Cardiff
(2009)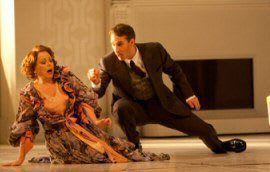 The WNO's production of The Magic Flute was one of last year's theatrical highlights, gorgeous both to eyes and ears. For much of the time, WNO's Figaro follows suit. The only real cavil is with the length of the evening which clocks in at three hours and 40 minutes and somewhat outstays its welcome.
But there's no denying the strengths of this production which, directed by Luis Pasqual, relocates proceedings to the 1930s. Pasqual's direction is deft and there are fine performances from David Soar as Figaro, Rosemary Joshua as an engaging, effervescent Susanna, Jacques Imbrailo as the caddish Count and Rebecca Evans as Countess Almaviva, whose two arias are gorgeous.
Not everyone will agree. One critic objected that the updating of the action from the 18th century, "made the premise of everyone expecting an aristocrat to exercise his virgin-deflowering droit-du-seigneur preposterous", which is redolent of those audience members who accept the basic premise of theatre and the acting out of Shakespeare's fictional account of English history but whose imagination fails at the idea of a black man or woman being involved.
The suggestion too that the production fails to cohere also seems to me wrong. A key indicator of a production which works is the energy emanating from the stage - frantic mugging aside - and the sense of confidence with which a cast goes about its business. Both instinctively relax an audience, confident in the knowledge that a good evening lies in store. On all counts, no pun intended, Pasqual's production scores. As for 'coherence', I'm minded of Stephen Fry's advice to Kenneth Branagh on his intention to direct a film of The Magic Flute - "Don't try and make sense of things; you'll go mad trying".
Where some reviewers have a point is with the final act of the evening which takes place in and around a series of painted screens which keep shuttling in and out, backwards and forwards, in a manner redolent of the RSC's current touring production of Othello. Here, two halves of a footbridge spend the evening traversing the stage and similarly reminded one of Peter Ustinov's famous advice to a Method actor, "Don't just do something; stand there".
Otherwise I enjoyed Paco Azorin's sets which are elegant and spacious, all cream walls and mirrored panels - Gosford Park has been mentioned. The first two acts in particular were among the most enjoyable I've sat through in a while. I can't help though, at the risk of ridicule, feeling that a comedy, even one involving Mozart, shouldn't last as long as King Lear. But for music, and performances, as engaging as these, the longeurs are well worth accepting.
Kevin Catchpole reviewed this production at the Mayflower, Southampton
Reviewer: Pete Wood