A Chorus of Disapproval
Alan Ayckbourn
Harold Pinter Theatre
–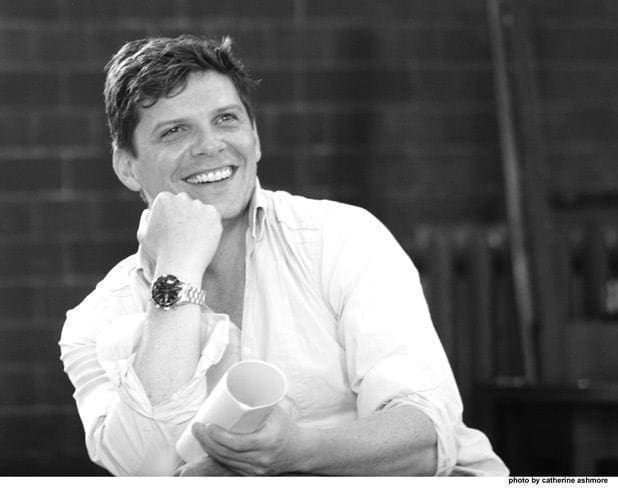 Welsh comedian Rob Brydon has triumphantly bucked a recent trend. Like the proverbial lemming, film and TV stars have succumbed to an irresistible urge to show the world that they cannot act particularly well on the stage.
It would be undignified to name some of the latest disappointments but it is a pleasure to report that Brydon has turned himself into a stage star overnight in a role played in the London première at the National by Sir Michael Gambon.
The Welshman is probably helped by Sir Trevor Nunn's sympathetic casting of him as Dafydd ap Llewellyn in this meta-(amateur) theatrical comedy.
It comes as a revelation to learn that another stage knight, Sir Alan Ayckbourn, had not won an Olivier until this play was first produced in 1984 under the playwright's own direction at Scarborough's Stephen Joseph Theatre in the Round.
It is far easier to understand why a comedy about the theatre would appeal to award judges who spend all of their time immersed in that medium.
The initial premise is simple and has much in common with Michael Frayn's rather more farcical take on backstage life, Noises Off.
Strangely, the play opens with a curtain call, which provides a fitting prologue to all that follows in the ensuing two and three-quarter hours.
An amateur light operatic society gets a little more adventurous than usual and decides to put on John Gay's The Beggar's Opera. Llewellyn, the company's artistic director and town solicitor played by Brydon has a warm sense of humour but can get pretty intense when the need arises or even when it does not.
We know from the start that Nigel Harman's Guy Jones, who has the looks of the matinée idol but is initially cast as a character with a single line, will clamber his way up the greasy pole to the leading role of Macheath.
Where Sir Alan is so clever is in writing a play that has such specific parallels with Gay's original, though it takes full account of sensibilities 250 years further developed (or regressed).
Just as Macheath managed to build a flamboyant career on larceny and lechery, Jones ascends to the leading role thanks to a combination of his ability to obtain insider information about a potentially valuable piece of land, his abundant attractions to the opposite sex and a light baritone voice added to competent stagecraft.
It has to be said, that, in a company that specialises in singing, dancing and acting badly, he is well worth his place, which is a compliment both to Harman and the remainder of a cast which manages that tricky feat of deliberately performing badly without too obviously appearing to do so.
Along the way, Jones finds himself worshipped both by his boss's timid wife, Ashley Jensen giving a sympathetic portrayal of Hannah Llewellyn, as well as the voracious and frankly terrifying Fay Hubbard, Daisy Beaumont, almost certainly putting the fear of God into callower male members of the audience.
A whole host of impressive character actors perform around the edges with Barrie Rutter perhaps most memorable as tedious Lancastrian Jarvis Huntley-Pike, with Susan Tracy ably supporting him as wife Rebecca.
With a limited run and such a popular star in the lead, there has to be every chance that this will prove the new hit of the autumn. After all, as the Olivier judges decided when making their award for 1984, a heady mix of sex, laughs and amateur theatricals is hard to beat.
Reviewer: Philip Fisher