A Christmas Carol
Charles Dickens, adapted by Neil Duffield
Derby Theatre
Derby Theatre
–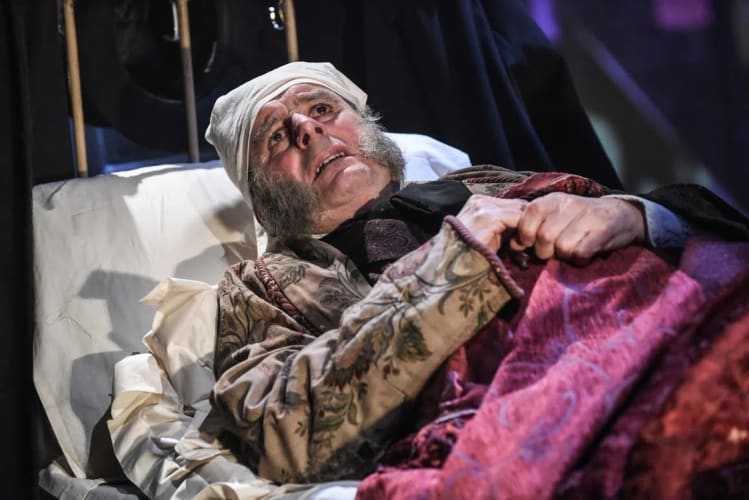 'Tis the season to be jolly—and Derby Theatre ensures that everyone will get into the Christmas spirit with this sparkling presentation of Charles Dickens's perennial favourite.
There have been many adaptations of Dickens's novella and this is not the first time that Derby audiences have seen A Christmas Carol. The last time was in 2006 when Ben Roberts played Ebenezer Scrooge.
Neil Duffield's version sets the action in an industrial setting rather than Victorian London, a move which resonates well with Derby's manufacturing pedigree.
The ensemble piece calls for multi-talented actor-musicians who can play a variety of parts, sing carols and act as narrators. The short, snappy lines at the beginning give the production pace which slackens only during a protracted scene between Scrooge and his dead partner Marley.
The only actor without a multitude of roles is Jim Barclay as Scrooge. He gives a solid performance as he is made to recall his troubled past and opportunities for happiness which he has squandered.
He appears sarcastic more than spiteful in the initial stages when he is devoid of Christmas cheer. There is a marked contrast though between the original Scrooge and the generous, kind-hearted man he turns into after he is confronted by three ghosts.
Apart from Barclay, there are seven actors and eight young company members whose enthusiasm and versatility are delightful.
Almost half the cast have links to Derby. There is nothing to suggest that two of them, Daniel David and Esme Sears, are making their professional debuts.
Adam Horvath, whose first professional job was in Mike Kenny's new version of Homer's The Odyssey at Derby Theatre earlier in 2014, shows his adaptability as Ebenezer's nephew Fred and young Scrooge. He has come a long way in 12 months.
The rest of the cast comprises Christopher Price as an almost frightening Marley, an effervescent Fezziwig and an extrovert Ghost of Christmas Present, Kate Robson-Stuart who gives style and effrontery to the roles of Mrs Fezziwig and Mrs Cratchit as well as being a skilled violinist, Daniel Willis as humane Bob Cratchit and amiable toff Topper and Yana Penrose as a confident Kathleen.
The children are similarly striking, with Tiny Tim showing perception beyond his years when he declares that Scrooge must be "the loneliest man in the world".
Derby Theatre's artistic director Sarah Brigham brings out the dark side to Dickens's tale as well as the lighter, more uplifting moments.
There is a starring role for Neil Irish's set dominated by a huge clock which marks the passing of time for Scrooge and is a stark reminder for him that time is money.
As the play gallops towards its conclusion, prepare to have a lump in your throat when Scrooge proclaims that he has been shown joy "among people who have so little". The true message of Christmas shines through; it's enough to make anyone come a-wassailing.
It's not quite a perfect production but it's an impressive one which earns deserved applause from a receptive audience.
Reviewer: Steve Orme