A Christmas Carol
Patrick Barlow, Adapted from the Christmas Story by Charles Dickens
Noël Coward Theatre
–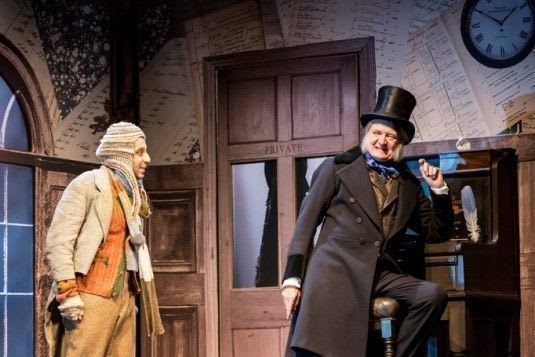 At this time of year, there is always a proliferation of stage adaptations of Charles Dickens's novel that has given a word to posterity and the dictionary, thanks to the popularity of the mean-spirited financier Ebenezer Obadiah Scrooge.
Most provide worthy, moralising entertainment without stretching the mind. Occasionally, one comes along that aspires to greater things.
As BTG's review of Ben Hur at the Tricycle reminded readers, Patrick Barlow and Jim Broadbent have a long history together, stretching back three decades or more to the gloriously absurd days of The National Theatre of Brent.
After a long interregnum, the pair is reunited in a production imaginatively directed by Phelim McDermott of Improbable Theatre.
Barlow has attempted the tricky balancing act of retaining the Dickensian spirit and sentiment while injecting as much humour as possible.
Using occasionally rather slangy, contemporary language, the play takes us through a familiar story, emphasising extremes that get close to caricature, while making the necessary points about Victorian attitudes.
The period and its tone are conveyed charmingly by the drawn scenery and props of Tom Pye, together with a variety of artistic styles including physical theatre, slapstick, silhouettes and puppetry, which reaches its zenith with the appearance of Tiny Tim.
Broadbent manages to amuse throughout, seemingly relishing a rare stage appearance while generating considerable pathos in the later scenes.
Before that, Ebenezer Scrooge is shown tormenting Adeel Akhtar as Bob Cratchit, not to mention a poor lady who gets the full pay day lender treatment, complete with loan interest in excess of 5,000% per annum.
After an encounter with his partner, Marley's Grand Guignol (almost Hammer House of Horror) ghost, the spectral trio that symbolically follows in order to teach him a lesson are each benign but collectively have the desired effect.
Amelia Bullmore playing the Ghost of Christmas Past looks as if she has come from an illustrated Alice in Wonderland, Samantha Spiro taking us through to the present is a slatternly but rather lovable Cockney Scarlet Lady, while the Ghost of the Christmas Future is oversized and eerie with the potential to frighten a few of the little ones.
They take Scrooge through a series of reminders, evoking his own history and delving deep into his psyche for events long-buried or forgotten.
Without wishing to spoil the ending, it will come as little surprise to anyone present that the psychological warfare waged by the quartet of spirits eventually wears down the resistance even of a man married to the money after which he lusts.
There seems little doubt that an opportunity to see Jim Broadbent on stage again will prove tempting to his legions of fans and the good news for them is that Phelim McDermott and Patrick Barlow will ensure that they have a good time.
Reviewer: Philip Fisher