A Doll's House
Henrik Ibsen in a New Adaptation by Tanika Gupta
Lyric Hammersmith
Lyric Hammersmith
–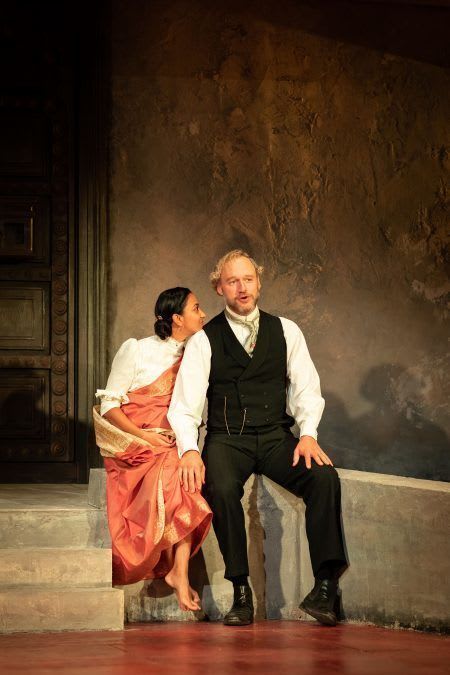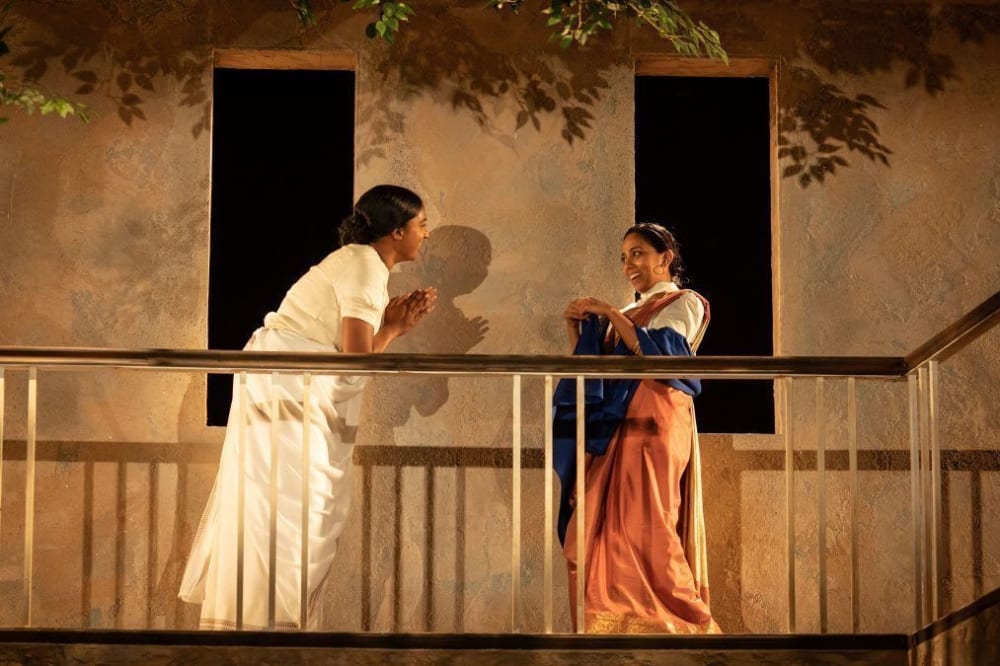 To open her account as Artistic Director at the Lyric Hammersmith, Rachel O'Riordan has chosen to direct a classic with a twist.
While many viewers will be familiar with Ibsen's pre-feminist dissection of love, marriage, money and masculinity, this refreshing new version from Tanika Gupta adds in a series of new considerations.
Although the 1879 timeline remains the same, the dramas that affect Nora Helmer, now Anjana Vasan's Niru, her family and circle have been transported from chilly Norway to steamy Calcutta in the heyday of the Raj.
Designer Lily Arnold conveys the location perfectly with an open courtyard to the grand family residence graced by a dominant tree and surrounded by doorways. Intriguingly, nobody uses the grand main double doors until they become a cathartic closing symbol.
This transposition to India would have been enough to change the focus of the play but the writer has gone a step further, putting Niru into what must have been a controversial and quite possibly unlikely marriage to Elliot Cowan as British administrator Tom, recently appointed as head of the city's tax office.
With minor adaptations and necessary name changes, the plot of an evening that stretches to around 2¾ hours closely follows the original model. This is very much to the credit of the creative team at a time when so many writers and directors mistakenly seem to believe that they can reinvent classics to be better than those that have survived for centuries.
As Christmas approaches, there is excitement in the house, for the children but also Niru, who had converted to the religion on her marriage seven years previously.
A series of visitors unbalances the equilibrium. Colin Tierney is Dr Rank, in thrall to the lady of the house but fatally infected by his dissolute father with what is likely to have been a sexually transmitted disease.
Tripti Tripuraneni plays Mrs Lahiri, Niru's widowed former schoolfriend, who has fallen on hard times and seeks a job.
Finally, there is Assad Zaman's dishonest and disreputable Kaushik Das, who has committed the kind of sin that would never be accepted from a lowly Indian attempting to build a career in the Calcutta tax department.
Ibsen's themes still shine through and make a powerful impact in this new Indian version but the influence of race, patronage, class and religion also come to the fore with telling consequences.
Viewers can decide for themselves whether the change of setting improves the experience. At the very least, it does not detract from enjoyment of the play that Ibsen wrote.
It does additionally allow audience members to consider some of the iniquities that the British Raj supported at a time when the Empire stretched to something like quarter of the known world.
The highly expressive Anjana Vasan turns the heroine into a likeable doll who eventually asserts her own individuality with unexpected strength, although opening night nerves meant that she gabbled the occasional line, while Elliot Cowan hit top gear at the point when his character finally lost control.
This new version of A Doll's House is an encouraging and enjoyable start for the Lyric's new Artistic Director and should prove popular.
Reviewer: Philip Fisher