A Good Clean Heart
Alun Saunders
The Other Room
Porters, Cardiff
–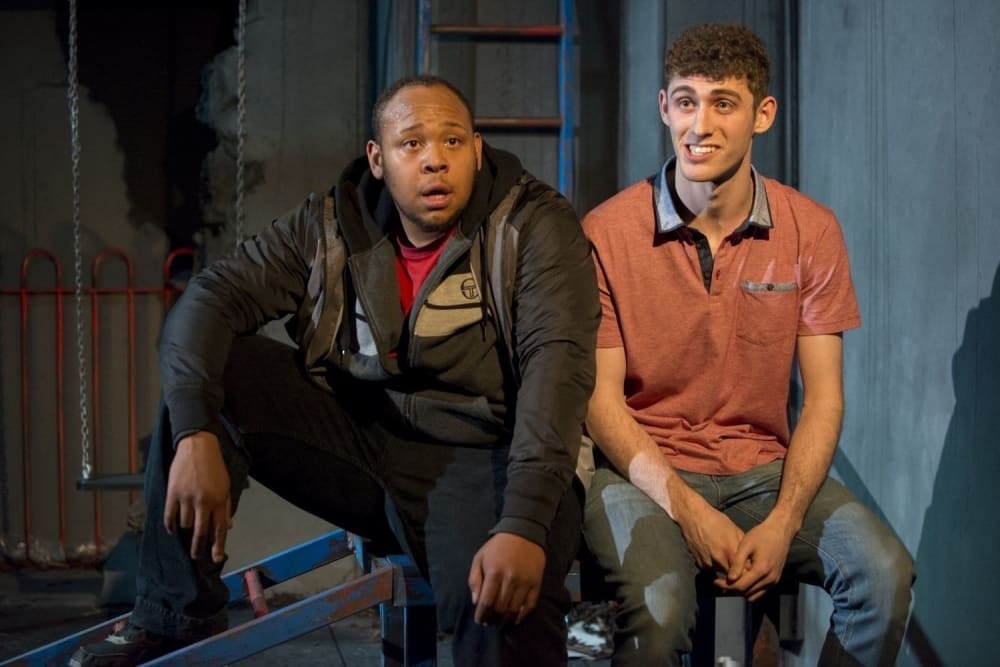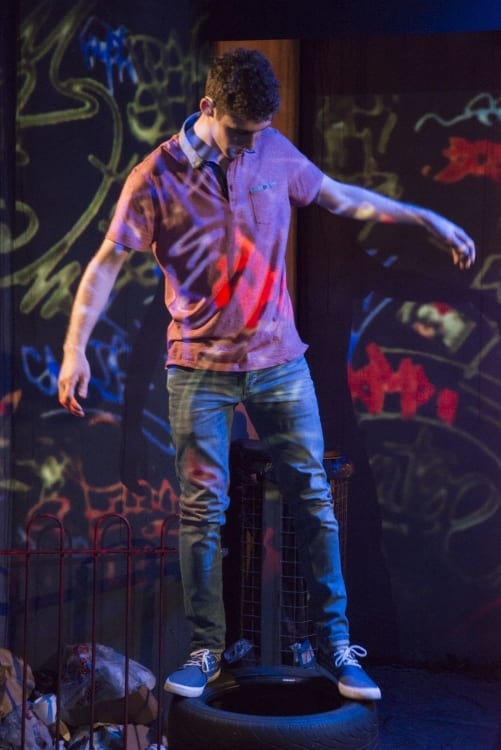 The Other Room has been very clever in constructing its inaugural season at Cardiff's first purpose-built pub theatre.
Starting with a high-profile bang—Sarah Kane's visceral, controversial Blasted—it continued with a piece from a simultaneously lauded and under-performed grand master of British theatre: Howard Barker's The Dying Of Today. And now the final component: a first full-length play from a Welsh actor-turned-writer.
Alun Saunders has written of the inspiration for A Good Clean Heart being, in part, his current involvement in the adoption process; there is also the question of national identity, always close to the surface in these parts. Thus, we are presented with two young men from apparently completely different backgrounds in terms of class, race, education and language who happen to be brothers.
As the audience files in, we watch the two actors, Dorian Simpson and James Ifan, playing together on Erin Maddock's playground set; director Mared Swain giving us a vision of an alternative universe in which Jay and Hefin enjoy a normal childhood together. As the action begins, we see, however, that life has dealt them radically different cards.
In West Wales, Hefin is suffering from a hangover, having celebrated his 18th birthday in traditional style; there is also the matter of an important, up-coming rugby trial. It is perhaps the wrong moment for his adoptive parents to spring upon him the fact that they have been receiving letters from the half-brother of whom he has no memory. He seems to be taking these stresses in his stride, but suddenly has a violent meltdown at his Welsh-medium school, and decides, on a whim, to go AWOL.
In South London, 25-year-old Jaysen has just been released after a short prison sentence, and returns home to the council flat he shares with his dissolute mother and her boyfriend of the moment. When finally contacted by the boy he once knew as Kevin, he feels compelled to go and meet him at Victoria Station, despite the risk of breaking his electronically monitored curfew.
After an amusingly handled awkward first meeting ("why are you black?"), the fraternal bond is quickly established. Without initially intending to, Jaysen brings Hefin home to meet his—their—mother. Things don't go entirely well.
Simpson has the showier role as wide-boy Jay, skilfully morphing into other characters as he tells his side of the story: his unfit mother, her thuggish lover, an old Jamaican family friend. Ifan is equally adept as the naively rebellious adolescent Hefin (displaying an excellent singing voice during a brief outbreak of karaoke), also taking on a number of roles. There is a beautiful moment when, at a critical juncture, they both "become" Reanne, their troubled mother.
The piece is inherently bilingual, Hefin expressing his thoughts in Welsh, Jay in English—both conveyed with surtitles. Text is also an element of Zakk Hein's video backdrop, as the pair's social media interactions are displayed; it also takes us to various locations: the bus station, London streets, the cheaply wallpapered flat. Perhaps inessential in terms of telling the story, it is, nevertheless, very inventive.
Ultimately, A Good Clean Heart is about love, sacrifice and loyalty, the spikiness of the dialogue preventing it from lapsing into sentimentality. Funny and moving, it is a fitting complement to the other plays in this ambitious season.
Reviewer: Othniel Smith