A Midsummer Night's Dream (As You Like It)
Dmitry Krymov after William Shakespeare
Dmitry Krymov Lab
Barbican Theatre
–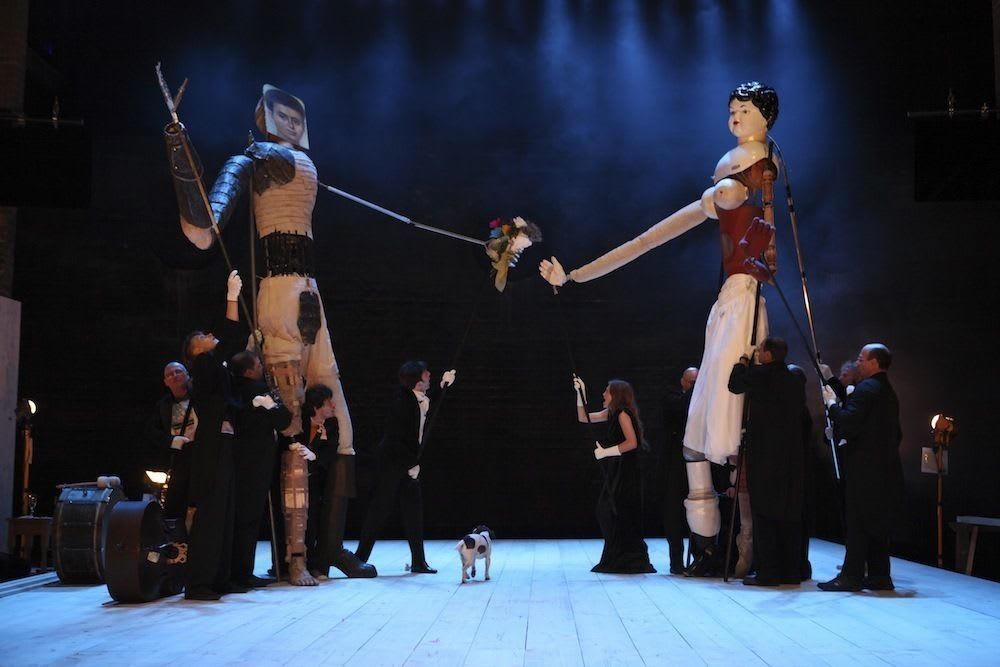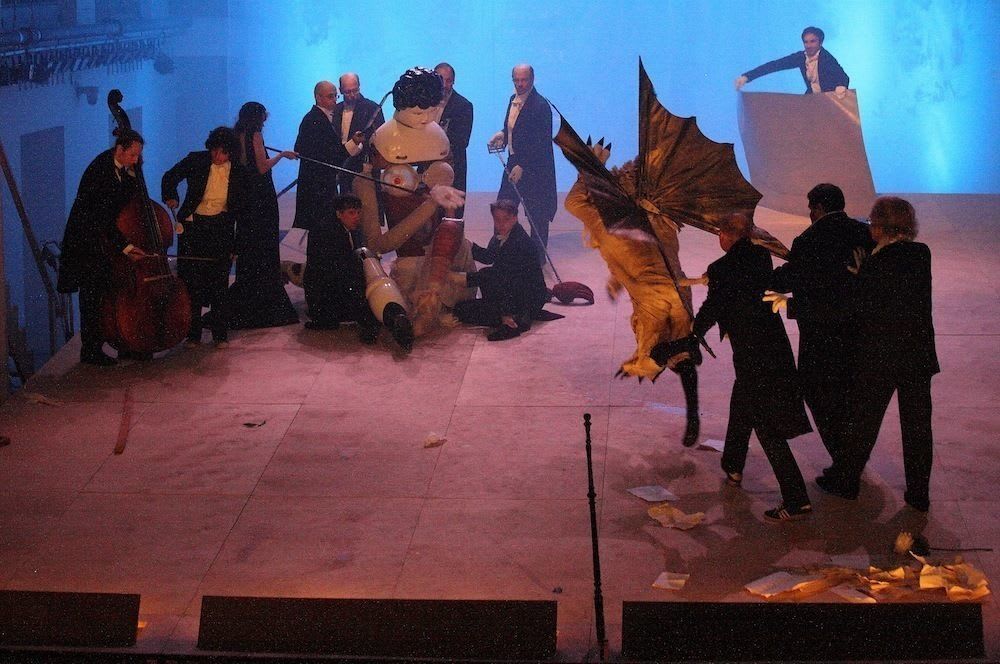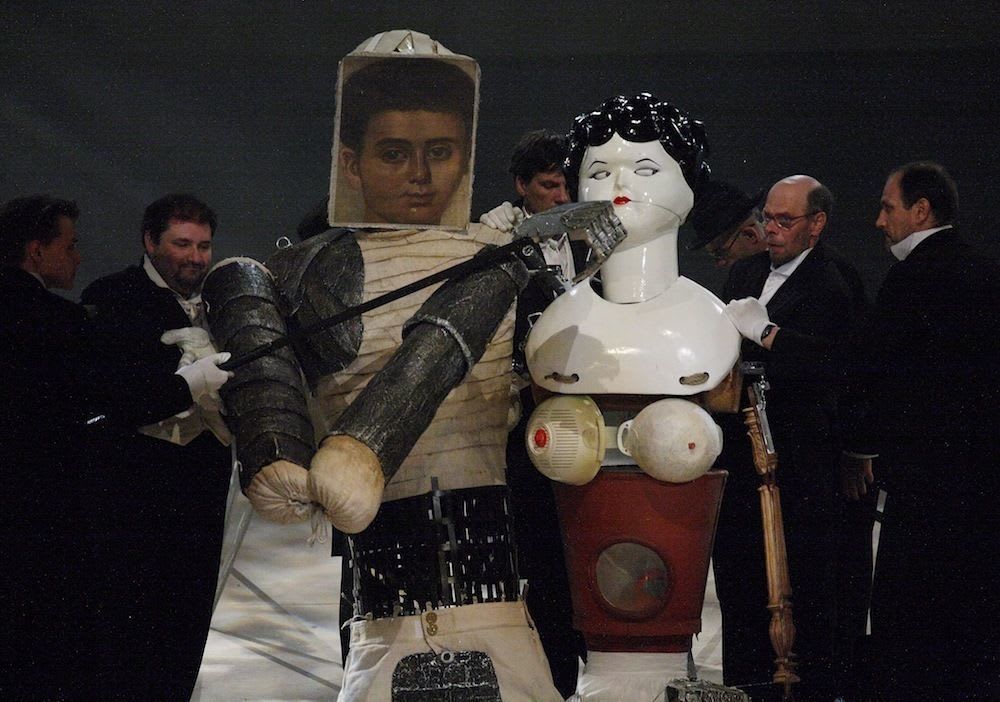 A celebration and unpicking of the mechanics of theatre, some five months after Opus No 7 at the Barbican comes Dmitry Krymov's reincarnation of A Midsummer Night's Dream (As You Like It) 'after William Shakespeare'.
Very 'after'. The rude mechanicals amateur attempt at telling the sad tale of Pyramus and Thisbe is at the heart of Krymov's understanding of Shakespeare's play of love and magic. Love and magical realism is what we get.
Krymov seems to have appropriated: "'A tedious brief scene of young Pyramus / And his love Thisbe; very tragical mirth'. / Merry and tragical! tedious and brief! / That is, hot ice and wondrous strange snow. / How shall we find the concord in this discord?", and run with it.
For an hour and a half with no interval, I watch and imagine the whirring of a collective brain in all its hyperactivity, silliness and invention. And laugh out loud, as do many in the audience, infectious loud guffaws ricocheting round the auditorium.
Surreal comedy, Goonish, Spike Milliganish off the wall, deadpan serious—to enjoy this presentation I advise you to bring your inner child with you and commit to experimental physical theatre performance art…
A Midsummer Night's Dream (As You Like It)—as anyone likes it—is like the Pompidou Centre with all the workings on the outside. Craftspeople take centre stage—this is how theatre is created. With tenderness and trial and error. This is the mechanicals' way.
Stagehands in dungarees mill about a rough-and-ready stage covered in plastic sheeting, scaffolding seating either side. Props lie around, and from the back of the stalls comes a voice, 'pass it down'—leafy branches sail over heads.
Chaos reigns. A well-behaved Jack Russell terrier sits on a tree trunk. A fountain spouts water, buckets come out, but the front row gets a soaking. Whew, the rows further back must sigh with relief, but no, a hose gets out of hand and sprays them.
Are we at the circus? Possibly. Krymov Lab performers come from various disciplines: there are clowns, acrobats, puppeteers, opera singers, amateur student ballerinas, stage designers. And it looks exhausting manic fun.
There are silent captions, a spotlight on the patient dog, but the props are discarded—a work-in-progress conceit. The stagehands change into performers' black and white tie dinner suits as their inner dialogues play out on screen. Marx Brothers spring to mind. Charlie Chaplin, too.
'Don't eat garlic'. Mouth freshener spray comes out, the stage dignitaries audience enters, dusts off the sawdust from the makeshift seating. And a safety rail and bucket falls off.
They proceed to behave badly: mobile phone calls are taken, and the veteran actress Liya Akhedzhakova delivers the goods in outraged comment and homely anecdotes (Shakespearean asides), totally in the play being performed before her eyes.
Is it 'modern art', 'avant-garde', 'underground', 'improvisation', 'pornography'—we have a feed. 'I love avant-garde'. 'I love ballet'. She goes home happy.
The story is of two lovers—like … think of any historical or contemporary 'tragic' couplings and you have it, the list is long and funny. How did they find the script—in the KGB files in the Lubyanka. But they did sign the non-disclosure clause…
Two five-metre puppets made from odds and sods eventually take the stage: he with a Roman funerary portrait face (it changes and ages as he grieves), she a porcelain doll face with hinged jaw to take the fruit he feeds her. Each has half a dozen handlers. No mean feat.
German lieder (or parodies of) are sung—Liebes Mädchen, diese Blumen von meinem Herzen sind (I think)—foley sound effects are produced on stage, everyone mucking in.
The dog performs tricks, Pyramus has his codpiece removed and his manhood pumped up 'to water the lily'… Fireworks go off. Stage children have their eyes covered.
Shakespeare has a walk-on role, shredding Thisbe's dress and sprinkling it with red ribbons. The wingèd lion causes Thisbe to pee herself in fright—and the dog laps it up.
As do I—lap up all this delectable nonsense with its heart in the right place. Theatre and Shakespeare are creatively honoured with irreverent reverence.
There is an epilogue and dancing—little girls in pink tutus massacring the cygnet pas de quatre from Swan Lake. And a fond farewell from Liya Akhedzhakova to her favourite actor. Wrap-up.
Presented by the Barbican in association with the Royal Shakespeare Company, this Chekhov International Theatre Festival, Dmitry Krymov's Laboratory and School of Dramatic Art production was originally commissioned for the World Shakespeare Festival, which was produced by the RSC in the UK in 2012.
Painter, set-designer, graphic artist and theatre director, in demand worldwide, Dmitry Krymov teaches at the Russian Academy of Theatre Arts, Moscow, where he is the head of artistic courses in the Department of Dramatic Directing.
His Lab, founded in 2005, 'now forms part of the School of Dramatic Art Theatre in Moscow and continues to foster an unusual theatre of artists with its own unique aesthetics'.
If 'children and fools speak true'; then the Barbican has struck 'Fools' gold.
Reviewer: Vera Liber