Opus No 7
Conceived and directed by Dmitry Krymov
Dmitry Krymov Laboratory – Moscow School of Dramatic Art
Barbican Theatre
–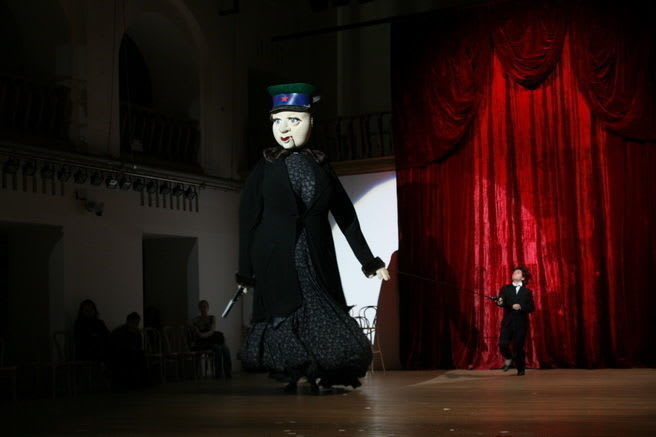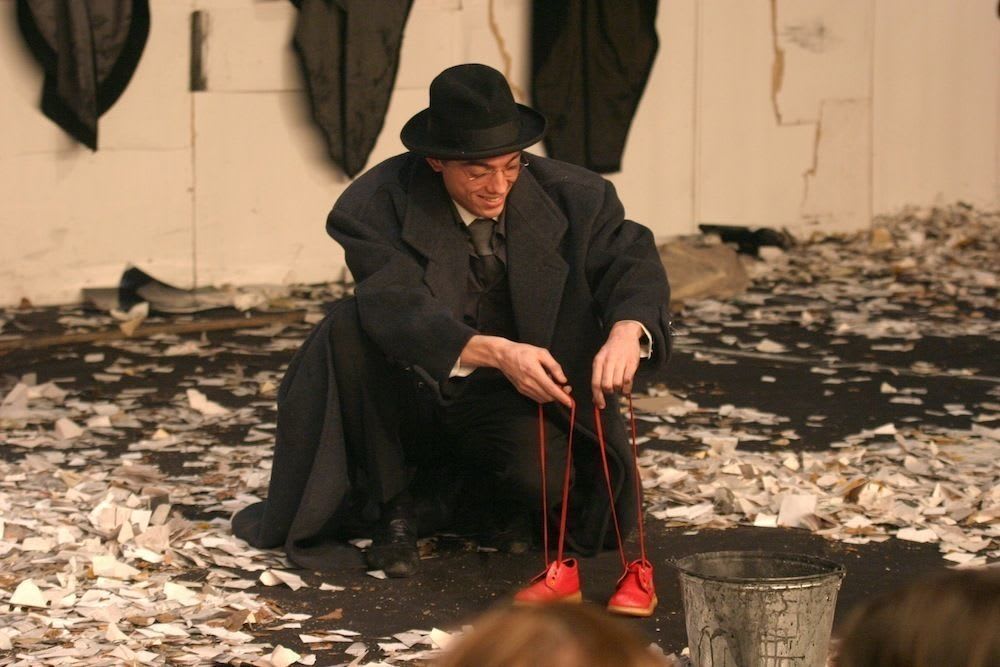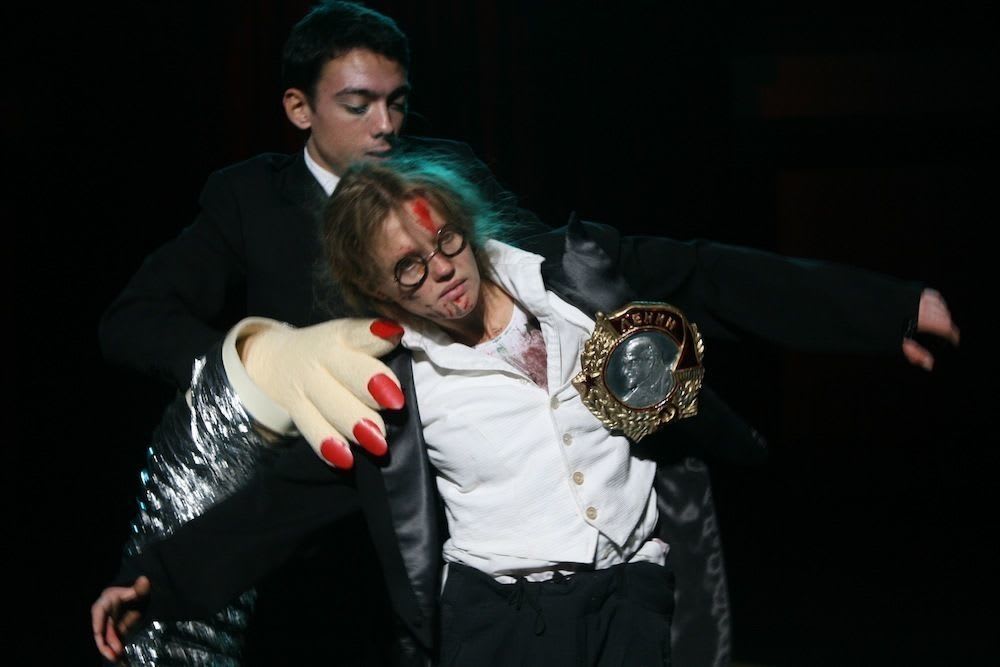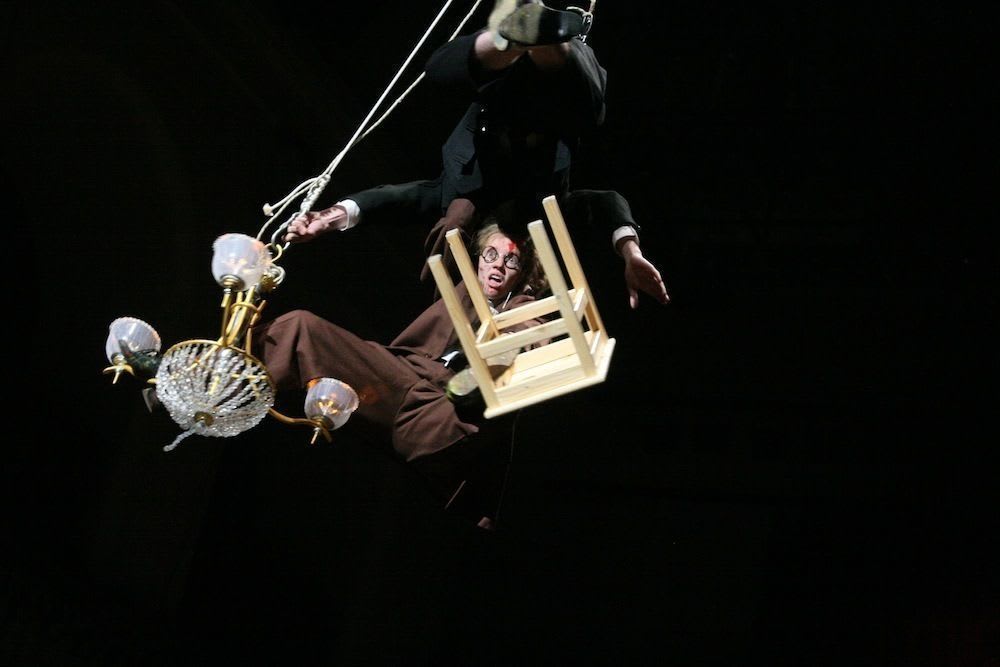 The highly-regarded and award-laden Dmitry Krymov, son of director Anatoly Efros and theatre critic Natalia Krymova, began his theatre career as a stage designer, is a collected painter, and ten years ago founded his Lab at the Moscow School of Dramatic Art.
A picture is worth a thousand words—a maxim Krymov painstakingly hammers home with two hours of astounding, witty and poignant visual metaphors it'll be impossible to erase from the mind's eye. That's the point. We must not forget. Plant strong enough images in the brain and they'll stay.
The Barbican theatre has been converted from a thousand-plus capacity into a 250-seater studio theatre (very like the Riverside Studios) created on the stage itself—the auditorium is closed off—hugging the audience close as co-conspirators on a collective journey.
An animated theatrical installation, a collage constructed on the spot bit by bit, Opus No 7 builds (builds is the word, as set designers / actors build with drills, saws, and staple guns a plywood piano, fling paint pots, and with projections and old photos create a vanished world) into a moving narrative.
Child's play, using whatever is at hand—a broom becomes an aerial, a mop cloth a dress, cardboard panels rabbi and vanished children. Arms and legs push through, and little shoes cascade from, these panels.
A window is punched out and a blizzard of paper cuttings, each signifying a soul with name and history annihilated long ago, blasts out and pastes the stage and audience.
But best of all is the all-seeing, swivel-headed, gigantic puppet of Mother Russia, between whose wide hips and thighs the boy prodigy Shostakovich is raised.
Red nails, eyelashes that flutter, she feeds, shelters, honours him with the Lenin Prize that pierces his heart, strokes and rewards him with a grand apartment (Ilya Kabakov's ironic The Happiest Man installation comes to mind) that becomes his hellhole—fires in the piano, a listening man in the chandelier.
But, with a change of hat, she turns into coy Mother Stalin, who takes jaunty waltzing pot shots at Meyerhold, Babel, Tukhachevsky (once Shostakovich's patron), Mayakovsky, Akhmatova, Mikhoels (actor and artistic director of the Moscow State Jewish Theatre, for which Chagall painted sets and foyer murals), and Shostakovich, but he refuses to die like the rest, even though a little red flower (a blessing or a blessure) blooms in his chest.
She gets him in the end—clasps him to her big bosom tightly, smothers him with patriotic songs and crushes him with her size. He has climbed the Everest of oppression, delivered fawning speeches at Party Congresses, performed gymnastics, but he has always been her dangling man.
Shostakovich's music is the link between Genealogy and Shostakovich, the two seemingly different parts that make up Opus No 7. But the title does not refer only to his controversial 'Leningrad' Opus No 7 Symphony.
Seven pails of black paint, a seven-strong Jewish band (jazz and gospel), seven witnesses from the past, seven scrap metal pianos that behave like dodgems but could be tanks of war, seven talents mowed down—the temple menorah has seven branches…
Opus No 7 is a black comedy requiem for the Holocausts, Nazi and Soviet, that obliterated so much vibrant life and creativity. The uniforms may change but the sound of the jackboot is the same—Nazi or Soviet—missing Jewish boy's bouncing ball or a pram (Eisenstein Battleship Potemkin) kicked aside.
Names are read out, stories remembered, reconstructed and reanimated from photos, X-rays, DNA. Funny stories. The little red shoes are not. Nor are the contortions to survive. Laughter chills on the lips. Machine-gun fire; look over your shoulder. Happy beginnings end badly, better the other way round.
The double speak, the falling in and out of favour, the pleasing of a paranoid Georgian, totalitarianism is easy to mock now (the long python arm of the state), but hard to live through, kissing the hand with spectacles off.
Extracts from Shostakovich's music dedicated to the victims of anti-Semitism, fascism and war, his popular waltzes, and his Piano Trio No 2 in E minor Op 67, underline the historical time line and the pathos. He wrote film scores, he joined the Party. He was a broken man, but his spirit remains.
Part of Lift 2014, performed in Russian with English surtitles, though you can manage without, conceived and directed by Dmitry Krymov with set design by Vera Martynova and Maria Tregubova, Opus No 7 honours the human spirit.
The Dmitry Krymov Lab is made up of a rotating cast of students and six young actors, graduates of the Russian Academy of Theatre Arts and the Boris Shchukin Theatre Institute.
Anna Sinyakina and Maria Smolnikova (alternating the role of Shostakovich both are wonderful), Maxim Maminov, Mikhail Umanets, Maria Gulik, Natalia Gorchakova, Arkady Kirichenko, Vadim Dubrovin, and Ekaterina Bakanova spark the images in tremendously brave, safety-net-free performances.
Opus No 7 has recently played Brighton Festival, Norfolk and Norwich Festival, Northern Stage is yet to be exposed to this treat (19-21 June).
Dmitry Krymov Lab will be back at the Barbican in November with A Midsummer Night's Dream (As You Like It), presented in association with the RSC. One not to miss...
Reviewer: Vera Liber