A Midsummer Night's Dream
William Shakespeare
Bridge Theatre
–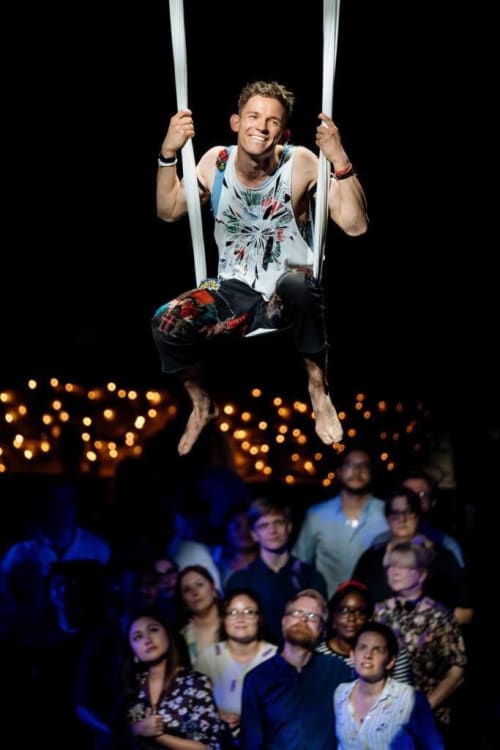 Sir Nicholas Hytner's biggest success at the Bridge Theatre to date was undoubtedly his thrilling promenade production of Julius Caesar.
Having wowed audiences with a tragedy, the man who is arguably the finest living director of Shakespeare now attempts to repeat the trick with a comedy. There can be little doubt that he will have another big hit on his hands with this highly imaginative modern, immersive production.
Once again, a proportion of the audience gets up close and personal, promenading in the pit for what is otherwise a relatively conventional production in-the-round. That is to take nothing away from Bunny Christie's cleverly conceived design, beautifully lit by Bruno Poet with props rising, falling and rolling during an immaculately slick 2¾-hour performance.
This is a brave and inventive new vision of a play that many might argue is revived far too often, frequently with bland results.
The evening opens with Gwendoline Christie's Amazonian ice Queen Hippolyta trapped in a glass box, while being wooed by Oliver Chris in the role of her Athenian paramour Theseus.
Soon enough, the action moves forward as four lovers, even more confused than usual, escape the city's confines in search of freedom in a forest.
This is where the director has stamped his mark on a play with which many viewers will be very familiar. Some of the changes are subtle, while others will raise an eyebrow, to say the least.
Given the contemporary setting, the odd line has been subtly changed or inserted to fit in with the theme, almost always bringing extra laughs, although sometimes incongruously.
More significantly, the careless efforts of the charming, puckish (there is no other word) David Moorst playing an androgynous, physically and mentally challenged Puck to spread love and idleness lead to consequences which are like nothing that we have ever seen before.
We expect that there will be misunderstandings amongst the quartet of Athenian lovers played by Isis Hainsworth, Tessa Bonham Jones, Paul Adeyefa and Kit Young, as ever the women getting all the best lines—and making the most of them. However, they cross gender-bending boundaries, creating even greater confusion.
The biggest risk of all may not have quite the intended consequence. While the standard doubling takes place as that consummate comedian Oliver Chris becomes Oberon, King of the Fairies, in what was presumably an effort to make a positive statement about girl power, rather than Miss Christie's Titania falling for Bottom, the king does so.
While this homosexual variant on the theme leads to much hilarity, greatly helped by the scene-stealing efforts of Hammed Animashaun, there is a downside. Titania is a dream role for an actress, allowing her to show off both comic and romantic skills. Instead in this version the actress is offered a much lower profile characterisation with few opportunities to shine.
One obvious measure of the allure of any new version of this play is the comedy generated by the Rude Mechanicals. It is a delight to report that the team fronted by Felicity Montagu and led by Animashaun are absolutely hilarious.
Around the play itself, in the sure hands of composer Grant Olding and movement director Arlene Phillips, the leading players are supported by a quintet of fairies, who work wonders using skills that owe much to burlesque and circus rather than standard stage work, frequently gyrating while suspended high above the stage and the groundlings.
This new version of A Midsummer Night's Dream may occasionally be a little too adventurous for its own good but overall is visually and aurally exciting as well as moving and funny in equal parts.
Readers are urged to catch this production at the Bridge but those unable to do so can enjoy an NT Live broadcast to 700 UK cinemas and many more worldwide on 17 October.
Reviewer: Philip Fisher