Julius Caesar
William Shakespeare
Bridge Theatre
–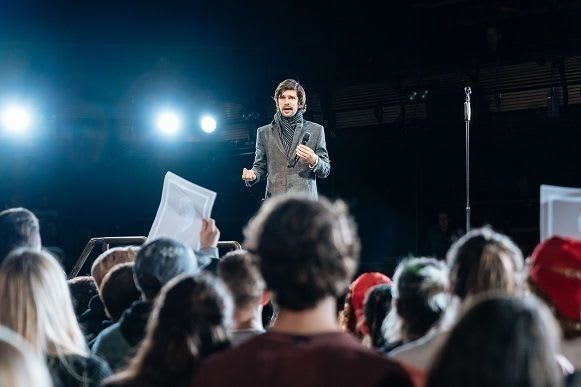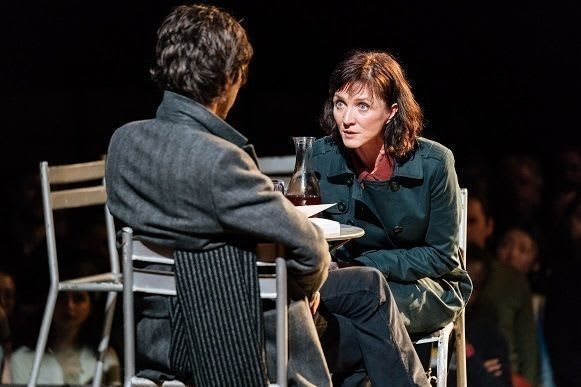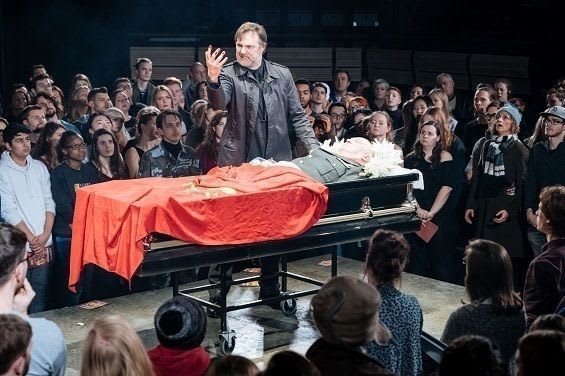 Rather than a mere theatre critic, at times during this stirring two hours, your representative on the ground felt more like a war correspondent.
Sir Nicholas Hytner is unparalleled today as an interpreter of Shakespeare in modern mode. He even made Timon of Athens exciting. However, viewers with long memories might hark back more relevantly to his National Theatre debut as Artistic Director with a Gulf War Henry V.
Julius Caesar is less specifically located but takes place somewhere in the world today. The flags and costumes are neutral, although when David Calder as pompous, crowd-pleasing Caesar makes his entrance in a leather flyer's jacket of the kind particular favoured by Americans, some might associate him with a contemporary world leader who has divided his own country.
This staging has been designed by Bunny Christie in-the-round, with 400 members of the 1,000-plus audience promenading in what starts out as a mosh pit, with a classy rock band covering Twisted Sister while entreating us to agree that "We're not going to take it any more".
Thereafter, the settings are fluid but evocative, the actors and scenes flying around the space at speed, barely leaving time for breath and forcing promenaders to mind their backs.
Proud Caesar loves himself too much, which makes the lack of empathy felt by his gender-blind leading subjects understandable and their ensuing actions tragically inevitable. It also explains why he is so easily persuaded by the deliciously seductive Leila Farzad playing Decius Brutus into making a fatally bad decision on the Ides of March.
Initially, it is Michelle Fairley's very bitter Cassius who takes offence and seeks support for insurrection. While she is fiery, her brother Brutus is played by Ben Whishaw as a thoughtful intellectual, possibly some college professor, with a penchant for long books by philosophers and that eloquent revolutionary, Bulgakov.
He is slow to rouse and, even when firing the final bullet (yes really) into his leader, does so with the kind of compassion and sorrow that are this actor's trademark.
The guts of this play take place after its eponymous leader has been dispatched.
First, Whishaw delivers a politically charged eulogy, which sways the hearts and minds of we rowdy pit-dwellers. However, as soon as David Morrissey's Mark Antony enters the fray to pay due tribute to his friend and mentor, the rebels must have realised that they were lost. That is a tribute to the strength and eloquence of his memorial, especially when witnessed in close-up.
He moves through three equally damning phases. The first is a touching personal remembrance while alone with the dead leader's corpse. The next sees him patiently protesting his desire to support the murderous crew using a ubiquitous microphone but finally and most poignantly he eschews the electrical amplification to issue public praise of the deceased leader, which has a surprisingly powerful emotional impact.
The final stages turn the pit into a war zone that may be more realistic than some of its inhabitants find comfortable but certainly hits the playwright and director's messages home to stunning effect.
While it would undoubtedly be a considerably more patrician experience to enjoy this revival of Julius Caesar from the expensive seats, do consider joining the youngsters in the Pit for an experience with far greater immediacy and sense of involvement, sometimes frighteningly so.
Whatever the location, make sure that you catch what is a gripping and inventive production, featuring outstanding performances from every cast member, particularly the central quartet.
Reviewer: Philip Fisher