A Midsummer Night's Dream
William Shakespeare
Shakespeare's Globe
–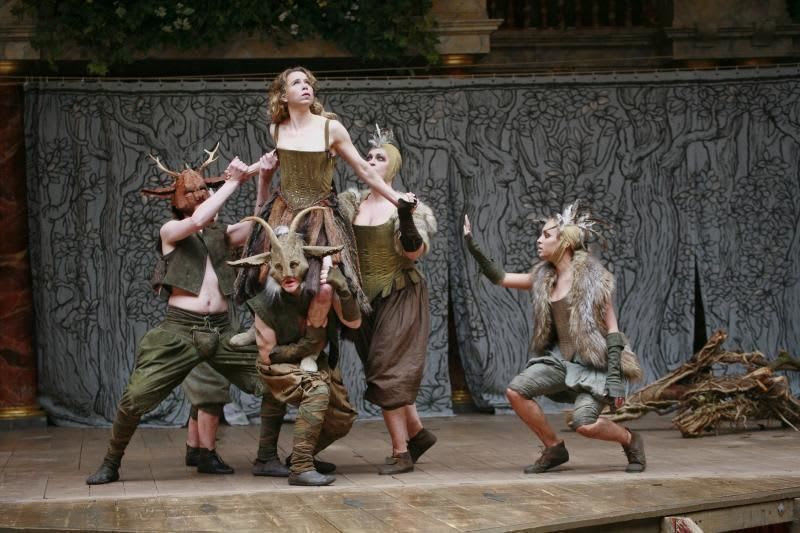 After so many years in charge, Dominic Dromgoole knows exactly how to work a multicultural Globe audience and excels with comedy, as he ably demonstrates yet again in the second play of this year's Season of Plenty, following Jeremy Herrin's high-quality production of The Tempest.
Visitors to this lively version of A Midsummer Night's Dream will not be disappointed by just under three hours of spirited high jinks that peak with one of the funniest performances of Pyramus and Thisbe that any company of rude mechanicals can ever have performed.
To create a unique impression, this mismatched bunch of likeable halfwits also clog dance. They are capably led in this discipline by Fergal McElherron, who clearly relishes the comic role of their amiable director of operations, Peter Quince.
The early scenes are dominated by John Light and Michelle Terry who double, first playing Theseus and Hippolyta then Oberon and Titania.
In both of her roles, Miss Terry who is fast becoming one of our very best stage actresses, dominates in every sense, proving equally fearsome as royal and fairy. To counter this, Light is required to be patient twice over, although he more than get his own back when Oberon starts making mischief.
The court scene gives way to a cleverly conceived, human forest that thwarts the romances of four mixed-up Athenians nobles, their problems exacerbated by a desperately young, effete Puck, played by a deliberately bumbling Matthew Tennyson.
Amongst the quartet of young lovers, the women come off best, with Sarah McRae's frustrated, shambling Helena really catching the eye, while anger enhances the skills of Olivia Ross playing the necessary diminutive Hermia.
Inevitably, Puck's biggest goof is to pair off Titania with an ass-headed Bottom, the laid-back Pearce Quigley seemingly having as much fun in the guise of the floundering but good natured know-it-all as those of us lucky enough to behold his hilarious performance.
This production is at its best when Dromgoole injects very funny physical comedy, which he does on a regular basis, aided by the kind of typically well-chosen team of talented character actors that almost always ensure his productions hit the right note.
It has to be said that, despite the traditional garb and Jonathan Fensom's impressionistic period setting, the director is not shy of tapping into modern mannerisms at times to get additional laughs but visitors, some of whom will inevitably find the language a struggle, lap this up.
Even a chilly opening night could not really take the edge off an evening of light comedy designed to delight throughout and which succeeds in doing so much more often than not.
Reviewer: Philip Fisher