A Musical Adaptation of William Shakespeare's Twelfth Night
Conceived by Kwame Kwei Armah and Shaina Taub (from William Shakespeare)
Public Theater
Young Vic Theatre
–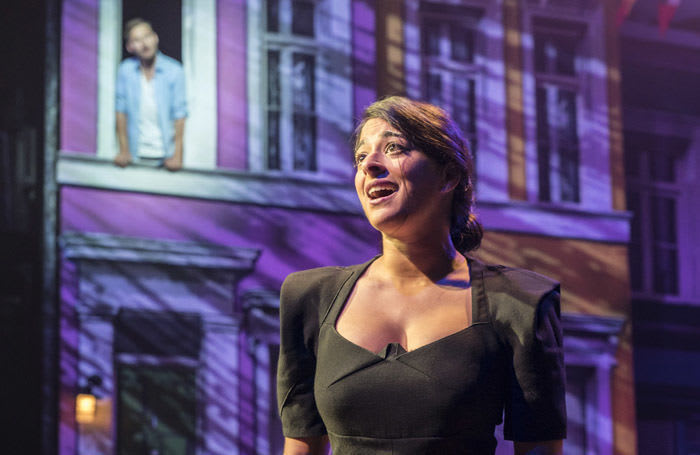 It always pays to read the small print. Although the headline gives the impression that this is yet another production of arguably the best comedy in the Bard's canon, the full title of A Musical Adaptation of William Shakespeare's Twelfth Night tells a slightly different story.
The work which inaugurates Kwame Kwei Armah's tenure at the Young Vic first saw the light of the day at New York's Public Theater and is very much a musical that takes the original as its inspiration rather than a full-scale adaptation.
Running at 90 minutes and filled with songs composed by Shaina Taub, there can be no more than 25% of Shakespeare's text, though most of the main plot lines remain intact, albeit colourfully transferred to 21st-century Notting Hill.
Under the co-direction of Kwei Armah (who conceived the show with Miss Taub) and his equivalent at the Public, Oskar Eustis, the central professional cast and band are well supported by a community chorus, fulfilling one of the off-Broadway theatre's fondest missions, public involvement.
Every member of this chorus is enthusiastic, talented and, to pay the biggest compliment possible, at times almost indistinguishable from the full-time professionals that they are supporting.
The updating and acting both seem designed to make the evening as light as possible, seeking laughs more than visions into the hearts, minds and souls of those involved.
The undoubted star, stealing every scene in which he appears, is Gerard Carey playing a particularly prissy Malvolio, singing wittily and hitting top gear not only on his segue scooter but also with a splendid tap dance at a pivotal moment joy finally seems poised to enter his sad life.
Carey also gets the best song lyrically, which like many others (quite possibly paying a deliberate tribute to the genre) seems to bear a considerable likeness to those from other hit musicals old and new, in this case George III's big solo in Hamilton.
The strongest of the singing comes from Melissa Allan playing an especially maudlin Feste and Gabrielle Brooks who is one of the most convincingly masculine Cesarios of recent memory.
In the other leading roles, Rupert Young has less of an opportunity to shine as Orsino than Natalie Dew, sweetly playing Olivia, while Martyn Ellis's Welsh Sir Toby Belch is a figure of fun in both senses of the word, while his sidekick Sir Andrew Aguecheek played by Silas Wyatt-Barke sports an Eastern European accent and, judging by his garb, might well have a sideline as a drug dealer.
The main strength of this post-Shakespearean creation is the really strong score. This has been linked to a simplified plot underpinned by the genius of the greatest writer of them all. The whole benefits greatly from the enthusiasm of every everybody involved on a deep thrust stage, backed by an attractive and colourful street backdrop courtesy of designer, Robert Jones.
Twelfth Night is undoubtedly great fun and will therefore appeal to its assumed target market, the young and those not very familiar with what the theatre and Shakespeare in particular have to offer. Whether it can go the extra mile and draw in more seasoned stage addicts as well only time will tell.
Reviewer: Philip Fisher