A Number
Caryl Churchill
Bridge Theatre
Bridge Theatre
–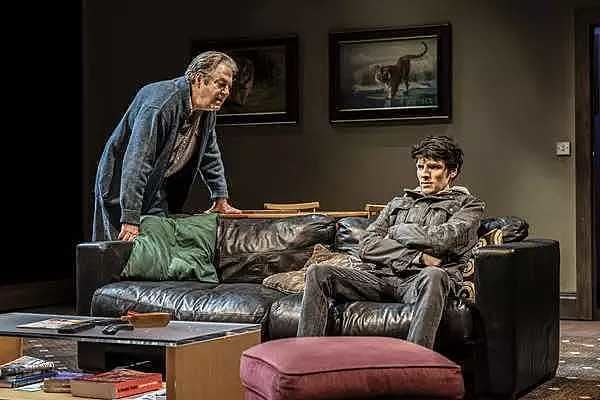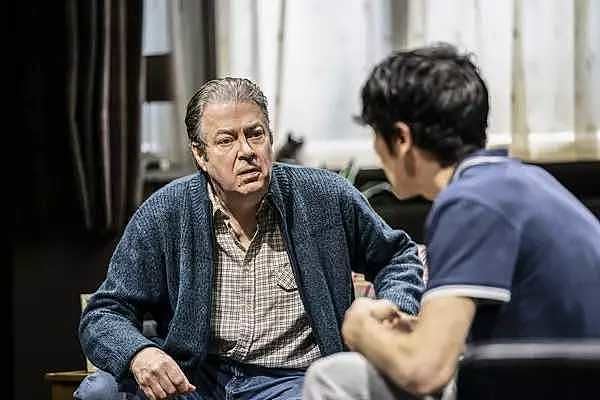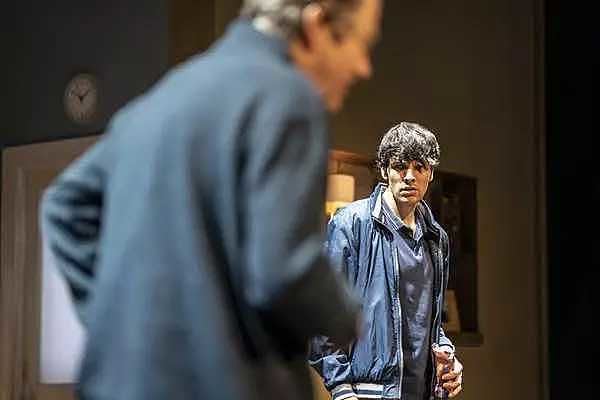 Caryl Churchill is very literally flavour of the month, since this revival by Polly Findlay of her play about genetic experimentation first seen in 2002 follows hard on the heels of Far Away at the Royal Court.
It may only have two actors and last an hour but A Number packs a hefty punch. The piece also offers opportunities for star casting.
First time around, Sir Michael Gambon was paired with Daniel Craig and they almost meet their match in Roger Allam and Colin Morgan. Indeed, it may just be autosuggestion but Allam's tones as a mildly estuarine father could easily be mistaken for those of Gambon.
Designer Lizzie Clachan has created an innovative set, which depicts a mildly down-at-heel living room that revolves through 360°, at each turn presenting evocative paintings or drawings on the upstage wall.
This is the home of Salter, a widower in late middle age, and the venue where he meets his son (or sons). The reason for this critic's apparent confusion is the conceit of a wildly imaginative play.
At some point in the past, the point being unclear since Salter varies his stories, his young son was cloned into an unidentified number of replicas, creating obvious moral and ethical dilemmas, not to mention an opportunity to get rich by suing allegedly unscrupulous doctors.
In the first and third scenes, Colin Morgan plays a son who thinks himself to be the original, largely thanks to his Father's forceful protestations that this is the case. In fact, the bland young man already knows far more facts than those of which we are originally made aware.
In the second and fourth scenes, Morgan becomes a son who probably has more justification for believing that he really is number one. The issue here is that, unlike his "brother", this fellow is deeply aggressive and threatening.
The interactions between the father and the sons say much about the nature of such relationships, while also allowing Caryl Churchill and her audience to explore some of the implications of genetic experimentation. Although this is a topic that has advanced considerably in the period since the play was written, the piece still feels both contemporary and timely showing how much foresight the playwright demonstrated at the time.
In the final scene, Colin Morgan uses his natural Northern Irish accent as the lovable Michael, a clone who happily accepts his lot, possibly offering more promise for the future of the world than either of the others.
What is so clever about A Number is the way in which it goes beyond its stated brief by shining a light on other important political, social and intellectual issues. In particular, it seems to prefigure the recent rise in nationalism and intolerance in the UK and elsewhere, demonstrating the ways in which people can both ally themselves with sectarian groups or be irrationally attacked by them.
Great credit should go to Polly Findlay for her pitch-perfect direction, which goes beyond the text into the scene changes, depicting and widening our understanding of the introspective Salter, and also both actors, who each excel and work perfectly together.
This is a thought-provoking and intriguing production that contains far more material than seems possible in such a compact package. It is also great fun.
Reviewer: Philip Fisher