A Parcel for Mr Smith
Peter Mortimer
Cloud Nine
Low Lights Tavern, North Shields
–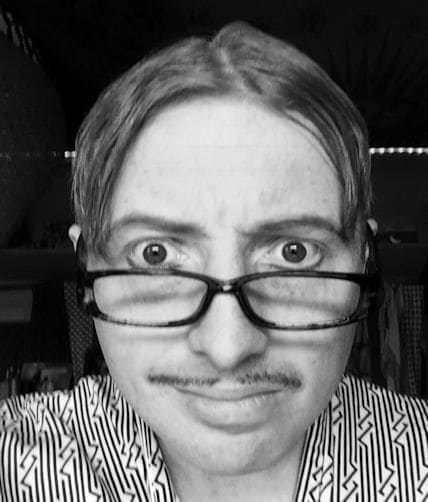 Mr Smith is ironing a shirt, meticulously. The shirt is for the mannequin (with rather odd face paint) which stands in the corner of the room.
He—Smith—is wearing pyjamas and a dressing gown. His centre-parted hair is plastered flat, he has a thin moustache and he wears glasses. He has the soul of an accountant. Tiny details fascinate him. Logic is his god. Every idea in all its possible permutations must be followed to its logical conclusion.
He is the archetypal—nay, the extreme—geek. He is Duane Dibley without the teeth and with a teapot rather than a thermos. He is the epitome of uncool.
There's a knock on the door and a voice announces, "Parcel for Mr Smith." And so begins his trauma.
Was there ever any real person like him? Possibly, but we're not likely to meet more than one in a lifetime.
Many of Peter Mortimer's short plays have explored various facets of Absurdism, from Ionesco to N F Simpson, creating worlds which are "off the wall," surreal but entirely internally-consistent. This other-worldliness is reflected in the language, which is one or more degrees removed from everyday speech.
Recently, however, with The Young Man, the Old Woman and the Roof and The Sisters, he has gone back to more conventional comedy but with a satiric, even sinister edge.
A Parcel for Mr Smith explores the boundaries between realism (or is it naturalism? No, I'm not going to get into that!) and the world of the Absurd. It's a one-man show, performed by Mortimer's son, Dylan, which is a new departure for them and for regular director Neil Armstrong as none of them has tackled a one-hander before.
There's no interaction with others (except briefly with the disembodied voice of the postman through the door) and this puts quite a burden on the actor (apart from the obvious weight of having to hold the stage alone for 40+ minutes): he has to create this world for us, draw us in and make us accept for the time we are in his company that this is the real world.
And in this, to his credit, Dylan Mortimer succeeds.
If it were not for a few things which happen to Mr Smith—this is not a spoiler: obviously things have to happen or there wouldn't be a play—we would simply be being invited to laugh at a very sad character, which would be, to say the least, rather distasteful.
Mr Smith walks the fine line between the world of the absurd and of the "normal", albeit a rather extreme example of normality. All three—both Mortimers and Armstrong—get the balance right.
The play, which is preceded by 25 minutes of music from local musicians, plays at the Low Lights until Thursday 14 May and then moves to The Yoga Station, Whitley Bay, on Friday 15 and Seaton Delaval Arts Centre on Saturday 16.
Reviewer: Peter Lathan