A Very Very Very Dark Matter
Martin McDonagh
Bridge Theatre
–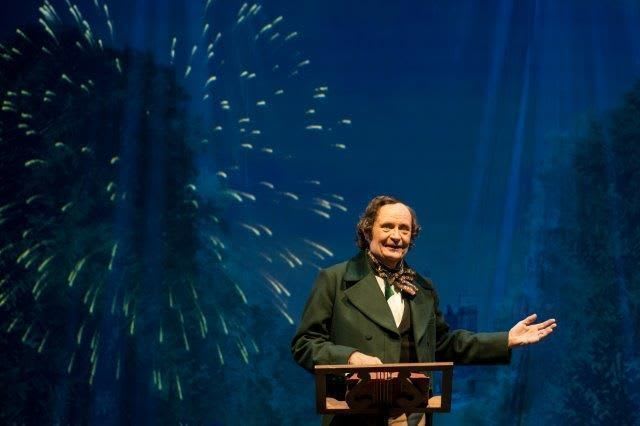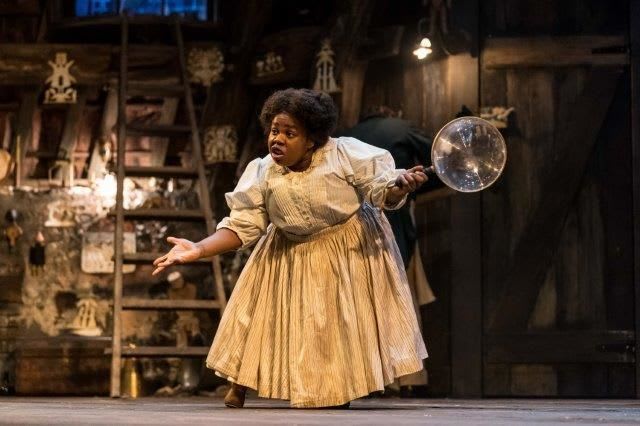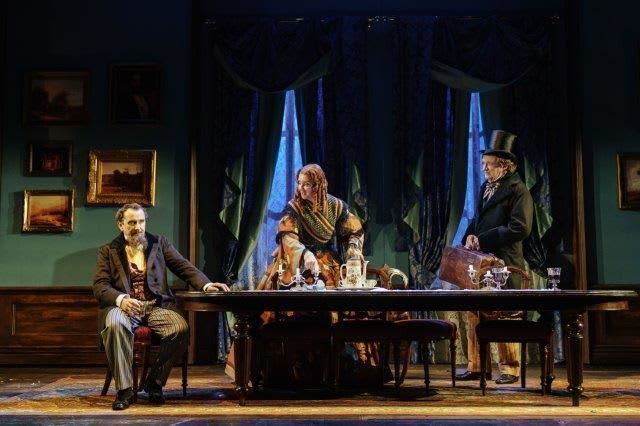 It is gratifying that, despite his run of successes, most recently including Three Billboards Outside Ebbing, Missouri, Martin McDonagh still yearns to write for the stage.
The nature of his playwriting has changed to an extent since the early days when his comedies featured the kind of violence that characterised the in-yer-face genre, as Michael Grandage's striking revival of The Lieutenant of Inishmore so graphically demonstrated.
More recently, the shock factor has still been present but served up in a more cerebral manner. Viewers who saw The Pillowman 15 years ago will immediately spot similarities in this new bleak, black comedy.
To begin with, Jim Broadbent is a common factor, now playing a man beloved by children, Hans Christian Andersen. However, this Andersen is not quite the bringer of sweetness and light that one might expect.
The opening, narrated in the sinister, gravelly voice of the perfectly cast musical legend that is Tom Waits, sets the scene well, as the lights come up on the Anna Fleischle-designed attic of nightmares or horror movies, complete with morbid, hanging puppets and a claustrophobic cage. This is occupied by a remarkable stage debutante, Johnetta Eula'Mae Ackles, who takes the role of Marjory, although that is not the African youngster's given name.
Marjory carries the weight of the world on her shoulders, foreshadowing the murder of 10 million Congolese by the Belgians.
More benignly and comically, she also happens to be not so much Hans Christian Andersen's muse as the progenitor of all of his stories. Indeed, the Danish "writer" is nothing more than a front man of minimal intelligence and extremely nasty tendencies, he struggles to read his "own" stories having made no contribution to their creation.
Through threats and violence, he becomes a symbolic colonialist quite callously torturing the woman who brings him fame and fortune.
The strongest comic vein in the play comes when Andersen billets himself on Phil Daniels's foul-mouthed, estuarine Charles Dickens and family.
Overstaying his welcome and constantly failing to make himself understood, the visitor seems desperate to discover whether England's greatest novelist has a similar literary skeleton in the cupboard, helping him to create his own fantastical inventions.
As the title suggests, this is hardly a light and breezy play, although it has some extremely funny moments. The drama itself can be difficult to interpret but it delivers some very strong messages about man's inhumanity to man, genocide, prejudice and very much more, all with an unusual literary veneer covering its brittle surface.
Matthew Dunster directs a piece that doesn't quite extend to 90 minutes in quite a transparent style, allowing the story to tell itself while ensuring that the cast, triumphantly led by Jim Broadbent and the prodigious Johnetta Eula'Mae Ackles, have every chance to shine.
Reviewer: Philip Fisher