The Lieutenant of Inishmore
Martin McDonagh
Michael Grandage Company
Noël Coward Theatre
–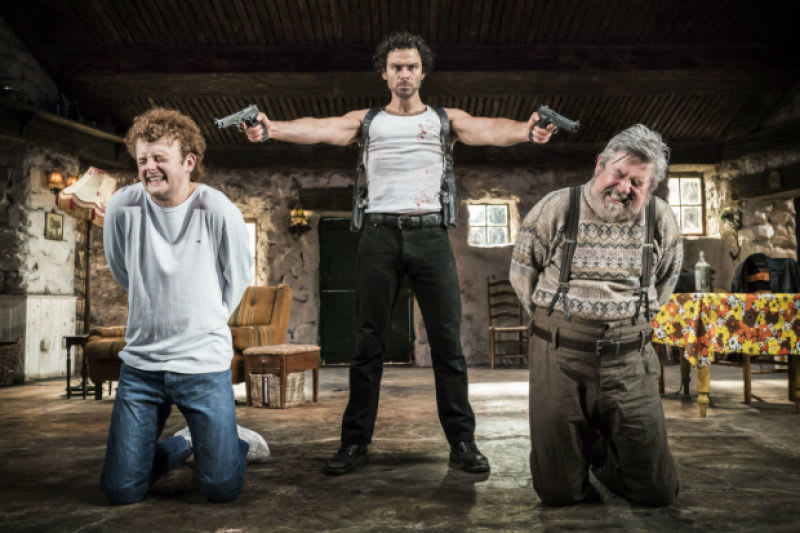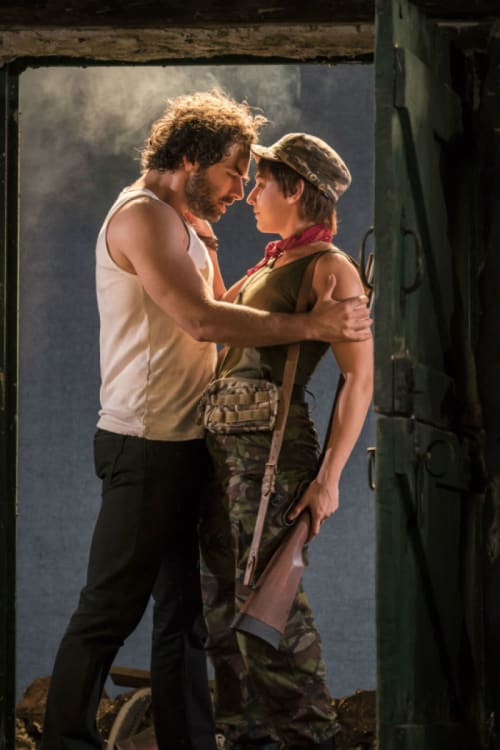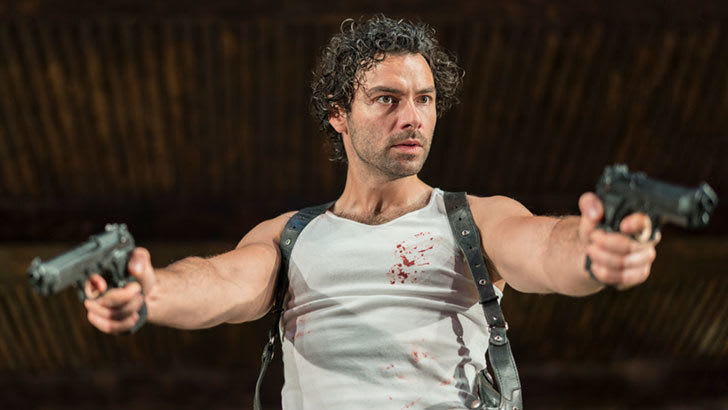 Having achieved a massive success with his revival of The Cripple of Inishmaan starring Daniel Radcliffe, it was a natural development for the Michael Grandage Company to mine further early work by Martin McDonagh, now a major player in the film world following the high profile, Three Billboards Outside Ebbing, Missouri.
The Lieutenant of Inishmore was set in 1993 and written soon afterwards but did not go into production until the RSC brought it to the stage under the direction of Wilson Milam in 2001. The evening was undeniably memorable, in part for the kind of violence that might have scared off Quentin Tarantino or William Shakespeare at his goriest, say in Titus Andronicus but also for its rich wit and an offbeat view of The Troubles.
Before the curtain even goes up, a pussycat named Wee Thomas has practically been decapitated to start a cycle of violence, which culminates in scenes that would be worthy of an abattoir, but actually take place in a quaint, Christopher Oram-designed cottage on the Isle of Aran.
As so often in this playwright's theatrical work, the characters split fairly evenly into eejits and psychopaths, though the odd one simultaneously shares both of these traits.
Wee Thomas was the beloved best (and only) friend of Padraic, an INLA terrorist with the look and violent tendencies of Rambo. Poldark star Aidan Turner has a whale of a time portraying a man so evil that he would betray friends in the bat an eye and even shoot his own father for a minor act of negligence towards a cat.
Following his moggy's demise, the distressed proponent of "Ireland free" leaves the torture chamber behind to enjoy a few relaxing hours terrorising Dennis Conway as dad Donny and highly promising stage debutant Chris Walley playing dim Davey, a heavy-metal addict with luck as bad as his hair. While that pair is weak, Padraic is much closer to meeting his match in a trio of heavy duty and heavily armed paramilitary colleagues who take action following the rumours that the renegade wants to leave their organisation and set up a splinter group of what was already a splinter group from the IRA.
Bonnie and Clyde-style romance arrives in the form of Davey's tomboyish 16-year-old sister Mairead, portrayed by Charlie Murphy as a feline-fetishising hard nut. As such, she is the perfect acolyte, before even taking into account her accuracy with a popgun that might always come in useful if the going gets tough.
All of these ingredients are cooked up into the blackest comedy imaginable, with countless jokes almost all of which are extremely funny and perfectly timed in the sure directorial hands of Michael Grandage.
The Lieutenant of Inishmore is the kind of play that needs to carry a whole list of health warnings about language and excessive violence but for those that are not too squeamish it should also prove to be one of the highlights of the London theatre season.
Reviewer: Philip Fisher