Adam & Eve … And Steve
Music by Wayne Moore, book and lyrics by Chandler Warren
Flying Entertainment with AES in association with The King's Head
Kings Head Theatre, Islington
–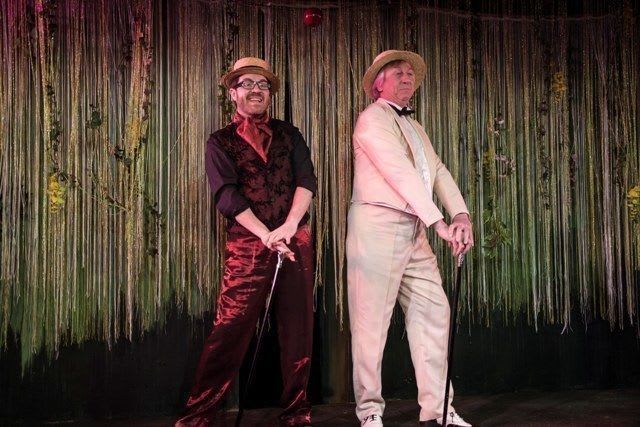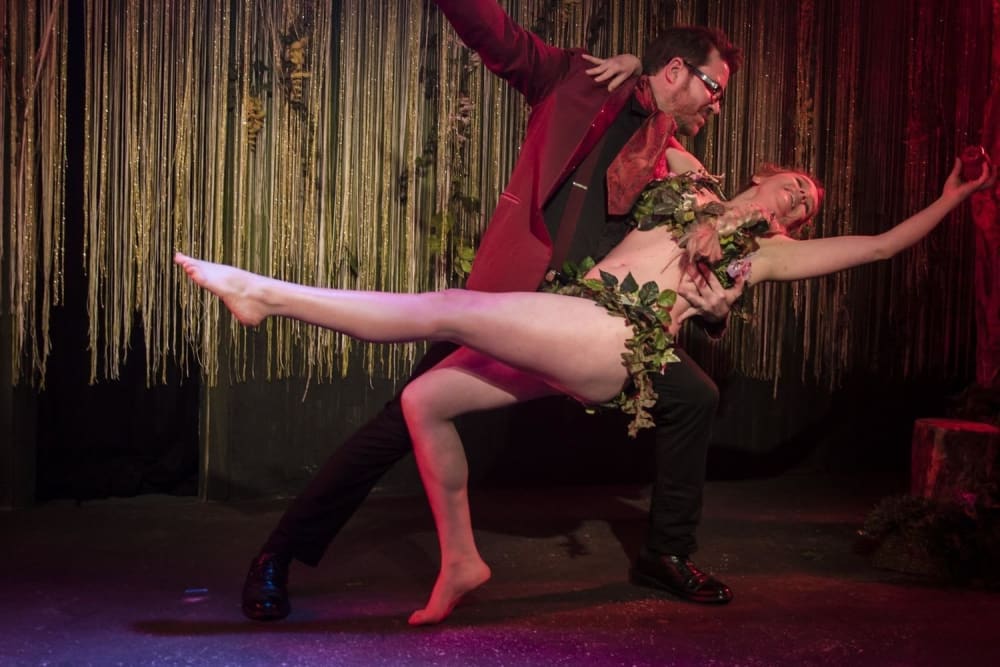 Adam & Eve... and Steve, which has its London première at Islington's The King's Head, is a bundle of silliness, tied up with a loose musical string.
Creationists had better beware that the story takes the traditional narrative of God creating first Adam and then Eve to be his mate and procreate the human race and throws it cheekily in the bin.
Here Satan, or Beelzebub as he prefers to be known, puts one over on his previous boss and has a fiddle with the X chromosomes. The outcome is that as Adam's mate God has created Steve, or St Eve as he first interprets his name.
A naïve Adam is very happy to have a friend and is oblivious to Steve's sexual interest in him, all the while Beelz swills a martini from the sidelines and enjoys the goings on.
God rectifies the situation by creating Eve, but this makes matters worse as paradisiacal harmony is disrupted by indecision for the conflicted Adam, and jealousy and heartache for both Steve and Eve, as she comes between the two best mates.
As a daft musical should, and God being in beneficent mood, it concludes with a happy ending which I won't reveal but isn't hard to guess—from about a third of the way in.
The plot is as predicable as any panto and the elegance of the writing lives down to the worst of that genre with lazy stereotyping, and some of the jokes are lame or old.
God is presented as an authoritarian off–stage voice until a song is shoe–horned into the action for him, and he goes down to Hell in order to revive a hat and cane duet he used to do with Beelz when he was still an angel.
That is not the end, or even the beginning, of the nonsense but I surrendered myself to its warmth and enjoyed what I could.
Stephen McGlynn as Beelzebub carries the show with his strong stage presence and gets to sing the only song I can remember less than 24 hours after seeing the show, "It's All About Me".
One or two of the songs, "If This Is What Love Is" and "The Empty Hell Blues", hint at what might be, but none of them realise their potential. And yet another song with references to buying furniture in Ikea. Really.
Without exception, the singing is better than the songs deserve and Dale Adams, who plays Steve, proves himself to be the better singer of the group though Hayley Hampson's Scouser Eve and Joseph Robinson, making his professional début as a Welsh Adam, both have their charms.
Adam & Eve... and Steve had a successful run at last year's Edinburgh Fringe Festival finishing with a collection of four-star reviews to its name.
It would not be the first show to come south and fail to fulfil its former glories outside of the Festival environment but I wouldn't be able to add to its gongs. Its songs are weak and its irreverence fearful of offending—like getting a limp handshake when you were expecting a big hug.
Reviewer: Sandra Giorgetti