After the Rehearsal / Persona
Ingmar Bergman, respectively translated by Karst Woodstra and Peter van Kraaij
Toneelgroep Amsterdam
Barbican Theatre
–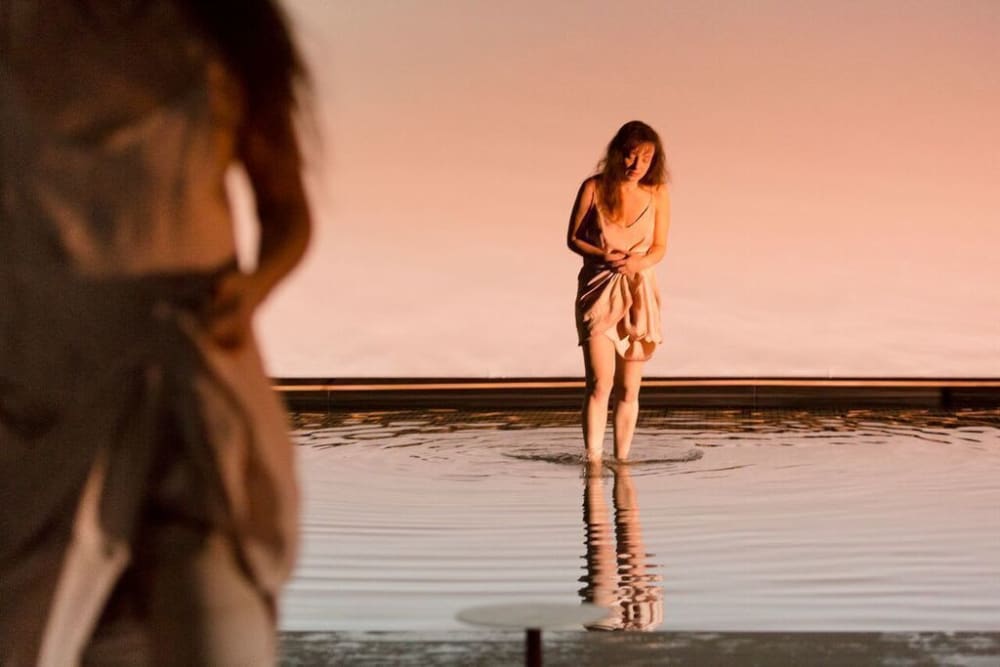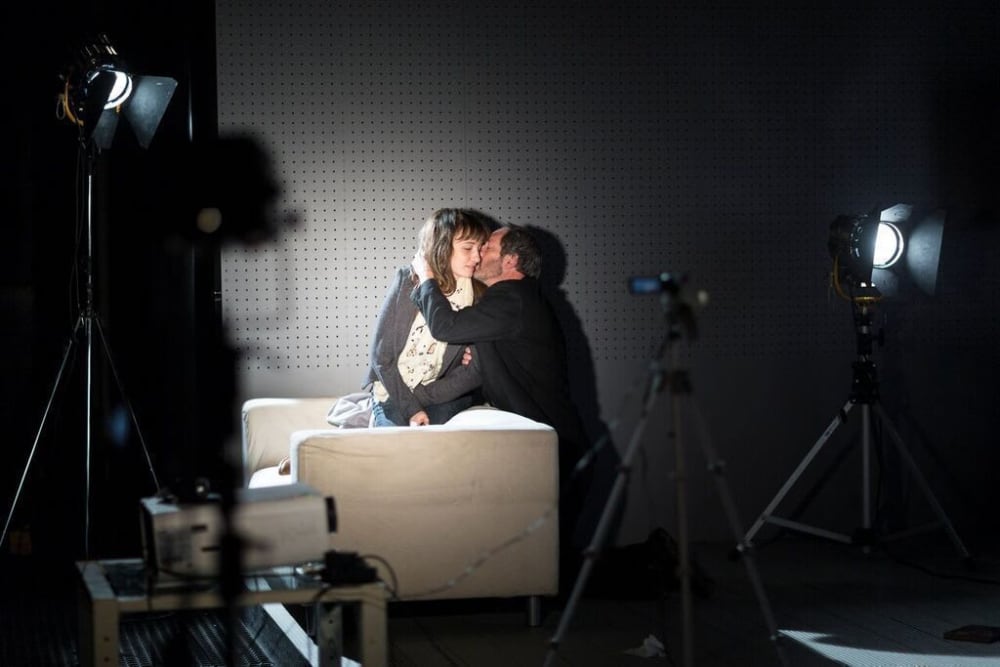 The heady combination of Ingmar Bergman and Ivo van Hove with his company from Toneelgroep Amsterdam sounds unlikely but melds well as has previously been demonstrated in productions of Cries and Whispers and Scenes from a Marriage.
This double bill of psychological films, transformed for the stage from the original Swedish into Dutch and then given English surtitles, leaves a number of unanswered questions but challenges viewers to look deep into characters' psyches and by extension their own.
After the Rehearsal (1984)
The opening piece takes place in a rehearsal room where an experienced director, Gijs Scholten van Aschat as Hendrik Vogler, and Anna, an actress young enough to be his daughter played by Gaite Jansen, run through a debrief of her performance in his production of Strindberg's mystical A Dream Play, together with harsh "notes".
Aspiring directors and actors will learn a great deal, while for the general viewer the main attraction will be the developing relationship between the pair. As we slowly discover, Anna is the daughter of actors who were friends of and worked with Hendrik.
Pursuing what is almost a cliché, the duo end up in a casting couch clinch, but not before the young woman has interrogated her mentoring an attempt to discover whether he ever had an affair with her mother, Rachel.
In this production, those that do not know the film will probably suffer confusion when mother appears in the figure of Marieke Heebink. For far too long, it is unclear whether Anna who remains on stage is part of this scene. Nor can one immediately fathom the timelines or whether the older woman is indeed her mother.
However, that is not to detract from a fascinating scenario and wonderful acting from all three performers.
Persona (1966)
Following the kind of interval that even opera houses don't try, the curtain rises on the hospital room of Elisabeth Vogler, an actress played by Miss Heebink, who literally dried during a performance of Electra and has not spoken since.
Lineke Rijxmann as her sympathetic doctor appoints a young nurse to try and unlock the older woman's hidden problems and cure her.
Oddly, Elisabeth's mind and body are in full working order but, even so, Miss Jansen's Alma faces an uphill struggle.
The doctor suggests a transfer to a secluded island. This is located in a lake, which requires most of the stage space to be submerged, hence the long interval.
The pair's difficulties are symbolised by a scene of startling beauty as a summer storm with strong winds is replicated with help from powerful wind machines.
Thereafter, Alma begins to talk, having little choice. She reveals enough of herself for viewers to wonder whether the nurse too needs a talking cure, in an unusual case of physician un-heal thyself. This elicits a strange bond and friendship between the two women, prior to a predictable but satisfying closure at the end of rather more than three hours at the press performance.
This double bill is always intriguing, occasionally baffling although both plays are eventually deeply moving. They also feature the kind of acting and staging that fully justifies the expense of bringing a company across from the Netherlands for just four performances on Jan Versweyeld's unforgettable set, which must surely win every award going.
Reviewer: Philip Fisher