Alice's Adventures Under Ground
Music and libretto Gerald Barry
The Royal Opera
Royal Opera House
–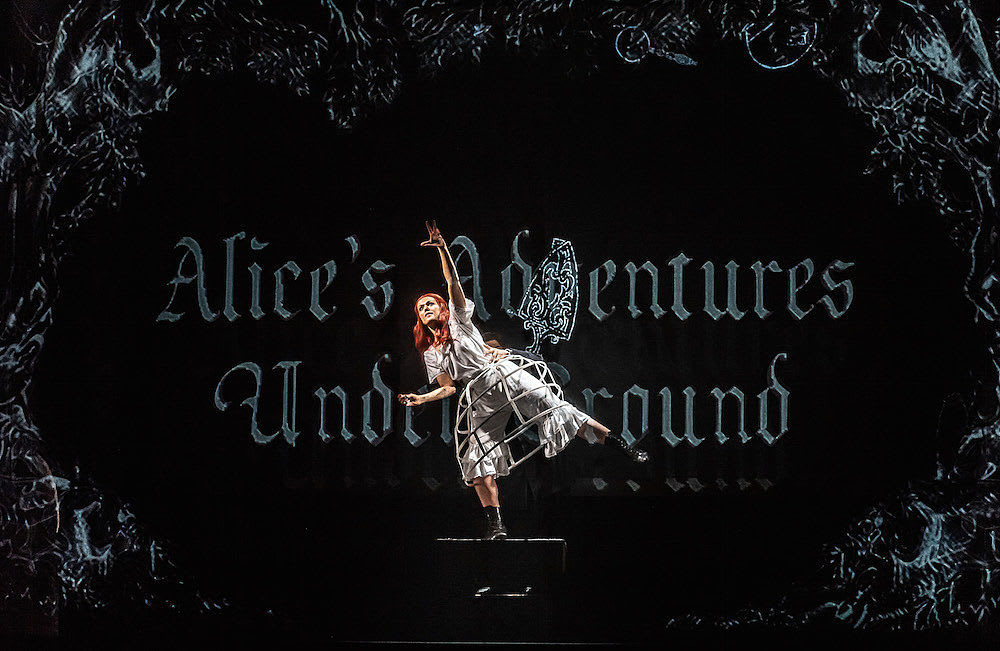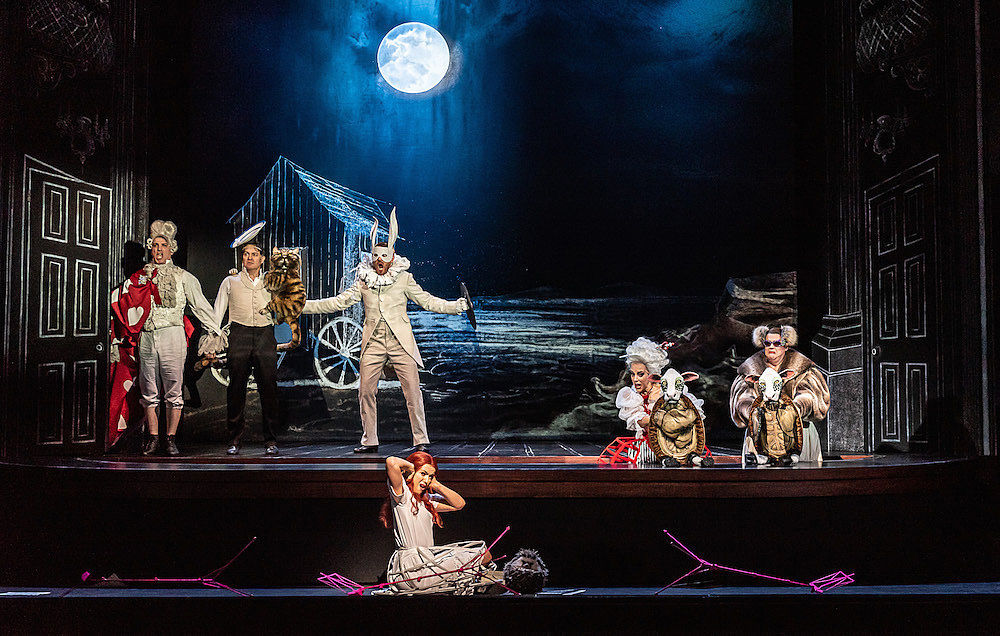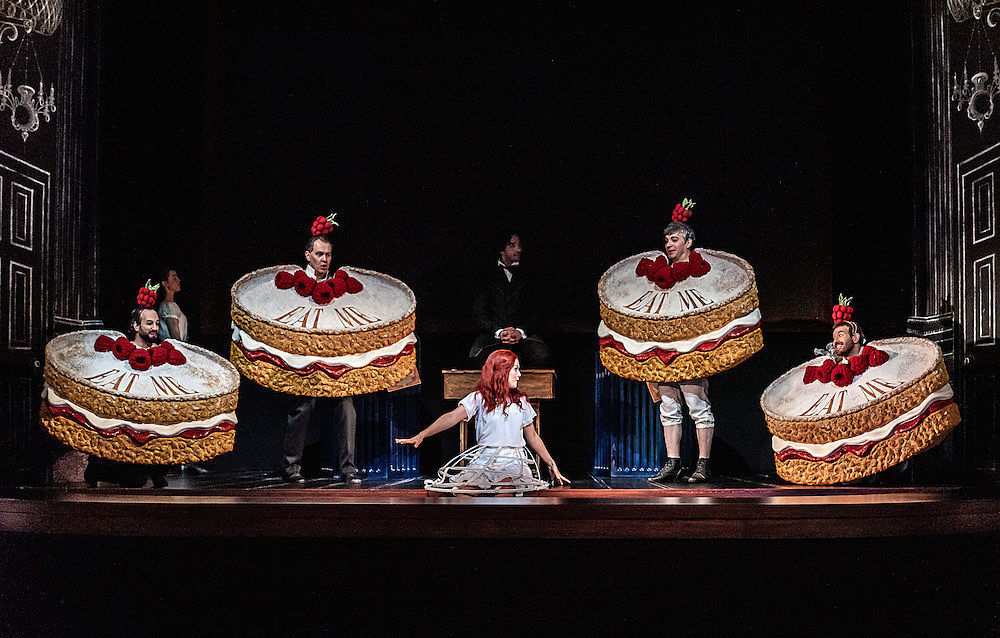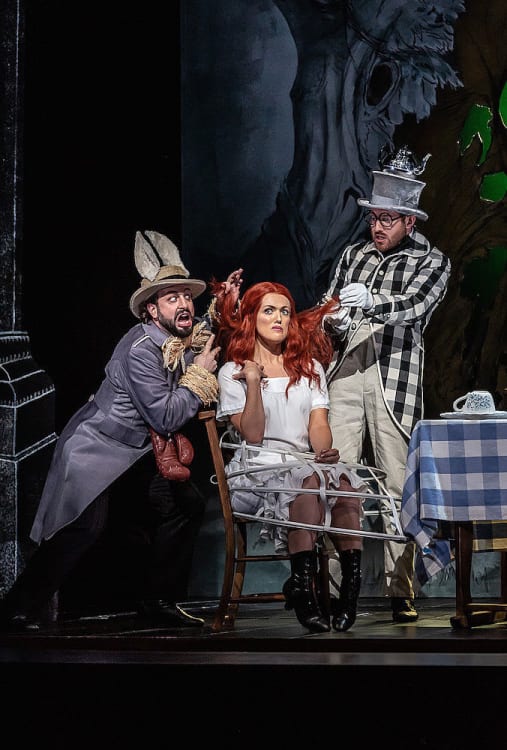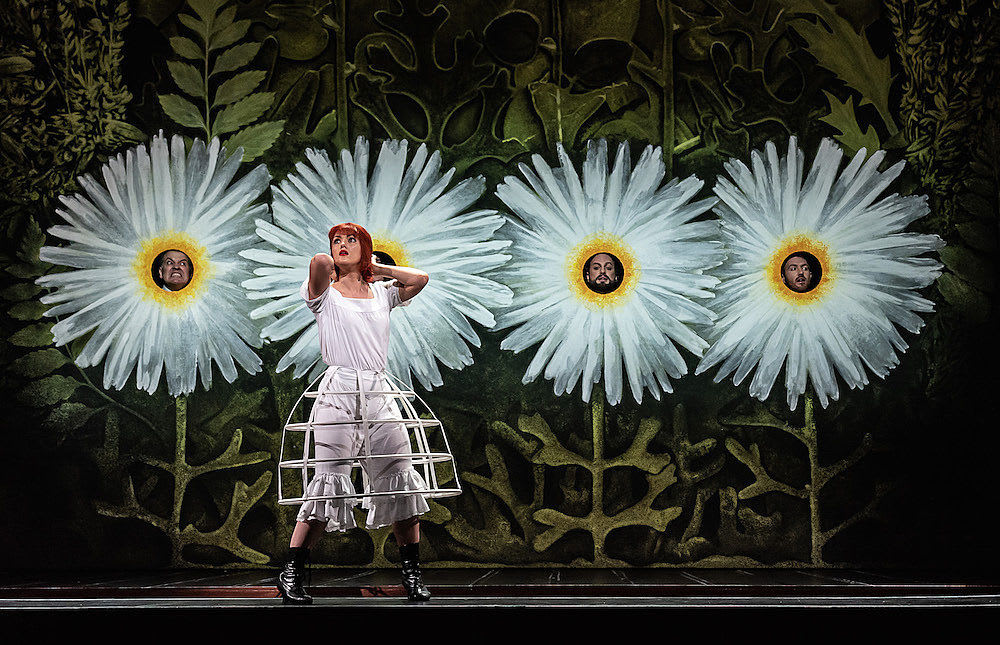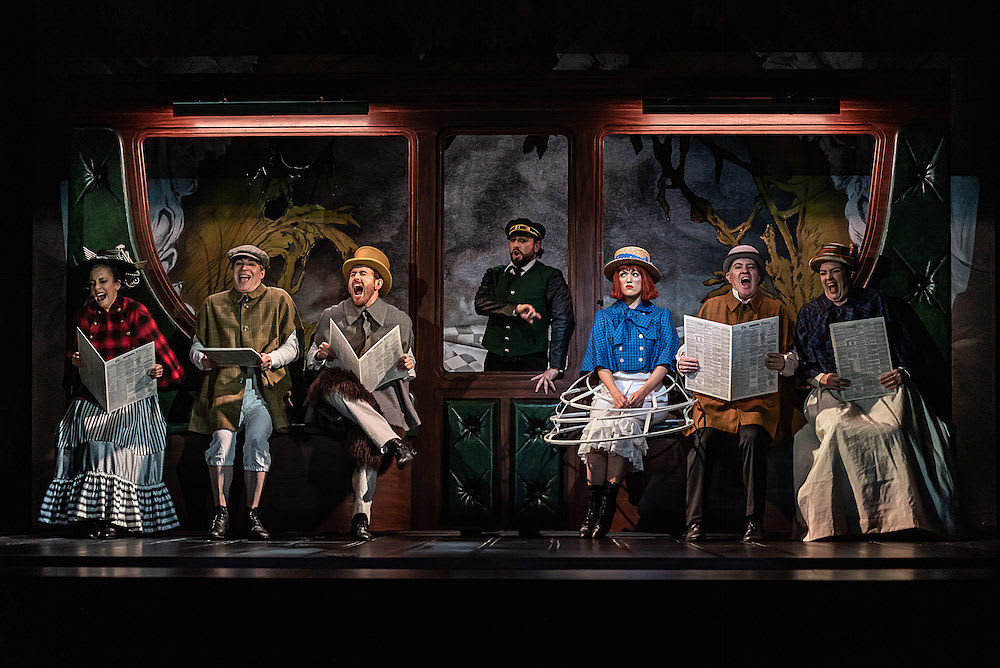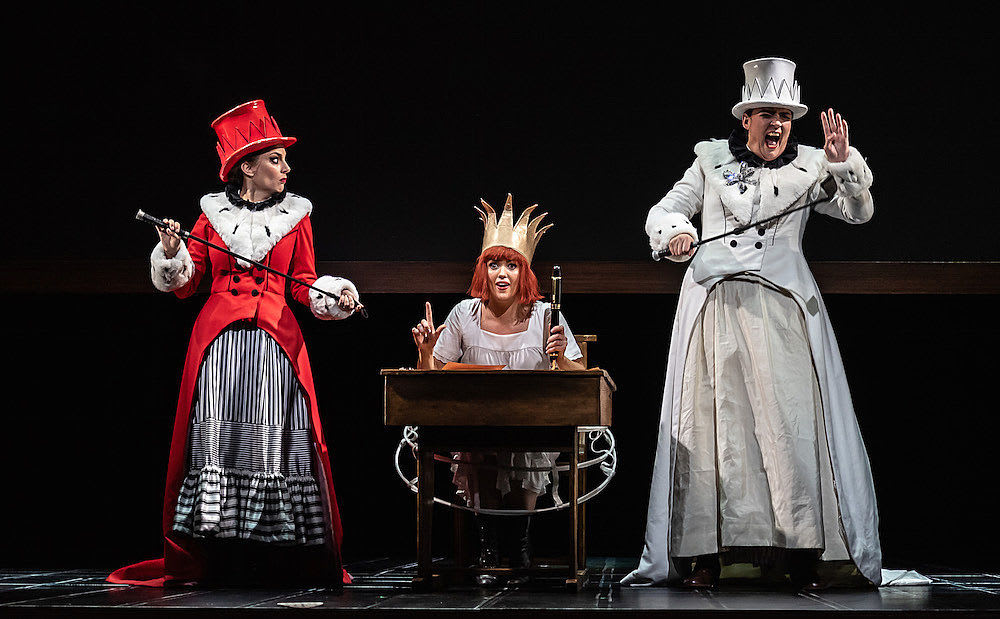 Alice falls down a rabbit hole and screams—well she would, wouldn't she—Claire Boyle hits the top Cs (her part I read contains 98 top Cs!) and arpeggio scales with astonishing accuracy and agility. Gerald Barry opens his fifty-five-minute family opera, Alice's Adventures Under Ground, with tongue-in-cheek audacity, playful cacophony, and continues with Lewis Carrollian logical illogicality, bringing out its surreal madness and absurd 'Anglo-Saxon' eccentricity.
An anarchic gallop through Alice's Adventures in Wonderland and Alice Through the Looking Glass, a cast of seven singers averaging about ten parts each: what holds the opera with its many references, visible and aural, its defiantly modern mash-up of jarring sound together are Anthony McDonald's quirky designs, visual jokes and swift direction.
But where to look and how to keep up? A readymade Victorian proscenium arch toy theatre plonked on the opera house stage confines the action, some spilling outside its frame, there are animated video projections, surtitles in English, German, French and transliterated Russian, bonkers costumes (bottles, cakes, flowers, calling cards, pink music stands as flamingos), an overabundance of invention. During the oyster seaside routine, I even think of Walter Sickert and his Brighton Pierrots.
Alice's Adventures Under Ground reminds me a little of the aesthetic of the 1927 theatre company. Or a magic lantern show and its slides—here comes another one... cut-outs of Queen Victoria and family and is that the Russian royal family or George VI with his—slip on and off. Now you see them, now you don't. And is that a reference to the Charge of the Light Brigade?
What am I seeing—it passes so quickly—am I slumbering like Alice in the original—is that Humpty in a broken eggshell with yellow yoke on his head, four blue Drink Me singing bottles, four Eat Me cakes, four big-headed babies, four oysters, four daisies, barbers quartets all, two mock turtles with sheep faces, the Mad Hatter's Tea Party, the warring knights on horseback straight out of panto, singing invitations, and pink music stand flamingos?
And that's before one takes Barry's fabulous soundscape assault of avant-garde atonality (maybe not as edgy as I expected), bangs and whistles, screeches and silences, recitative, speech, chopped-up nursery rhymes, lyricism (yes there's some of that, too), and Humpty Dumpty singing his story to Beethoven's Ode to Joy into account. Jabberwocky is sung three times in English, German and Russian. Why? Is this about jingoism?
Thomas Adès, conducting, looks to be having serious fun in the pit. Fun is what Alice's Adventures Under Ground is—tremendous, naughty fun. Many children in the auditorium make light work of it. I guess children will need no explanation, natural anarchists that they are. No need to worry about wordplay, mathematics, knowing interventions, just go with its try-hard exuberance.
The short run (still lots of seats) has two performances a day with alternating casts. The one I see is Claudia Boyle as a spirited Alice; Clare Presland as the fiery Red Queen, the Duchess, the Cook and more; Hilary Summers as the hilarious White Queen, Dormouse, Cook, etc., Joshua Bloom as Humpty, Red Knight and more; Sam Furness as White Rabbit, White King, Mad Hatter, Tweedledum, Frog Footman, etc.; Peter Tantsits as March Hare, Tweedledee, Fish Footman and more; Mark Stone as Chesire Cat, White Knight etc.
Three dancers (Lukas Hunt, Bianca Hopkins, Eloise Hymas) unobtrusively play Lewis Carroll himself and two Liddell sisters (not Alice). But, is Hunt channelling Sergei Polunin with his chest tattoos? Or is it another in-joke? In this topsy-turvy world, who can be sure of anything… Be very alert…
In this venue, I think of Ninette de Valois' Checkmate… And of Christopher Wheeldon's three-hour Alice ballet with its riotous design by Bob Crowley... The Royal Opera House now has two Alices, but I do wish Barry's were longer. And that I could have seen and heard both casts on its first night: I'd like to hear this emphatic score again, especially the instrumental passages.
Reviewer: Vera Liber