Alice's Adventures in Wonderland
Choreography by Christopher Wheeldon, music by Joby Talbot, design by Bob Crowley
Royal Ballet
Royal Opera House
–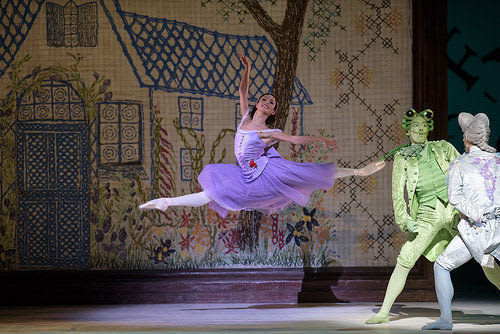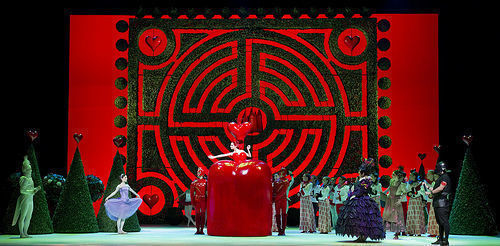 Three times Christopher Wheeldon's Alice's Adventures in Wonderland has opened in the spring, now we have it opening the autumn season at the Royal Opera House, bringing colourful splashes of dazzling hue to our murky, muggy days. I can see it eventually moving towards the winter festive season, giving The Nutcracker a run for its money. As it is, it's a warm-up run-up towards it.
Warm-up for the traditional Panto season, too. Slapstick pratfalls and music hall (think Frederick Ashton's La fille mal gardée and comic Cinderella and even his Tales from Beatrix Potter), a lot of magical tricks, puppets (the now you see it now you don't Cheshire Cat's face comes in five big pieces), shadow play, and Bob's your uncle.
Bob Crowley actually, his designs animating Nicholas Wright's scenario of Lewis Carroll's classic into indelible stage images with the indispensible assistance of Jon Driscoll and Gemma Carrington (projection design), Natasha Katz (lighting), and many more.
A spectacular show with a bit of incidental ballet thrown in for good measure, did I say it's very pleasing on the eye, if unsettling with its queasy perspective. I do wonder when American in Paris Wheeldon intends to move into the movies, as so many of his and his creative team's references (Joby Talbot's supportive score is cinematic) seem to be either from Hollywood musicals or big Broadway shows.
Musical theatre grafted on to ballet, it's a sure fire hit with families. This run is sold out, returns only. People make it a special trip from out of town, some seeing it multiple times (I'm eavesdropping, of course). But little ones might find it too long, nearly three hours: acts one and three forty-five minutes, act two about half an hour, two intervals. I do sympathize with the little girl I hear saying, "when can we go home mummy?"
Having covered first nights only with their clutch of at least five principals, this is my first foray into a Saturday matinée with only one principal, the petite Francesca Hayward a delightful Alice negotiating her dream adventure. Instead of concentrating on dancers and their technique, I am swept away by the storytelling, delighting the child in me. Not a bad move.
Though the child in me is a little disturbed by the grotesque Grimm scene at the Duchess's Home Sweet Home with its pig upturned in a mincing machine and a string of sausages nearly strangling the skinny cook (principal character artist Kristen McNally is deliciously deranged with her butcher's machete). Still, a bit of magic mushroom from the Arabian Nights Caterpillar and all is sweetly doolally again.
Glitter sprinkles the stalls, fragrant Flowers trip down the aisles, dance a lovely waltz, and tiny hedgehogs unfurl and run away from the megalomaniac Queen as she tries to bat them with flamingos in a game of croquet. Two Panto Dames square off at the hoops.
Tierney Heap is the spit of Joan Crawford, though I can't see Crawford splat in a splits in a pastiche Rose Adagio. Try as I might to see the Duchess as Bette Davis (we'd have a reference to the 1962 movie What Ever Happened to Baby Jane?), Philip Moseley looks pleasingly like Les Dawson in his Panto splendour.
All very tongue-in-cheek, as it should be, with clues and teasers (in the music, too), Alice's Adventures in Wonderland gives audiences plenty to do, not least work out who's who from the real world in Oxford and how they transform into the creations in the maddening parallel universe. If you want to do all the heavy lifting yourself, don't look at the free cast list till later—it's a giveaway… the dual roles are listed and there's a synopsis, too, for visitors who don't know the story.
But even if you do look, the transformations are ingenious. White Rabbit / Lewis Carroll (James Hay) wears sixties trendy round John Lennon pink specs. Calvin Richardson takes on the tap dancing Mad Hatter, and William Bracewell, recent Royal Ballet addition from the Birmingham Royal Ballet, gives us a slithery Rajah / Caterpillar.
Alice has a lovely pas de deux with her love interest Jack / Knave of Hearts (Tristan Dyer) but I feel little spark between them, nothing too swoony or romantic for the day audience. I am trying like mad not to compare with the first cast, the cast the roles were created on, inevitably one does, but mum's the word.
Gary Avis brings his usual superlative acting skills to the Queen's long-suffering placid husband / Alice's Father. Well, her Mother is a fastidious, if a lower key mirror image of the Queen. The detail is fastidious: there's much going on background and foreground, all are totally in their roles even when attention is not on them, Avis a prime example.
A cheery antidote to our days of austerity and uncertainty: at least in the theatre all's well that ends well, when Alice realises that she can get the better of the Queen of Hearts and her pack of cards by simply toppling them like dominoes. They are only cards after all.
Alice's Adventures in Wonderland is being screened live in cinemas 23 October, and I imagine it should transfer exceptionally well to the big screen.
Reviewer: Vera Liber