All My Sons
Arthur Miller
Old Vic and Headlong
Old Vic
–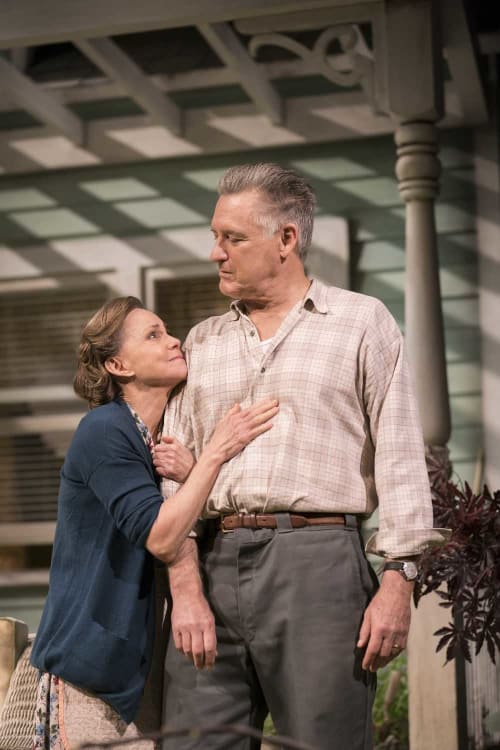 2019 is fast becoming the year of Arthur Miller. Jeremy Herrin's revival of this claustrophobic family drama, co-produced by the Old Vic and Headlong, is nicely sandwiched between The Price and Death of a Salesman, about to open along the road at the Young Vic.
It isn't just London that has gone Miller mad. In a barely conceivable coincidence, Roundabout Theatre Company's Broadway version of All My Sons directed by Jack O'Brien and starring Tracy Letts and Annette Bening opened to acclaim less than 24 hours before its British cousin.
It is hard to imagine that even that much lauded production could be any better than this 2½-hour-long evening that plays out like a Greek tragedy mourning the loss of the Great American Dream.
Before anybody even appears on stage, a great treat lies in store for viewers who can relish Max Jones's set, which has echoes of Edward Hopper containing a beautifully-constructed wooden house and its garden, both so realistic that one could believe they had been transferred wholesale from small-town Ohio.
This is the home of Joe and Kate Keller, a prosperous and once popular couple played by American film favourites Bill Pullman and Sally Field. As the play opens, the sky is blue and all seems well with the world, although an apple tree planted to memorialise their son Larry, a fighter pilot killed during the war, has blown down.
Very soon, the family's delusions and guilt begin to weigh them down. Kate stubbornly refuses to believe that Larry is dead, even three years after the event. This makes life difficult for Colin Morgan, a long way from Merlin, as her other son Chris, who is about to propose to Larry's former girlfriend and their old playmate from school days.
Jenna Coleman, equally far from Victoria, takes the role of Ann, who elaborates on a further connection. Her father is in prison having manufactured and sold faulty machine parts for aircraft that subsequently crashed killing 21 young Air Force pilots.
With good humour and tremendous skill, Arthur Miller plants a whole series of plotting landmines in the first half of the evening, every one of which explodes with terrifying dramatic effect before the final curtain ends a deeply moving work by which point everybody on stage has been shattered by a tragic series of events.
All My Sons is close to perfect, impeccably constructed, totally believable and filled with convincing characters who happily live with self-delusion rather than face up to the unvarnished and unbearable truth of real life.
Even better, every one of the main characters is given a speech designed to bare their souls, while at the same time showing off the talents of this wonderful cast.
Bill Pullman manages to transform Joe Keller from a kind, happy-go-lucky businessman into the archetypal capitalist for whom profit is all, while Sally Field is equally good as Kate, seemingly a weak housewife reliant on her husband but underlying her apparent hysteria something far stronger.
They are matched by Colin Morgan portraying a man too good to be true but perhaps in reality the one in a million who never sees evil, while Jenna Coleman's Ann finds herself caught in the horns of horrible dilemma.
This is undoubtedly going to prove one of the theatrical highlights of the year and once again demonstrates why Arthur Miller remains so popular and Headlong has become, at the very least, one of Britain's most reliable and exciting producing companies.
For anyone that cannot get tickets or make it to the Old Vic, the performance on 14 May will be broadcast in cinemas worldwide as part of NT Live.
Reviewer: Philip Fisher