All New People
Zach Braff
Duke of York's Theatre
–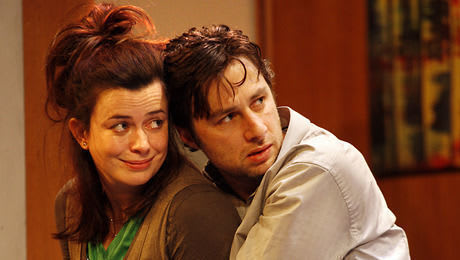 Zach Braff is a multi-talented man. He wrote and directed the award-winning movie Garden State and more recently has acted in popular TV series, Scrubs.
Now, he brings his Off-Broadway black comedy All New People to London, as both writer and star, at least avoiding the clean sweep by allowing Peter DuBois to direct. That is a shrewd move, as DuBois will be known to London audiences following the success of another New York export, Gina Gionfriddo's Becky Shaw at the Almeida last year.
Like that play, All New People is very American, to the extent that some of the best jokes pass English ears by with barely a single laugh.
What starts out as an intermittently amusing sitcom aspires to be something with more meaning and nearly makes it.
The opening scene, as Braff's Charlie attempts suicide in an isolated beach house on Long Beach Island, is extremely funny in a perverse way.
His inadvertent rescuer is manic Torchwood star Eve Myles as Emma. The loquacious British realtor is as neurotic as the potential suicide and it is a miracle that she saves Charlie rather than driving him over the edge.
Her arrival is swiftly followed by two other visitors filled with comic potential, but never the couple that she has arranged to meet.
Myron the hippy fireman and Britney-lookalike Kim, a $15,000 a night hooker, respectively played by Paul Hilton and Susannah Fielding, complete a strange party, which eventually celebrates Charlie's 35th birthday and escape from his first deathday.
The ill-matched group (and writer) try too hard to entertain with their excess and around the hour mark the fun begins to wear thin, not helped by weak plotting.
However, Zach Braff has more serious ambitions and turns the final half hour into a meditation on loneliness, a facet that binds this sorry quartet together.
While the characters are all stereotypes, each has a dark but unlikely secret projected on a gigantic screen, mid-scene. These help to inject interest and lift the drama on to a slightly higher plain.
Even so, All New People is hardly Shakespeare or Ibsen though it does aspire to having some kind of a message hidden beneath the coarse flippancies. Despite that, quite how much appeal a team of offbeat screen favourites in a wacky new play will have outside the tourist season remains to be seen.
Reviewer: Philip Fisher