Becky Shaw
Gina Gionfriddo
Almeida Theatre
(2011)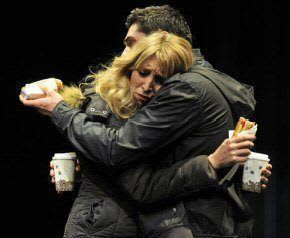 The Almeida has struck gold with this Off-Broadway import that is as bracing as a cold shower. It is certainly the best American play to reach these shores since Clybourne Park. Somehow, it has echoes of both Woody Allen and William Shakespeare.
While it might have a less overtly political message than Bruce Norris's play, which is about to re-open in the West End, its wry commentary on the solitariness of so many contemporary lives is almost as telling.
Michael Attenborough has invited over not only the original director, Peter DuBois but also leading actor David Wilson Barnes. Both are well worth the trouble and expense of a transatlantic jaunt.
By the interval, viewers might wonder why the play is named Becky Shaw rather than Max Garrett, the name of the hard-nosed cynic played with a lovely line in the driest of wit by Wilson Barnes , for whom the part could have been written.
He is a marvellous creation who, despite his narrow-mindedness, only occasionally becomes too irritating to take. That is primarily due to his incisively caustic wit, possibly inherited from his louche foster mother.
Haydn Gwynne plays Susan, a bitter widow who has long suffered from multiple sclerosis and deep unhappiness, which she is trying to assuage, like Hamlet's mother, in an affair before her late husband's body is cold.
The figures around whom the plot revolves are a seemingly mismatched couple who are newly married. Anna Madeley is beautifully brittle (or brittly beautiful) as Suzanna, a postgraduate psychologist. We first meet her spoiling for a fight with her mother, Susan, over the history and diminished estate of their husband/father.
It is Max that has to break the news that not only has the old man spent the family fortune but he did so primarily on his male lover. Max's method for consoling Suzanna is predictable and has later ramifications, once she has married squeaky clean, dull Andrew, a wannabe writer played by Vincent Montuel.
This marriage seems doomed, even before the title character has arrived. Like Andrew, Daisy Haggard's airhead Becky is ostensibly a good person but oh so boring, though she is also something of a passive manipulator. She is set up for a blind date from hell with chilly Max, which dramatically ends at gunpoint.
Soon, the battle lines have been drawn up with Andrew and Becky seemingly as perfect a couple as Suzanna and Max. The only shame is that the pairings have not worked out like this.
However, Gina Gianfriddo is a canny writer with the ability to surprise and maintains the tension throughout 2½ hours observing these representative eccentrics. What she specialises in is hilarious one-liners, which constantly and deservedly provoked belly laughs, even from respectable Islington audiences whose experiences would seem to be a million miles away from those of these characters.
Becky Shaw is a truly excellent play that has hidden depths, which could provoke debate or reflection long after it has ended. It richly deserves a sell-out run at the Almeida and possibly the chance of a West End or Broadway transfer.
Playing until 5 March
Reviewer: Philip Fisher