All The Angels: Handel and The First Messiah
Nick Drake
Sam Wanamaker Playhouse at Shakespeare's Globe
–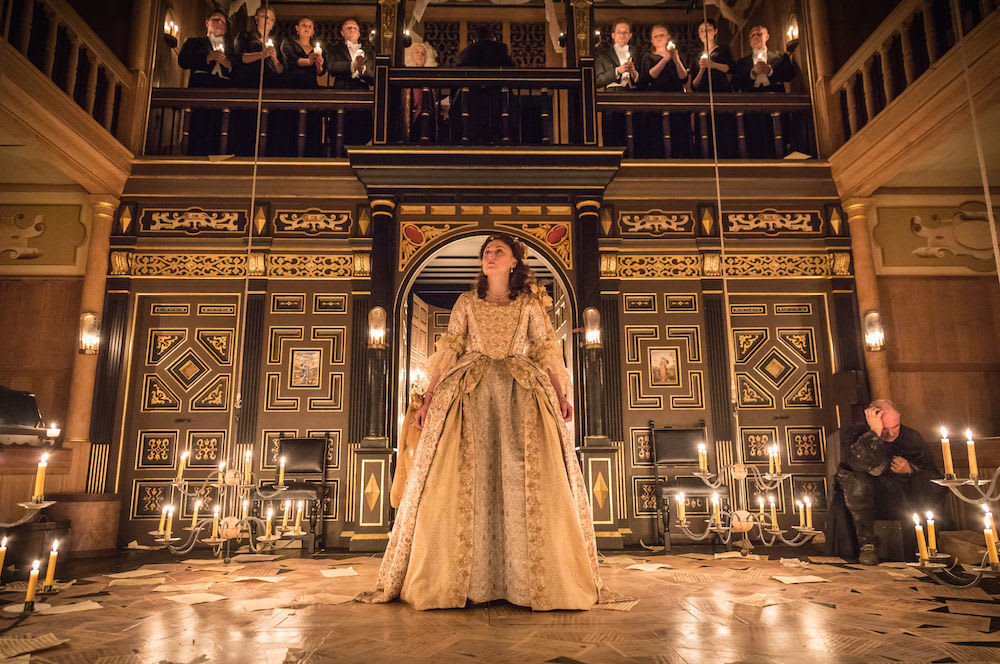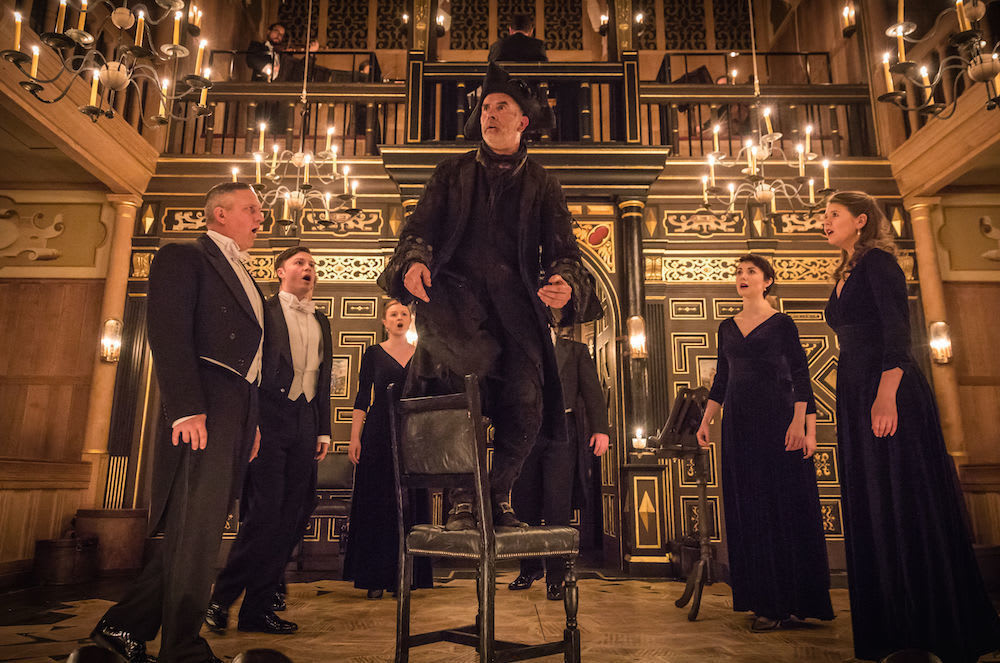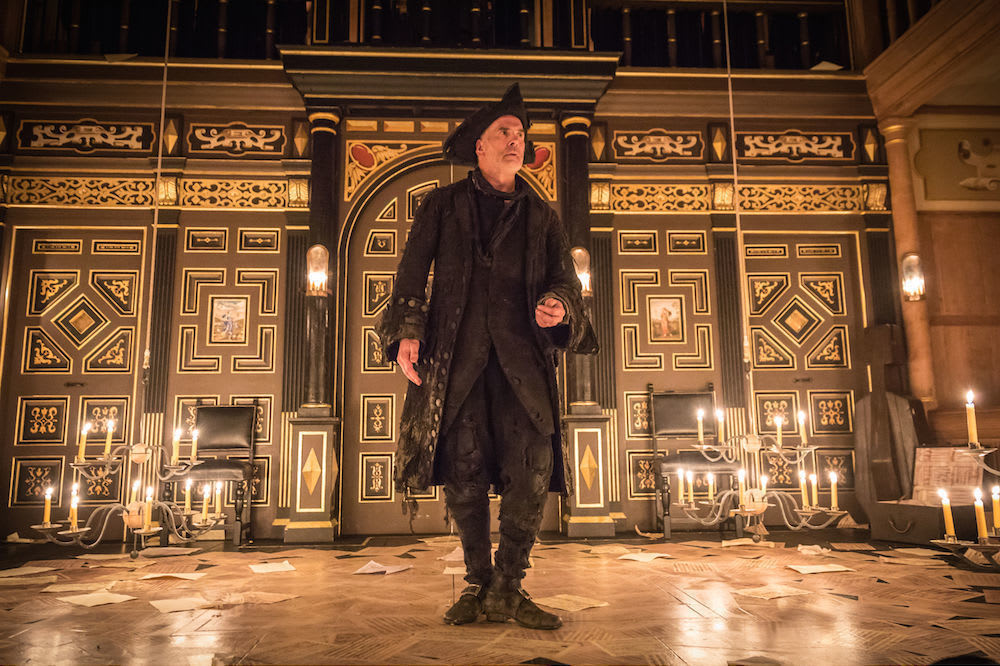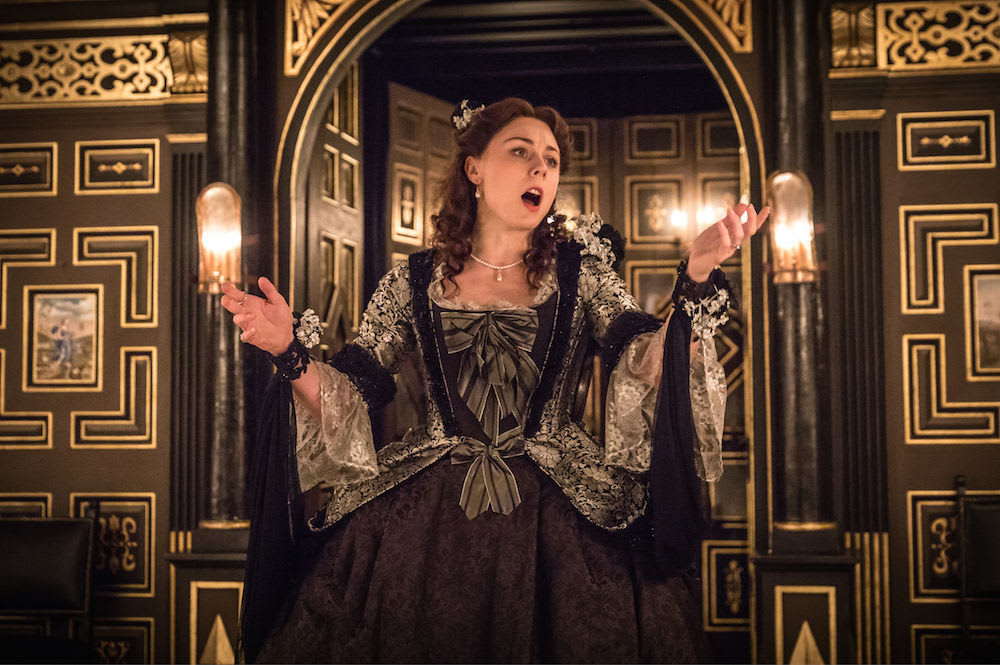 Handel's Messiah: how many of you have sung this in a choir, how many of you have attended concerts large scale and small of this most famous oratorio, how many of you have absorbed it by osmosis? But, how many of you know of its inauspicious beginnings? Handel wrote his Messiah in under a month—imagine that!
Musical scores litter the floor, hang as if to dry up under the roof, candles glow, five musicians (harpsichord, two violins, cello and trumpet) sit in the minstrel gallery, four men and four women clad in evening black open with the glorious Hallelujah chorus and what a sound this chamber group makes: all the angels...
A trapdoor opens and out from underground climbs a man in dark, tattered frockcoat and tricorn hat—a gravedigger, a grave robber? Wrong play? No, it's Crazy Crow, Irish porter to the playhouse in Dublin, shifting musical instruments. It's 1742 and they are not in Dublin, he tells us.
Turns out he's the lynchpin, the narrator, a verbose everyman, "not a drunk or a wife beater", on zero hours and no contract, who does, in fact, we discover later, supplement his living as a "resurrectionist". Many euphemisms and anachronisms enliven the text.
And he has a bone to pick with Handel. Sean Campion—in a tour de force performance—with the switch of a hat, a wig, and accent plays two other important roles: Messiah librettist Charles Jennens and William Cavendish, Duke of Devonshire, Lord High Treasurer of Ireland, who invites Handel to Dublin.
Handel's Italian operas are falling out of favour in London, so he turns to oratorio, which brings its own problems. Invited to Dublin for his Messiah première, he is held up en route in Chester for four days, where he tries to rehearse with the limited resources there. They can sight-read but not the first time.
In a room above a pub with a music-mad young man, Charles Burney (Lawrence Smith reminding me curiously of Ardal O'Hanlon), David Horovitch's Handel, an irascible curmudgeon constantly swearing in German, is revealed. And "the river Dee is the least musical water!"
Crazy Crow flashes back to devout Jennens in Leicestershire and forward to Dublin. Handel is broke; he must accept a venue in Fishamble Street for the concert performance, but there's some bother with the deans of both cathedrals—"the mad" music-hating Jonathan Swift is one of them—sacred music in a music hall… "It has come to this". Still, if they do it for charity…
A singer available to Handel in Dublin—again he must make the best of it—is famous actress-singer Susannah Cibber escaping scandal in London. Cibber will be familiar to you theatre scholars: Colley Cibber was her father-in-law. And Thomas Arne, composer of Comus, her brother—Handel does not rate him…
He doesn't rate her either at first, but takes her in hand and produces a decent enough sound out of her, drawn from deeper than the diaphragm—from what he calls her "fanny". The "he was despised and rejected" aria coaching scene is a delight. Use your own story, he tells her, but make sure you sing "he" not "she". Contralto Kelly Price has to sing imperfection and perfection, which she does mesmerizingly well, naturally.
A warm relationship develops and the old man softens. He hears sorrow in her voice—a quality he needs to express his own in the music. "A man of sorrow"—aren't we all. That's the emotional hit of Nick Drake's clever knitting of stories that resonate down the ages. The first words of the oratorio are "comfort ye my people". And it is this element in the music and in Cibber's interpretation that does Crazy Crow's head in.
It makes him angry. It disturbs. It penetrates his carapace. Music does not always calm the savage beast. Crow knows bodies are only bone and gristle, so where does all this come from? He personifies the conflict between rationality and religion, troubling thoughts that caused Jennens's brother Tom's suicide—another internalised sorrow…
Beautifully staged by Jonathan Munby and choreographed by Imogen Knight, the wraparound chorus sings "Let all the angels of God worship Him". Celestial angels and emotional stories capture the essence of Handel's faith and salvation.
The concert is so oversubscribed that gentlemen are asked not to wear their swords, the ladies not to wear hoops, and the flies are hanging off the ceiling, as Crow tells it. The music moves him; it hurts; it is cruel; he is poetic. Turns out he has the same first name as Handel—how about that! The trumpet sounds: "we shall be saved".
A repeat of Hallelujah; the applause is loud, lengthy and genuine; curtain calls many. Drake has done his research and pulled off a fascinating musical play, interweaving song and text into the most stimulating and uplifting two hours I've spent in theatre for a long time.
Thank goodness for a 2016 extension—with original cast of Sean Campion, David Horovitch and Kelly Price—to last year's sell-out play, produced during Dominic Dromgoole's stewardship of the Globe. Candlelight, wonderful acoustics, sublime arias, and intimate proximity make the experience involving and special. You'll laugh and you'll cry. A goodly mix.
Reviewer: Vera Liber