Alston Nash: A Visual History of the Richard Alston Dance Company
Richard Alston, Martin Lawrance, Chris Nash
Fiat Lux
Released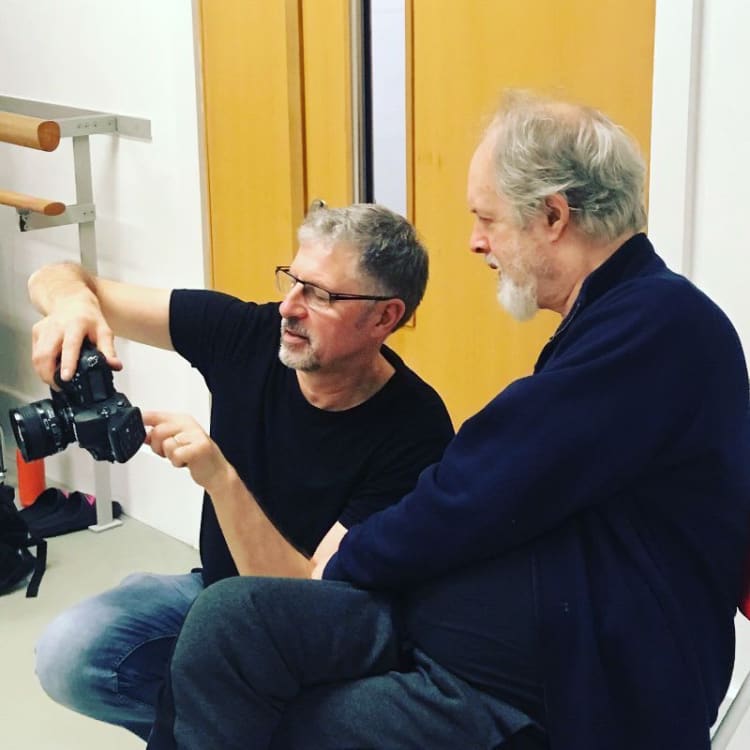 Alston Nash, conceived by dance photographer Chris Nash, a limited-edition book of fifty high-quality photographs of the Richard Alston Dance Company taken over a quarter of a century by Nash, is the first publication from Nash's Fiat Lux imprint, and it is beautiful.
Including relaxed conversations between Alston, Nash and Martin Lawrance, former Alston dancer, rehearsal director and associate choreographer, Alston Nash is more than a memoir of the company, more than a glossy souvenir of déjà-vu moments: it is a record of a collaboration between men at ease and in tune with each other, of a professional life, and it a pleasure to read and look at.
Casual chat, asides, bits of history, personal and intimate, draw one into the conversation. There's a lovely recounting of Nash's wife dancing tango with seasoned old men in South America which resonates with me—a madeleine moment—"a little touch here, one little movement of the finger and they take you off…"
All three contribute anecdotes about the vast body of work, Alston and Lawrance about the dancers, their personalities and their attributes, Nash of his learning curve as a photographer. From a fine arts background, he talks of sculptural and architectural space (as does Alston) and lighting, most of all about crucial lighting. All enhance one's understanding of the processes involved in the product in my hands.
It is a must for lovers of dance, but also for students of art and photography, and the general reader and art lover will find much to absorb and admire. Commentary is revelatory, but a picture keeps on giving. For me it brings back to my mind's eye the productions I've reviewed (too many to list here), and the wonderful dancers who have passed through the company.
There's a valuable list at the back of productions and dancers and the years they spent with RADC. There are many dancers one is glad to see captured for posterity, but it's the 1995 smudgy black and white solo publicity portrait in flight (p.20) of the first dancer on the list, Darshan Singh Bhuller, that takes me down memory lane—I remember him from way before he danced for Alston.
There are potted biographies of the three contributors, former dance critic Judith Mackrell contributes a foreword, but the stills, single and double spreads, take the breath away, stop me in my tracks. Nash ranges in his inspirations, and explains how he creates his nuances of style, evokes music and energy with static imagery. Chemistry, composition, life drawing, sculpture, creativity… The dancers are the clay.
It's all about gaze. See Ishaan De Banya's eyes pp.32/33; see the double spread on pp.44/45 in which a group of dancers sail across the page looking ahead, yet it's the dancer who looks towards the photographer that fixes the focus. There's a timelessness about Nash's work, an expressive artistic fusion of colour, shadow, silhouette, and detail that necessitates more than a fleeting glance. There's fast and slow looking, I'm told by my resident artist—Alston Nash benefits slow and repeated looking.
Alston's company had to fold in 2020 from lack of Arts Council funding, but undaunted he continues to create, and promote his legacy, his dancers, and his creatives. The book is his positive testament and joyful celebration of their years together.
The last still was taken in 2019, Alston's last piece called Shine On, a pointed retort to the end of the road forced on him: "as the company closed, I wanted to assert defiantly that the work would do just that." As does this book, an aide-memoire, an art book of striking stills and promotional photoshoots, a book to treasure, and its bits of honest gossipy reminiscences easy to read.
The calligraphy of dance and image meld and complement, a visible rapport, a symbiosis, between artists and muses. Intuition, inspiration, musicality: "damn good Alston and quintessential Nash", so says Alston himself… Nothing like confident self-promotion and knowing one's self worth.
Alston Nash is available on Amazon from 19 October 2020 and from Nash's web site now.
Reviewer: Vera Liber