Amélie the Musical
Book by Craig Lucas; music by Daniel Messé; lyrics by Nathan Tysen and Daniel Messé
Hartshorn-Hook Productions and Selladoor Productions in association with the Watermill Theatre and Broadway Asia
Bristol Old Vic
–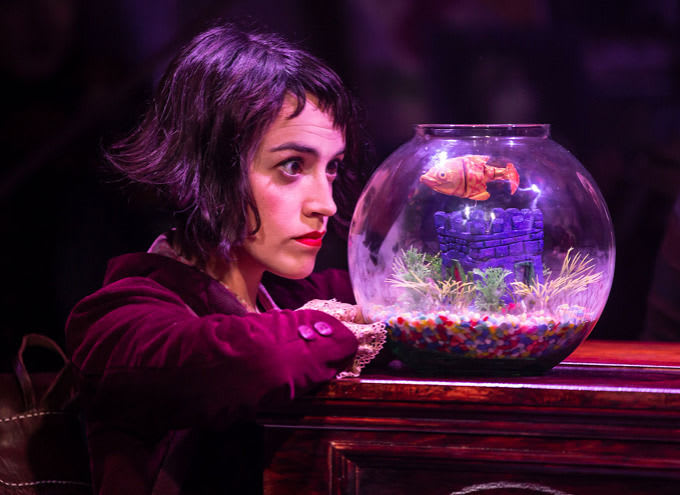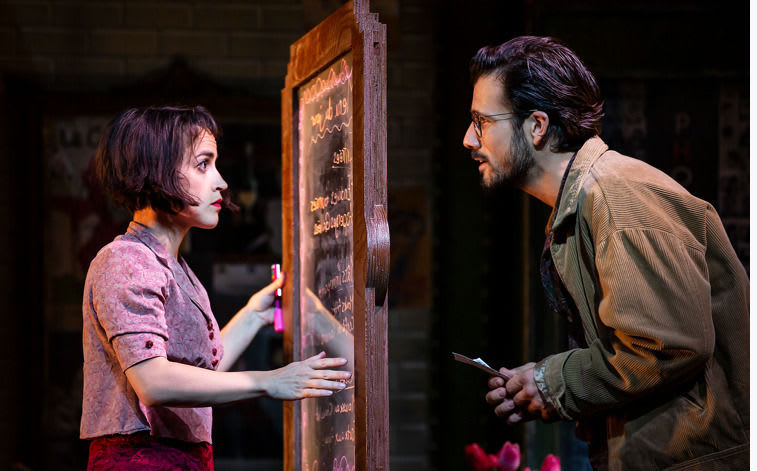 Those who remember the 2001 French film Amélie with affection will thrill to this musical theatre version, playing at Bristol Old Vic on the latest stop of its UK tour before heading to the West End. Extensively rewritten by Craig Lucas after a limited Broadway run in 2017, Amélie the Musical captures all the whimsical charm and romantic yearning of the original movie.
Amélie Poulain grows up an unhappy child in the care of her emotionally repressed parents. Convinced that she has a heart condition, they insist she is home schooled in isolation, her only friend a suicidal goldfish. As a young woman, Amélie escapes to work as a waitress in a café in Montmartre where, despite the kinship of her employer and regular customers, she remains socially awkward and alone.
From Audrey Brisson's previous appearances in Bristol in The Flying Lovers of Vitebsk and The Grinning Man, it comes as no surprise that she is exceptional in the title role as a young woman living primarily through her imagination. Brisson captures Amélie's essential quirky appeal, combined with pitch-perfect vocals and seamless physicality. She is supported by an outstanding ensemble of actor-musicians who, under Michael Fentiman's assured direction, propel the story forward with a combination of spoken narrative, episodic interludes, fluid movement, puppetry and joyous folksy musicality.
As Amélie is inspired to perform small acts of kindness that enhance the lives of others, she moulds herself in the image of Princess Diana. It is the shocking news of Diana's untimely death in Paris that inspires a departure from the score's previous harmonious melding of accordions, violins and double basses to a storming Elton John pastiche from Caolan McCarthy, bringing the first half to a thunderous close.
Though the reference to Diana tethers the setting to 1997, Madeleine Girling's enchanting, stylised design and sepia-toned costuming harks back to an earlier era, an artisan Gallic bubble that has drifted into the late 20th century. Amélie's kindnesses are simple, low-tech missions of human connection, from attempting to restore a memory box to its boyhood owner to transforming a grumpy greengrocer through hilarious intervention by taunting life-sized figs and coaxing her father out of hermithood in pursuit of his revered family gnome. But, while she succeeds in solving problems for those around her, she is still unable to directly resolve her own.
Danny Mac turns in a winsome and nuanced performance as Amélie's love interest Nino, collector of discarded photo booth pictures and unlikely sex-shop worker. Having met in the maelstrom of act one, their developing relationship takes on a meandering quality after the interval, as Amélie sets a succession of puzzles and tests for Nino so that she can avoid the reality of a meeting. Though there is some padding here that could be sharpened, it is a measure of the chemistry established between the two actors and the audience's immersion in their story that their eventual, inevitable union after so much song and movement is greeted with a still, hushed silence.
The rapturous reception of Amélie the Musical in Bristol bodes well for the production's West End transfer in December. There is so much to enjoy in this sweetly charming and uplifting celebration of life's simplest but often forgotten possibilities, seen through the dreaming eyes of a singular, yearning young woman.
Reviewer: Claire Hayes