Amy's View
David Hare
Garrick Theatre
(2006)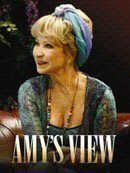 This highly enjoyable revival of one of Sir David Hare's most successful plays takes an oblique view of the Thatcher years. It does so through the eyes of two courageous women and a pair of men who epitomise all that the playwright hated about that era.
First time around, Dame Judi Dench played the part of Esme at the National Theatre opposite Samantha Bond in the title role. Now, to the delight of the massed ranks of devoted fans who originally fell in love with her in The Good Life, Felicity Kendal makes a particularly lovable Esme, albeit on occasion overdoing the theatrical mugging.
Her performance, though, is very winning and the box-office tills should be filling up while she remains in the part.
Under Sir Peter Hall's sure direction, this is a fresh and funny reworking of what might well be regarded by history as a great play. Not only does it say a great deal about relationships and love, it also anatomises a period that is now something from the history books. That changes our own view since, when the play opened in 1997, incidentally the year in which the Tories finally lost office at the end of the eighteen year period that this play covers, viewers were seeing the immediate past portrayed.
The play opens in 1979 in the cosy, bohemian living room that Simon Higlett has created to match the personality of Esme, to all intents and purposes Judith Bliss from Hay Fever reincarnated in a new era.
Esme is just as much the theatrical Grande Dame as Noël Coward's character and makes her first appearance at her Berkshire home, having taken a taxi all the way from the West End.
There she is welcomed not only by her mother-in-law (Antonia Pemberton's Evelyn), already beginning to withdraw from the world with Alzheimer's, but also by the surprise visit of her daughter Amy, played by Jenna Russell last seen starring in Guys and Dolls.
This does not go as well as it might have, since the main reason for the visit is to introduce Amy's new man, Dominic, to mum. Ryan Kiggell is a little over the top as this young would-be film producer getting by writing gossip columns. As the play develops, he becomes an increasingly unpleasant and very selfish representative of a new generation which believes that "the theatre is dead" and new media is the only possible future.
Half-a-dozen years later, war is declared as Dominic has become the most popular TV presenter in the country while Esme is "resting".
Matters only get worse and hit rock bottom in 1993. Dominic has deserted his wife and family for a young blonde, while Esme's relationship with her neighbour, Frank, well-played by Gawn Grainger gives her solace but also problems.
He is not only addicted to Esme and to her Glenfiddich, he also makes the financially illiterate lady's life comfortable by introducing her to Lloyd's of London. However, when it crashes she becomes all too aware of the meaning of unlimited liability, accruing debts that eventually leave her at the whim of Lloyd's Hardship Committee, which seems, on this showing, to be designed to create hardship rather than alleviate it.
Even work as a nurse in the worst type of TV soap cannot keep the wolves from the door and certainly does not help a great actress's self-confidence.
It is at this point when Jenna Russell really comes into her own and mother and daughter are shown to be kindred spirits, as each points up the stupidity of the other's support for their unworthy men folk.
The final scene takes place in a theatre in 1995, where Esme and Dominic at last achieve a kind of peace but only at a tragic cost.
It is to be hoped that Sir Peter Hall's new production confirms Amy's View as a very special play and also establishes Felicity Kendal in the public mind as a fine successor to Dame Judi Dench. It seems unnecessary to suggest that a trip to the Garrick will prove very rewarding. The public will already be flocking there.
Visit our sponsor 1st 4 London Theatre to book tickets for Amy's View.
Reviewer: Philip Fisher