Angels in America: Perestroika
Tony Kushner
Lyttelton Theatre (National Theatre)
–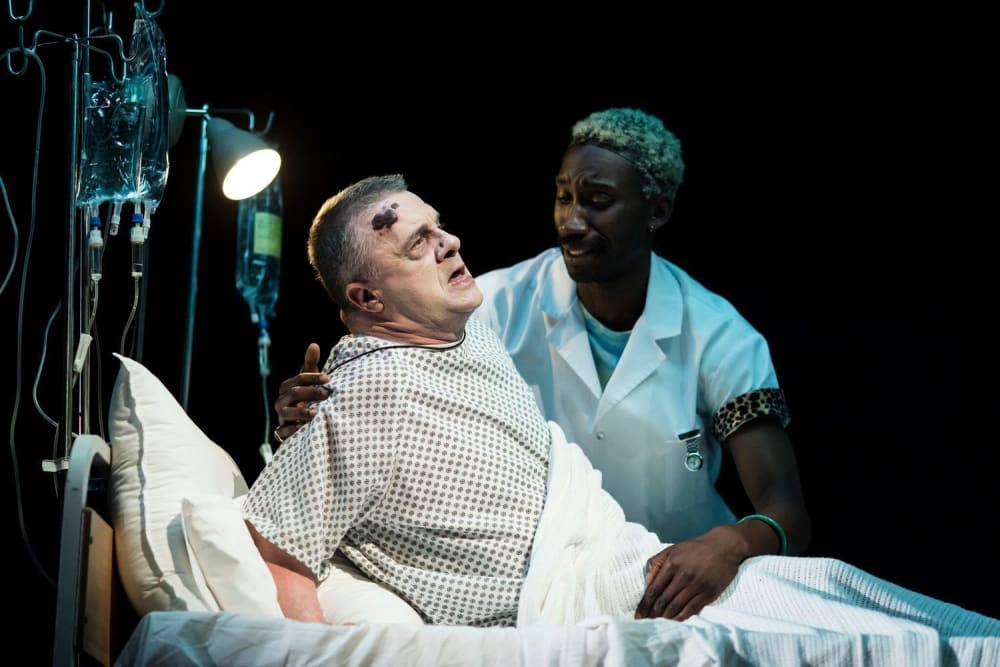 It is hard to imagine how Tony Kushner could top Millennium Approaches but this four-hour sequel gets pretty close.
Having said that, following a 2½-hour dinner break, the opening scene, which features a visitation to the bedside of Andrew Garfield's Prior Walter from Amanda Lawrence as The Angel (with magisterial wings operated by a team of puppeteers) looks beautiful but drags.
When compared with Millennium Approaches, Perestroika tends to favour the personal above the political to a far greater degree.
Even arch political anti-hero Roy Cohn, once again given impeccable comic timing but also deep pathos by Nathan Lane who must surely now be in line for Best Actor awards come the end of the year, becomes embroiled in his own fight for life.
In a series of very funny scenes, he is confronted with a queenly nurse called Belize played by a perfect foil to Lane's wit, Nathan Stuart-Jarrett. 
As well as being a close friend of Prior, Belize, or Norman to his less favoured patients, is happy to joust with a politician who embodies everything that he and his (dying) cadre represent.
However, Cohn has a far greater foe to overcome in the petite form of Susan Brown's Ethel Rosenberg, the communist executed due, in part, to his efforts and now determinedly haunting the lawyer/politician from beyond the grave.
Other equally unexpected alliances are formed, particularly between Denise Gough's Harper and her mother-in-law Hannah, who also becomes a bosom buddy of Prior.
Much of the drama in this second part of Angels in America is fuelled by artificial intoxicants. Ironically, where plays of the 1960s were sometimes inspired or subverted by psychedelic drugs, while alcohol has been popular since Shakespearean times, in this case it is prescription medications that generate long hallucinatory scenes, which might be dreams, nightmares or conceivably even reality.
There is also a political edge, in that Cohn manages to pull enough strings to obtain the Nirvana, AZT, which is as close to a cure for AIDS as the 1980s had found. Only after his untimely demise does Belize managed to use good socialist principles as a means of sharing the benefits.
Pleasingly, what can be a massively long but richly rewarding day ends with messages of hope after aspiring prophet Prior literally ascends a symbolically pink stairway to Heaven, creating an outcome that had not seemed likely at any point in the previous 7½ hours.
Angels in America is without question a great piece of writing and wonderful play. Marianne Elliott's revival does it full justice, despite the odd longueur. It helps that she has been able to put together a marvellous cast with Andrew Garfield, James McArdle and particularly Nathan Lane excelling in the best roles.
While viewers may be reluctant to spend 1PM to 11PM including a dinner break in a theatre, paying out good money for the privilege, this could be a once-in-a-lifetime experience and should not be missed. As an alternative, Parts 1 and 2 respectively are to be broadcast across the globe via NT Live on 20 and 27 July.
Reviewer: Philip Fisher