Annie Get Your Gun
Book by Herbert and Dorothy Fields, Music and Lyrics by Irving Berlin
Mayflower, Southampton
(2005)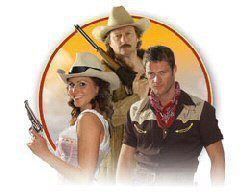 The fringed skirt is trimmer and the hairdo even smarter than Ethel Merman's 'forties style. Come to that, the new, economy setting of the garrison theatre of an American Army camp lacks the atmosphere of the authentic, wild west saloon bar in which the original, real life Annie prospered in the 1880s.
All the same, the tunes are Irving Berlin's and the performanes, especially the slim Rebecca Thornhill as Annie, are superb.
Timothy Sheader's direction is as as slick as James Drasey's handling of the score. Extra marks here, too, for the splendid brass ensemble which clearly has enough affection for Berlin's score to keep our feet tapping.
Steven Houghton as Frank Butler does not match the vocal quality of Miss Thornhill.- male soloists in musicals sounding increasingly bland nowadays, with Brent Barrett a notable exception in Kiss Me Kate at the Victoria Palace last year. Nevertheless, with Berlin's score focussed on the two leads, there is not much left apart from a couple of light song and dance numbers for supporting roles Tommy (Peter Tyler) and Winnie (Sara 0'Gleby).
Buffalo Bill - a strong performance from TV soap star Charles Lawson - has rather more to do but then "Annie" wouldn't have a show without him!
"Annie Get Your Gun" may be seen at Bristol Hippodrome (1 -5 November), New Theatre, Oxford (9-13 November), Manchester Palace (16-26 November), Liverpool Empire (29 November - 3 December), London Coliseum (5 - 21 January, 2006 ).
Peter Lathan reviewed this production at the Sunderland Empire.
Reviewer: Kevin Catchpole