Another Country
Julian Mitchell
Chichester Festival Theatre
Trafalgar Studios
–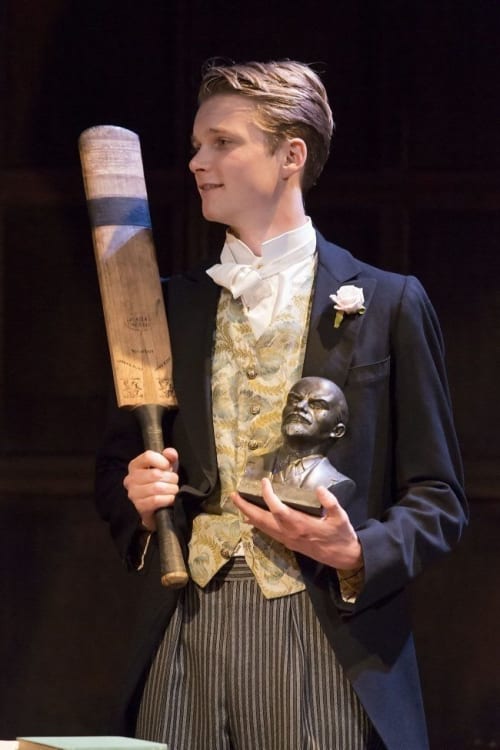 The English public school has been a fruitful source for many dramatists and script writers, Terence Rattigan, Alan Bennett, Lindsay Anderson and others seeing the allegorical possibilities of an enclosed establishment where women are at most progenitors of juvenile fantasies.
Julian Mitchell also saw the means for creating a microcosmic version of British society, portraying the ruling classes behaving badly a couple of generations before Laura Wade did something similar with slightly older lads in Posh.
Oddly, where Mitchell viewed such establishments as incubators of queers and spies, Miss Wade used almost the same characters to symbolise a Government filled with old Etonians.
Another Country first saw the light of day in 1981, when the unmasking of the Queen's tame art expert Anthony Blunt as a Russian spy was still fresh in the mind of a country that had not quite got over the treachery of three of his contemporaries from Cambridge.
That trio included the flamboyant diplomat Guy Burgess, who is almost certainly the model for one of the leading figures in this play, Guy Bennett, played with louche panache by the highly talented Rob Callender, apparently making his professional stage debut having only graduated from drama school last year.
Bennett is a self-confessed gay icon, which is not a good persona to boast at a school shaken by a scandal after another boy hanged himself. That was the consequence of having being discovered with a fellow pupil indulging in an activity unusually rife to be quite so unmentionable.
Bennett's only real friend is Will Attenborough's Judd, a relatively one-dimensional character but possibly realistic as a public school Communist whose principles are sorely tested in a mini war against the odiously totalitarian Fowler, the archetypal school bully. Attenborough proves his mettle and sensitivity in the later scenes when the young disciple of Marx is forced to face the realities of capitalist life.
Comic relief comes in the form of Bill Milner as weedy fag Wharton, who bumbled around shaking fearfully, much to the enjoyment of an appreciative opening night audience.
Age is represented by Julian Wadham's Vaughan Cunningham, a liberal pacifist who perhaps hints at the future demise of a rigid class system and, by extension, the Empire.
Jeremy Herrin's impressive young cast, in yet another successful London transfer from Chichester, will hope that they can emulate the likes of Rupert Everett, Sir Kenneth Branagh, Daniel Day Lewis and Colin Firth. Each of them appeared in early West End casts and launched stellar careers in a 2½ hour long play that still has the intellectual depth and underlying humanity to challenge and entertain three decades after its debut.
Reviewer: Philip Fisher