Ardani 25 Dance Gala: Zeitgeist / Tristesse / Facada
Choreography Alastair Marriott, Marcelo Gomes, Arthur Pita
Ardani Artists
London Coliseum
–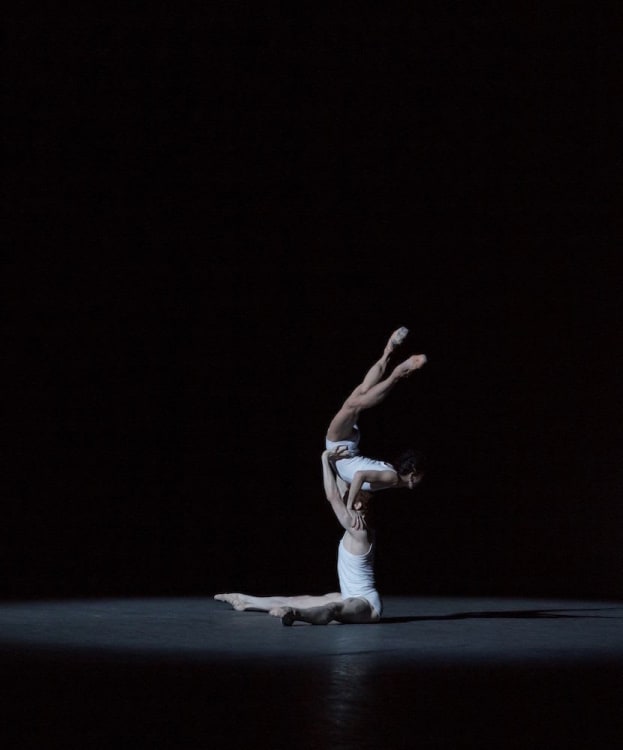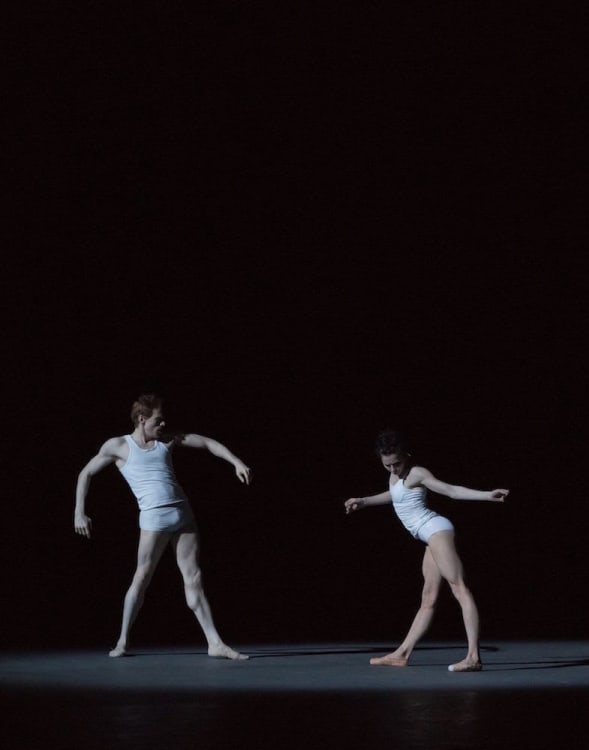 An eclectic evening—music by Philip Glass, Frédéric Chopin and Frank Moon—Ardani Artists celebrates its twenty-five-year existence with two pure dance premières (one world, one UK) and Arthur Pita's dance drama Facada, part of last year's Solo for Two vehicle for Natalia Osipova and Ivan Vasiliev.
Vasiliev reprises his role of the cad jilting his bride with more silent clown facial ticks than before, whilst Osipova revels in taking bittersweet revenge. A succubus, she devours him with her body in a cathartic exorcism of love.
Expressively deadpan Elizabeth McGorian, the glamorous deus ex machina, or the avenging fate, provides the bridal bouquet (tossed into the audience), the knife (faca in Portuguese), the buckets (weeping buckets…), the flowers and the tombstone (a table). Evocative transporting music by Frank Moon adds texture to a folktale cross between Federico García Lorca and Pedro Almodóvar.
It may end the evening on a tragicomic emotional note, but the two preceding abstract ballets are no sluggards in that domain either. Alastair Marriott's Zeitgeist is full of Sehnsucht and Weltschmerz, which one also inevitably hears in Chopin's music used by Marcelo Gomes for his Tristesse, apparently influenced by the poetry of Paul Éluard.
In trios (Marcelino Sambé, Donald Thom and Tomáš Mock of the Royal Ballet), duets (Edward Watson and Osipova) and solos to Philip Glass's shifty tempo Marriott's Zeitgeist has an urgent intensity leavened with a 'Wayne McGregor' nonchalance.
All in black leotards—Osipova's has regal gold decoration—against distracting bronze digital / hologram 'screensaver' art pulsating on a black screen, the five dancers in various permutations are supreme driven beings in a futuristic brave new world, riding Glass's music for all their worth in a mad exhilaration of dance.
Spins, turns, leaps, high kicks and extensions, dramatic lifts, momentum never ceasing, what a display of dancing talent: Osipova and Watson's are well-established (an interesting pairing, her boyish slight body, his with its feminine suppleness), but my eye is taken with Sambé, his épaulement soft from finger tip to shoulder. He has a tremendous leap, as do they all, but it is his easy honey fluidity at one with the music that makes its mark.
Spirit of the age (Zeitgeist) shifts to sadness (Tristesse), though that is not the initial impression of the four male friends on stage, but the mood changes as loyalties and grudges, past slights and sorrows impinge.
Emulating Jerome Robbins, principals Marcelo Gomes (ABT), Joaquín De Luz (New York City Ballet), Denis Matvienko (Mariinsky Ballet) and Friedemann Vogel (Stuttgart Ballet) interpret Chopin's mood music, played live on stage by Andrei Gugnin.
Four copains in identical buttoned-up white shirts and pale chinos delight in watching each other dance, wafting, posing, in high spirits, but then the buttons are undone, the sleeves rolled up and the choreography becomes a showcase for each.
The light darkens, the dancing becomes sharper, impish cheekiness turns to edgy shoves, boyishness to manly hurts. There's a whole range of barely hidden emotions under the joshing humour. With its false endings and encores, Tristesse is a series of snapshots of male friendship, a narrative spun from Chopin's Études.
Though all make their indelible mark and are a joy to watch, if I have to choose one, Vogel is the standout one for me: true to his name he soars like a bird. Different body shapes and sizes, different schools and heritage, the four prove that dance embraces musicality and daring. And competition, but then boys will always be boys, covering up with bravado.
Two performances only and then the circus moves on (to USA and Russia), such is the life of star performers. A gala is what it is, a display of the best, and we should be grateful for that. Three pieces about thirty minutes each, two intervals, two hours twenty in all.
Reviewer: Vera Liber