Around the World in Eighty Days
Laura Eason adapted from the novel by Jules Verne
New Vic Theatre Company
New Vic, Newcastle-under-Lyme
–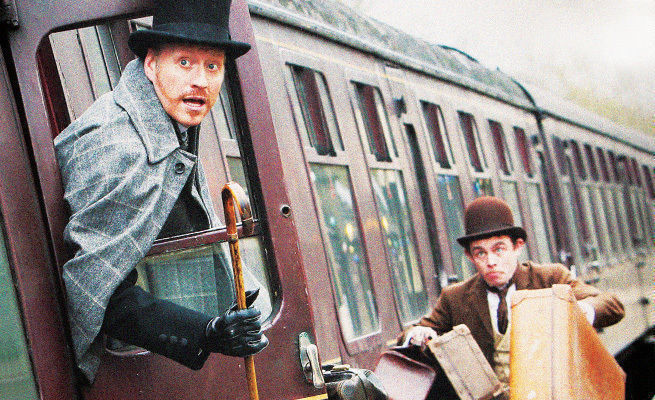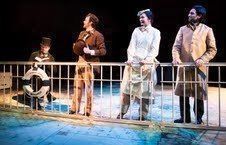 New Vic artistic director Theresa Heskins describes staging Jules Verne's classic as her "biggest challenge yet".
This is from a director who delivered such inventive productions at the Staffordshire theatre-in-the-round as Alice in Wonderland in 2011, Bryony Lavery's adaptation of The Wicked Lady in 2009 which featured aerial action representing horse-riding sequences and her own adaptation of Charles Dickens's huge work Bleak House, complete with a pre-show promenade through backstage areas of the New Vic where audiences were able to see snapshots of the story.
Pushing boundaries has always been a New Vic trademark, particularly since Heskins took over as creative head in 2007.
But the cast and creative team of Around the World in Eighty Days has surpassed even its own exacting standards.
Whenever you visit the New Vic you're almost guaranteed a production that contains fine acting, excellent staging and impeccable attention to detail. Laura Eason's witty adaptation of Verne's novel is absolutely perfect for this venue.
Eight actors, four of them performing multiple roles, relish the action which features six trains, six boats, four action-packed fights, a circus act and an elephant.
There's a certain amiability about New Vic productions which is enhanced by, but not exclusive to, actors who've worked together previously.
Michael Hugo and Andrew Pollard are on their fifth New Vic show and are the perfect combination as Phileas Fogg and his French manservant Jean Passepartout.
Pollard is the starched, precise, stoical Fogg determined to complete his round-the-world journey in the allotted time while Hugo, who literally throws himself into the role, is funny, personable and takes every opportunity to connect with the audience.
Suzanne Ahmet, Matt Connor and Denis Herdman—commendable as shifty police inspector Fix who encourages the audience to boo him—have experienced the theatre's almost unique way of working before. Yet Pushpinder Chani, Okorie Chukwu and Kirsten Foster fit so comfortably into the production that you can hardly believe they are making their first appearances in the building.
If you don't know the story, Phileas Fogg bets a couple of friends that he can circumnavigate the globe in 80 days. The Great Indian Peninsular Railway has just been completed, encouraging Fogg to stake his fortune on the trip.
He and Passepartout speed across Europe, Asia and America, on the way saving an Indian princess from certain death and battling marauding cowboys, buffalo and storms as well as Inspector Fix.
New Vic audiences are used to seeing actors bobbing in time to stimulate a train journey, objects such as bank notes "thrown" and "caught" impressively on another part of the stage and carefully choreographed fights with combatants reacting realistically despite there being plenty of space between them.
Yet Around the World in Eighty Days is even slicker than the usual New Vic production: an overcoat becomes an elephant's head, a table and chairs are moved in unison to signify a rolling ship and fights involving martial arts expert Passepartout are stunningly good.
Theresa Heskins directs with her customary aplomb and assuredness in a production which has more pace than the US Transcontinental Railroad.
A large proportion of the audience gave Around the World in Eighty Days a standing ovation. It was never more truly deserved.
Reviewer: Steve Orme